Indian: Bollywood Dancers & Bhangra | UK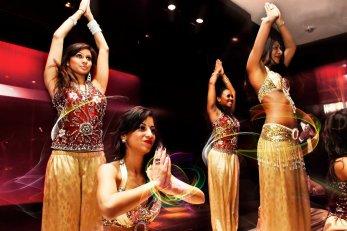 Bollywood Dance London
If you are planning a wedding, party or corporate event and are looking for something truly spectacular to begin your evening, Bollywood Dance London's performance troupe is just what you need! Imagine the scene, your guests arrive and are seated and ready to begin their meal, the music of A R Rahman's Slumdog Millionaire begins, BDL dancers enter the floor and entertain with a 10-minute medley comprising graceful classical moves, up-tempo street choreography and finishing with some high-energy Bhangra beats!
Bollywood Dance London (BDL) is Pineapple Dance Studios' resident Bollywood dance company. They also teach at Danceworks and have their own Bollywood fitness show on Fitness TV. Run by Jennie and Nileeka who have worked together for over 7 years, Bollywood Dance London is the full-service Bollywood dance company taking London by storm.
The stunning costumes and equally stunning dancers will leave your audience in awe! Bollywood Dance London's mission is to bring the films to life. When you book a performance, you will not be disappointed. No matter what your event, from weddings, to birthday parties and corporate functions Bollywood Dance London will bring something truly unique to your guests.
Acts Available Include:
1 Performance Slot
2 Performance Slots
1 Performance Slot with an Interactive Workshop
Interactive workshop (up to 30 minutes), instruction of simple/fun Bhangra/Bollywood basics
Dhol player (live drummer) can be added to any package (up to 30 minutes)
Standard Length of Performance:
Performances can be between 5 min & 30 min long depending on the client's requirements.
Technical Requirements:
The performance space needs to be minimum 3m x 2m for 3 dancers (this would increase approximately by 1 metre per dancer). The dancers perform barefoot and require a suitable stage. Stage lighting is best but if this is not possible basic lighting would also work.
Testimonials:
"The ladies were fantastic. Friendly, incredibly professional, organised and talented. We are waiting to see if the series will be commissioned if it is we will go into to production in the autumn and would love the ladies back to dance for us."
– Hat Trick Productions (via Contraband)
"The Bollywood dancers were brilliant – please pass on my appreciation and thanks! They brought a real lift to the end of the day and got everyone leaving on a real high. Very professional and rehearsed."
– West Kent Housing Association (via Contraband)
"The girls were fantastic. They were early (better than on time). Very adaptable when the DJ had sound problems and the performance was really excellent. I can't speak highly enough of them – please pass on my sincere thanks and gratitude…"
– AKO Capital (via Contraband)
"All of your entertainers on Thursday were lovely, punctual and very good. The event was a great success. Many Thanks."
– GDC Themed Events Ltd (via Contraband)
"I can honestly say that the dancers were brilliant on Monday! They arrived early, were extremely professional, very smiley and it went down very well with the press audience that were present. Their routine worked very well as in addition to it being very colourful and energetic, they also had moments where they all paused and posed almost, which worked very well to allow the delegates to take some good shots with the camera that was being launched. Thanks for all your help organising this and your patience and flexibility particularly with regard to the last minute change of venue and date. I look forward to working with you again in the future."
– Communique Promotions Ltd (via Contraband)
"Last night was amazing the Dhol Drummers were absolutely brilliant and very professional….Overall we were highly impressed by the Dhol Drummers and they really added the extra sparkle to the event, please thank them on our behalf."
– Hounslow Community Services Ltd (via Contraband)
Previous Clients Include:
The Apprentice
BBC
Big Brother
Channel 4
I'm a Celebrity Get Me Out of Here!
ITV
The Alan Titchmarsh Show
Dancing on Ice
Diwali in the Square
Move IT
The Vitality Show
Canary Wharf's Indian Summer
Shah Ruk Khan's Film Premiere Chak De India
The Regent Street Festival
Taste of London
The Diwali Ball
The Indig02
Photos of Bollywood Dance London