The Bollywood Band – Party Band | UK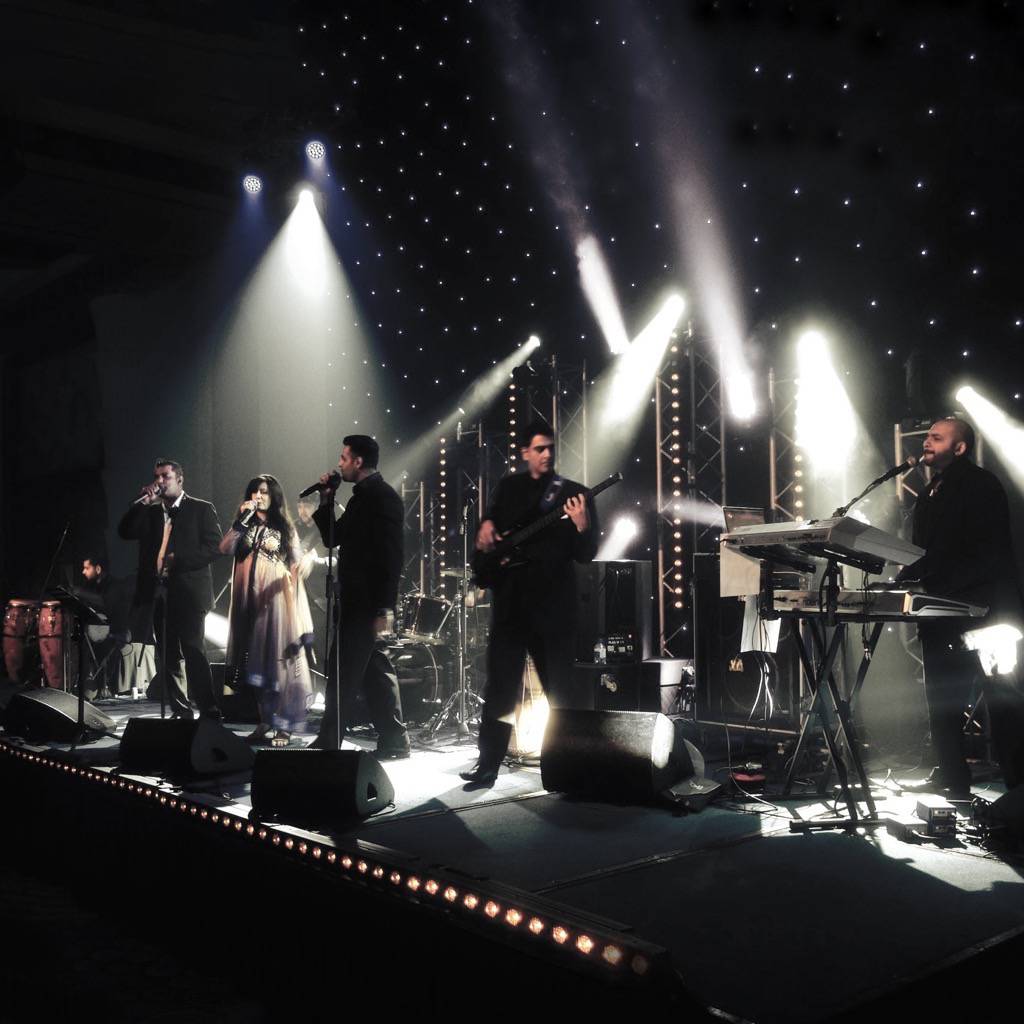 The Bollywood Band are a young and dynamic 8 piece band who deliver the highest quality of Bollywood music in power packed performances. With a highly professional approach, a flexibility to deal with any kind of audience and an equally impressive repertoire of songs, this band will definitely leave your guests wanting for more! They are perfect for weddings, mehfils, dinner & dances, stage shows, festivals, melas, corporate shows & parties.
They are a group of young, enthusiastic and talented musicians whose performances are highly interactive with audience participation. They have a huge repertoire of old and new bollywood songs, Bhangra and select English songs. The lead singer Shama has performed for the Diwali at Trafalgar Square celebrations for 4 years in a row. This event attracts 30,000+ people every year. The line-up consists of 3 vocalists, 5 musicians: Keyboard player, lead guitarist, bass guitarist, drummer and an indian percussion/congos player.
The Bollywood Band bring together influences from the Bhangra, Bollywood, Urban and World Fusion music circuits. Shama is a versatile and very capable singer who has been performing since childhood to audiences around the world. She has also performed alongside artistes from the Bollywood film music industry like Anup Jalota, Sukhwinder Singh, Nitin Mukesh, Mangal Singh etc. The band's frontline consists of Shama and the 3 of UK Asian bollywood music circuit's top male vocalists: Chirag Rao, Nimesh and Sreejith.
The Bollywood Band are available as a standard 8 piece band for most shows or 7 piece for short sets. The band is flexible and can be added upon with extra musicians for larger events.
Standard Length Of Performance:
45min, 1hr, 2x45min, 2 x1hr, 3x45min.
Testimonials:
"Shama is a versatile singer with an ability to sing all styles of Indian music. The band combines both traditional Indian melodies with modern production and are great for the dance floor as well as just to listen to. I congratulate them on their music."                                                                                                                                                                                                                                   – Ehsaan Noorani (Shankar Ehsaan Loy – Bollywood Film Music Directors)
"The Bollywood Band were exceptional in making my wedding reception a night many of us will never forget. Being passionate about live music, I was adamant that the evening's entertainment had to centre around a band and I was not left disappointed. The music was exceptional, diverse and energising which had everybody on their feet. Shama, Chirag and Nimesh were versatile singers who played to the crowd changing the tempo when required. Whether it was a Bollywood classic, a dance track or a Michael Jackson classic, they had everything in abundance. It was a joy to have had such talented singers and an outstanding band at my wedding reception. It is a night that my friends and family still talk about and want to re-live again simply because of the flawless entertainment present in Shama, Chirag, Nimesh and The 515 Crew. Collectively they had such a unique offering and I have no hesitation in recommending them."
– Private Client
"I would like to take this opportunity on behalf of the Navnat Vanik Bhagini Samaj & our entire team to congratulate you for your outstanding performance on September 20th 2014. We have received hundreds of positive comments, not only for your music, but also for the way you got the audience involved. It made them feel part of the show!! Pure delight-rollicking good fun mixed with uplifting songs that made our heart sing. We will recommend you and your crew without reservations."
– Navnat Vanik Bhagini Samaj Committee, Hayes
"We are writing to thank you for your scintillating performance at our daughter Sheena's Sangeet night. You, along with your accomplished musicians from the band had the whole crowd of 400 absolutely enthralled all evening. Accompanied by your co-singers Chirag Rao and Sreejith, you delivered some intricate numbers, more so our favourite Kwaja Mere Khwaja (Jodha Akber) that still reverberates in our ears, well over a month after the event! It's rare that audience get so captivated that they sing with you. Your team carried the event every moment of the evening, a fitting tribute to your talent. We are grateful to all of you for setting our important event alight with amazing music and making it such a success. May God Bless you all!"
– Private Client
"KMK audience had a fantastic evening! You guys were excellent! Can't thank you enough. I am getting lot of messages. They are looking forward to next year! I I think as kmk audience is very jolly, we make a good team."
– KMK Association London
"On behalf of the OAUK North West committee, we would like to express our sincere thanks to you, Chirag and the band for contributing to the success of our International Women's Day celebrations and making it an evening to remember. You and your whole team surpassed our expectations once again with the amazing music, punctuality and professionalism. All the ladies cannot stop talking about the evening. It was a wonderful feeling to see everybody dancing and singing with you and your team. Thank you once again for a very memorable evening. We hope to see you soon."
– Oshwal Association UK North West Committee
"On behalf of my committee, I would like to express our profound gratitude to you and your team for contributing to the success of our event and making it a night to remember.  We have had nothing but positive comments about your performance and the quality of music.  You can perform to almost any genre whilst tailoring the music to meet the needs and tastes of your audience.  Once again you surpassed our expectations and have raised the bar again.  You meet the demands of your role with the highest standards, punctuality and professionalism. The evening is always too short when you perform and I look forward to your fourth performance with us."
– Leuva Patidar Samaj (Coventry, Rugby, Nuneaton)
"I would like to take this opportunity to thank you for your performance at our Mehfil Charity Event in Aid of Albinism in Tanzania that we held on the 10th of April, 2010, at the Cavendish Banqueting Hall.Please also thank your musicians on our behalf, we will no doubt use your services again, and will not hesitate to recommend you."
– Lions Club of Hadley Wood
Previous Clients Include:
GLA – Greater London Authority
Lions Club Sindhi Association of UK
Zee TV
Bradford City Council
Clydesdale Bank
World Punjabi Association
Lions Club
Oshwal Association
Ismaili Community of UK
Elephant Atta
Bestway Cash & Carry
TRS
Madhu's Brilliant
Giants International
Uttar Sadan Association
KMK-Kutch Madhapar Karyalaya
UK Saheli Group
KP Women's Group
Asian Welfare & Cultural Association (UK)
Somak Travels
Sikh Aid UK
Repertoire:
Aa Dekhe Zara (Rocky)
Aaj Kal Tere Mere Pyaar Ke Charche
Aaj Mausam Bada Beimaan
Aaj Mere Yaar Ki Shaadi
Aaja Aaja Main Hoon Pyar Tera
Aaja Sanam Madhur Chandni Ne Ham
Aane Se Uske Aaye Bahaar
Aap Jaisa Koyi (Qurbaani)
Aap Ke Haseen Rukhpe
Abhi Mujh Mein Kahin
Agar Tum Na Hote
Aisa Sama Na Hota (Zameen Aasmaan)
Ajeeb Daastaan Hai Ye
Aur Is Dil Mein (Imaandaar)
Baahon Ke Darmiyan
Bachna Eh Haseeno
Badan Pe Sitaare
Bahaaron Phool Barsaao
Balam Pichkari
Barsaat Ke Mausam Mein
Beedi Jalaai Le
Bindiya Chamkegi
Chaand Mera Dil
Chaandi Jaisa Rang
Chahunga Main Tujhe
Chala Jaata Hoon
Chand Sifarish
Chaudvin Ka Chaand
Chhalkaaye Jaam
Chhup Gaye Saare
Chikni Chameli
Churaliya
Dagabaaz Re
Dam Dam Diga Diga
Dam Maaro Dam
Dard-E-Dil
Dard-E-Disco
Deewangi Deewangi
Dekha Ek Khwaab
Dekha Na Haayre
Der Na Ho Jaaye (Henna)
Desi Girl (Dostana)
Dholi Taro Dhol
Dil Chahta Hai
Dil Kya Kare
Dil Lena Khel Hai
Dil Tera Diwana Hai Sanam
Dil Toh Hai Dil
Dilli Wali Girlfriend
Dulhe Ka Sehra
Duniya Mein Logon Ko
Eh Meri Zohra Jabeen
Ehsaan Tera Hoga
Ek Pyar Ka Naghma
Gaata Rahe Mera Dil
Gali Mein Chaand Nikla
Galliyaan (Unplugged)
Gulaabi Aankhein
Hamein Tumse Pyar
Har Kisiko (Janbaaz)
Haule Haule (Rabne Banaadi Jodi)
Heer (Jab Tak Hai Jaan)
Hey Shona
Honton Mein Aisi Baat
Honton Se Chhulo Tum
Hookah Bar
Huwi Shaam Unka Khayaal
Ishq Sufiyaana
Jaane Jaan (Jawani Diwani)
Jaanu Meri Jaan (Shaan)
Jab Koyi Baat
Jai Ho (Slumdog Millionaire)
Jashn-E-Bahara (Jodha Akbar)
Jiya Dhadak Dhadak
Jiya Jale (Dil Se)
Jo Waada Kiya
Kabhi Kabhi
Kabhi Shaam Dhhale
Kabira
Kajra Mohabbat Wala
Kajra Re
Kasme Waade Nibhayenge Ham
Keh Doon Tumhein (Deewaar)
Kehna Hi Kya
Khaike Paan
Khuda Jaane (Bachna Eh Haseeno)
Khwaab Ho Tum Ya
Khwaja Mere Khwaja (Jodha Akbar)
Kitna Pyara Waada (Caravan)
Kora Kaagaz
Koyi Shehri Babu
Kya Huwa Tera Waada
Kya Khoob Lagti Ho
Kya Yahi Pyar Hai
Laila Main Laila
Lat Lag Gayee
Lekar Ham Diwaana Dil
Likhe Jo Khat Tujhe
Lovely (Happy New Year)
Main Hoon Khushrang Henna
Main Jat Yamla Pagla
Main Rang Sharbaton Ka
Main Tenu Samjhaava
Maine Tujhe Kabhi Kuch (Ye Vaada Raha)
Mainu Chudiyaan Chadaade Chanwe
Mann Ki Lagan
Marjaani
Mast Bahaaron Ka Main Aashiq
Medley (Hum Kisise Kam Nahin)
Mehbooba Mehbooba
Mehndi Hai Rachne Waali
Mere Mehboob Tujhe
Mere Saamne Waali
Mere Sapno Ki Raani
Mitwa (Kabhi Alvida Na Kehna)
Mujhe Chhu Rahi Hai (Swayamvar)
Mujhe Ishq Hai Tujhi Se
Musafir Hoon Yaaro
Nagaara (Jab We Met)
Nagada Sang Dhol
Neele Neele Ambar Par
Oh Hansini
Oh Hasina Zulfon Waali
Oh Mere Dilke Chain
Oh Mere Sona Re
Oh Saathi Re Tere Bina Bhi Kya Jeena
Om Shaanti Om
Ooh La La (The Dirty Picture)
Ore Piya (Aaja Nachle)
Pal Pal Dil Ke Paas
Parda Hai Parda
Pee Loon
Pehla Nasha
Pehli Nazar Mein
Phoolon Ke Rang Se
Piya Tu Ab Toh Aaja
Pukaarta Chala Hoon
Pungi
Pyar Diwana Hota Hai
Raat Kali Ek Khwab
Rabne Banaadi Jodi
Radha (Student Of The Year)
Rang Barse
Roop Tera Mastana
Saadi Gali (Tanu Weds Manu)
Saagar Kinare
Saans (Jab Tak Hai Jaan)
Saara Zamaana (Yaarana)
Salaam-E-Ishq Meri Jaan
Sama Hai Suhana
Sarakti Jaaye Rukhsenaqaab
Senorita (Zindagi Na Milegi Dobara)
Shava Shava
Shirdi Wale Sai Baba
Shukran Allaah
So Saal Pehle
Sona Sona (Major Saab)
Subaah Hone Na De
Sun Raha Hai Na (Aashiqui 2)
Suraj Huwa Madham
Sureeli Ankhiyon Wale
Tera Chehra (Adnan Sami)
Tere Bina Jiya Jaaye Na
Tere Chehre Se (Kabhi Kabhi)
Tere Mast Mast Do Nain
Tere Mere Sapne (Guide)
Tere Naina Bade Qaatil (Jai Ho)
Teri Meri Meri Teri (Bodyguard)
Teri Ore (Singh Is King)
Tu Hi Re (Bombay)
Tu Is Tarha Se Meri Zindagi Mein
Tujhse Naraaz Nahin
Tum Hi Ho (Aashiqui 2)
Tum Jo Mil Gaye Ho (Hanste Zakham)
Tum Kya Jaano Mohabbat Kya Hai
Tumse Door Rehke (Adalat)
Twist (Love Aaj Kal)
Ude Jab Jab Zulfein Teri
Waada Karle Saajna (Haath Ki Safai)
Waada Karo Nahin (Aa Gale Lagja)
Woh Jab Yaad Aaye
Woh Shaam Kuch Ajeeb Thi
Yamma Yamma
Ye Chaandsa Roshan
Ye Dosti
Ye Jo Mohabbat Hai
Ye Maana Meri Jaan
Ye Mera Dil Pyar Ka Diwana
Ye Mera Prem Patra
Ye Sama
Ye Shaam Mastani
Ye Wada Raha
Yun Toh Hamne
English Songs:
Beat It – Michael Jackson
Billie Jean – Michael Jackson
Celebrate – Kool & The Gang
Crazy – Ceelo Green
Feeling Hot Hot Hot – Buster Poindexter
Just the way you are – Bruno mars
La Bamba – Ritchie Valens
Living Da Vida Loca – Ricky Martin
Staying Alive – Beejees
Billie Jean – Michael Jackson
Swahili:
Jambo Bwana – Swahili (Kenyan) Song
Malaika – Swahili (Kenyan) Song
Bhangra:
Apna Punjab Howe
Captain Bhangre Da
Chan Mere Makhna
Dele Geda
Dharti Hildi
Dhol Jagiro Da
Dowe Jaaniya
Dupatta Tera
Gala Goriya
Gora Gora Rang
Jeene Mera Dil Luteya
Kangna
Khaao Peeyo Aish Karo Mitro
Makhna
Mundiyaan Tu Bachke
Rail Gaddi
Tuni Boldi
Photos of The Bollywood Band