Bubble Performers: In A Bubble – France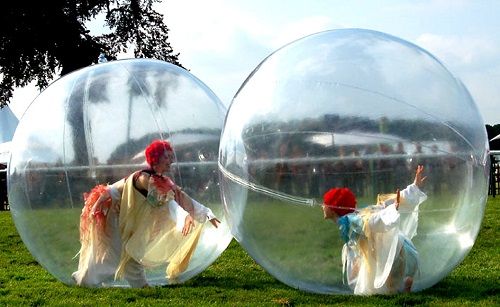 In A Bubble is a beautiful bubble act with stunning costumes, perfect for, water themed events and Christmas corporate entertainment. Prisoners of their bubbles, these delicate and fragile marionettes are suspended in time and in space. They move about in an elegant and luminous ballet as if carried by a breath of fresh air.
Acts Available:
The bubble performers can be booked as a solo act or with up to 20 performers, each in their own bubble! The performers can be dancers, jugglers or contortionists.
Technical Specification:
The bubbles can in 3 difference sizes – 2m, 3m or 4m in diameter. They client will need to provide a PA or music system for the performer to play music on. For 5 or more bubbles a technician will need to be booked with the performers.
Standard Length of Performance: 
3 x 15 minutes with a maximum of 6 hours between the first and the last representation.
30 minutes break between two representations.
Photos of In A Bubble