Helen & Johnny – Various Stilt Walkers | UK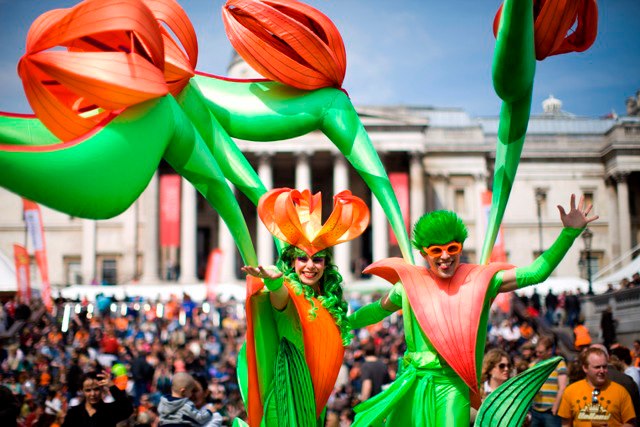 Ideal if you literally require a stunning, larger than life effect for your own event! Themes are made to match each individual event, for example: Heaven and Hell, futuristic, aliens, mythical creatures (fairies/elves) and sexy adult fetish costumes to name but a few! There is always a show to match any conceivable event.
They provide a truly innovative experience for those searching for the ultimate in wow factor! Performance encapsulating a variety of skills, inspired from the arts which were originally rooted in ancient traditions and practices.
Adding to these already amazing effects, the latest technology is used for superior results using modern day contemporary inspiration – and the old element of fire is presented in a multitude of forms to create our unique blend of light and dance.
Characters Available Include:
The Lumi Stilt Walkers
The Lumi Stilt Walkers use the latest technology in woven illuminated fabric which radiates and glows with glorious white light, (they are battery operated so no need for a power source) adding the most spectacularly elegant touch to any low light event. These exclusive characters bring the ultimate "wow" factor to your party. You will not find them anywhere else in the world! The amazing Lumi stilt characters take these ideas to the next level with very long liquid lighted gowns. The stilt characters are draped with the illuminated fabric from head to toe and light up accent headdresses add a touch of elegance in pure shimmering white. Be the one of the first in the UK to experience these stunning liquid light characters.
Flower Power Stilt Walkers
Obviously these are not your average flowers, miracle grow on these ones have had the most surreal effects. The most vibrant flowers you will probably ever come across. Their stunning colour schemes guarantee to attract people like bees to a flower! Real flower power tactics!!
Flowers:
1 x pink Fuscia
1 x purple Fuscia
2 x Birds of Paradise
Requirements: The Flowers are very large, so convenient loading, a spacious 'walkabout' area and a big enough changing facilities with double door access is necessary. Heavy winds can be problematic as it is with all flowers and trees. These performers are ideal for: any type of out-door summer event, exhibitions, trade shows, conferences, shopping centres, balls, weddings, meet and greet, product promotions and any event with a spacious area.
Ying Yang Black and White Stilt Walkers
Ying and Yang stilt characters are here to restore the balance and amaze your crowd. Ideal for meet and greet entertainment.
Fire and Ice Dragon Stilt Walkers
Animated and playful puppet like creatures, fantastic interactive walkabout act.
The Giant Candy Canes
Feared by dentists. Irresistible to the sweet tooth. Entertainment just doesn't come any sweeter than this! These giant candy canes are naturally sweet at heart and with their playful antics, are guaranteed to bring the ultimate sugar high to your event or function. At around 12 feet tall on stilts or 9 feet without, you simply won't find a grander candy. Ideal for meet and greet or mix and mingle at events such as Christmas functions, themed parties, sweet store openings and artificial sweetener protests!
Jinn The Genie
This magical and fiery spirit is a perfect addition to any eastern inspired event! He brings his magic, always ready to grant as many wishes desired bringing instant atmosphere to your themed party! Costumed in authentic eastern silks he also adds a touch of glamour! Ideal for: Arabian Nights / Bollywood / Indian / Middle Eastern
The Chinese Girls
If it's a touch from the Orient you are looking to have at your event, the Chinese girls will be a genuine statement. Dressed to impress standing 10 ft they are a vision from China. Costumes created with authentic materials that also glow under darker environments; they will make your event a memorably Oriental one!
Diso-Dude
He will stand out in the crowd and get the party started! Ideal for: Chinese New Year, Far East, Oriental, Meet & Greet, Fire & Ice, around the world theme.
Eleganza
Graceful, beautiful and captivating – 'Eleganza' makes sure that they will not be forgotten anytime soon by their audience. The movement is dynamic, fluid like the wind making the three mesmerizing. In low light / night environments 'Eleganza' glow and shimmer, installed with lights and crystals they create a magical sight not too be missed.
Carmen Miranda
A tribute to the unforgettable Carmen Miranda – Fun, sassy and full of moves; this tropical star will liven up any party! Carmen brings a giant handbag, whcih has a built in sound-system, filled with Samba sounds as well as a repertoire of other Latin American classics.
An interactive walkabout that will add a Latino flavour and fruitiness to the air and get your party started! This character also comes with LED lights to stand out in low light environments
Interactive Bouncy Stilt Characters
These creatures are a must see and have instant crowd appeal. They're curious, playful and only slightly scary. Their bouncy behaviour really creates a great reaction with lots of smiles, so they are perfect for family fun days and festivals as well as corporate events. These large shadowy yet cuddly creatures have the most exquisite holographic skin which looks just as great in the daylight as emerging from the shadows.
Standard Length of Performance: 3 x 30 minute sets
Testimonials:
"We've used your services at Hard South on many occasions and they always deliver an amazing show. They are totally professional and fantastically talented performers, who are also capable of coordinating and delivering a much extended show if needed. I would have no hesitation in recommending them for every occasion!"
– Hard South
"You added the sparkle to our weekly Sevensins promotion at the Honeyclub in Brighton for over 4 years. They have loads of positive energy and enthusiasm which makes them very popular. Their fire shows, stilt walking, outfits and angle grinding are awesome and make others look like amateurs. Their biggest assets are their friendliness and big smiles which never fail to draw appreciation from our customers. My only regret is not finding them sooner!"
– Central Entertainment
"They were the consummate professionals when I contacted them about performing at our wedding. They were flexible enough to be able to tailor something to meet our very specific budget and their unique performance was a talking point amongst our guest for a very long time after the event. We were so pleased with the results that we have recommended them to other friends who are considering using them for their own nuptials!"
– Private Client
"It was the first time we have used you and definitely not the last. Thank you for all your help."
– Bristol Unity Charity Fashion Show
Previous Clients Include:
Glastonbury Arts Festival
Brighton Festival
Southport Flower Show,
The Martlets Hospice
Epsom Races
Hed Kandi
Cirque Bijou
Bank Of Scotland
Walls Ice Cream
Strongbow
Tesco
Listerine
Nissan
Warehouse
Bloomberg
Think Tank Multimedia
Chelsea Football Club
Fulham Football Club
Ford
Miller
Malmaisson
Kings College
Butlins
Olympia
Brixton Academy
Alexandra Palace
Fiat
Photos of Helen & Johnny