Geek Chic – Modern Barbershop Quartet | London| UK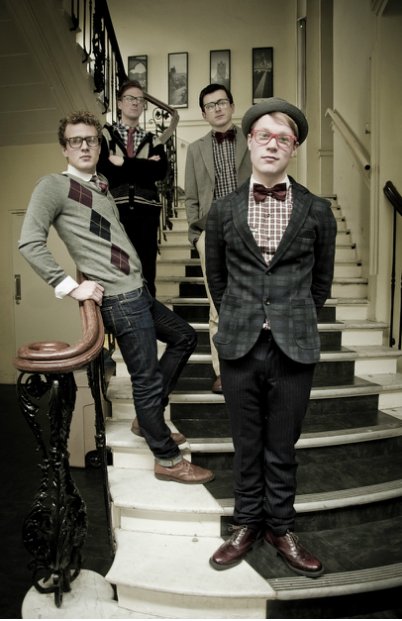 Geek Chic
Geek Chic is a 4 piece modern day barbershop, live acapella group. The members are all West End stars, who come together and mix modern and old style songs for a fun, clever routine which is suited to all events. They can even "mash up" your favourite songs into their routine.
Combining modern and old style songs in their own up-to-date acapella way to create a spectacular act, these boys have to be heard to be believed!
The boys will also sing to backing tracks for sets such as Jersey Boys and Beach Boys. Geek Chic were also winners of TV show 'Don't Stop Me Now'. on Sky 1.
Technical Specification:
Geek Chic need 4 x hand held (cable free microphones) if possible 4 stools and 2 stage monitors. All their tracks are on CD so a CD player needs to be provided (alternatively, Geek Chic can send across the tracks for download prior to the event). If the mixing desk can have some reverb etc. on it to make the singers sound even better that would be great.

Geek Chic can do meet and greet prior to their performance dressed as waiters – waiter uniforms need to be provided by the venue.
Standard Length of Performance:
Geek Chic are very flexible on timings, and can perform to the clients requirements.
They can also perform one set as Geek Chic and One Set as 4Tunes
Testimonials:
"Amazing show – thanks guys."
– D & D London
"Could not have done without Geek Chic – my client was thrilled with your fantastic singing and performance – thank you so much!"
– New Black Events
"Many thanks for your email, and you are right, they were absolutely amazing! They were great flirts with the ladies to get the first few up on the dance floor and the rest flooded up en mass. They really did use the stage blocks around the dance floor amazingly and surrounded the dance floor which made for a very interactive performance which all the guests, including my client, absolutely loved. We had lots of positive feedback about both how great their voices were and what fantastic performers they were. They were an absolute pleasure to work with, super flexible (even when I asked at the last minute for them to get to the venue a bit earlier for sound checks) and I would not hesitate in putting them forward for future events which the act would work for. Thank you again."
– BSI Ltd (via Contraband)
"The guys were excellent and were loved by everyone! They more than exceeded my expectations and I wished we had them as our main event…Thanks :)"
– TaxAssist Direct Ltd (via Contraband)
Previous Clients Include:
New Black Events
D & D London
Gartner
Sky 1
ISES
Walk the Walk
Love & Lord
Renaissance Hotels
Royal Ascot
Photos of Geek Chic
Book Geek Chic
Want to book a performer, or just find out more? Give us a call on +44 (0)208 8291140 or use our online contact form via the button below.