The Dodgy Trio – Various Comedy Acts | UK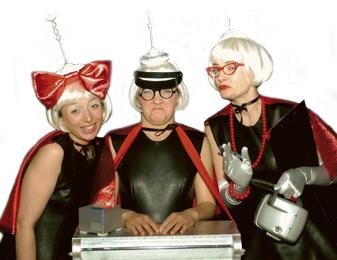 The Dodgy Trio
The Dodgy Trio was formed after Helen and Samantha met by chance in a chocolate shop. They have since established themselves as the purveyors of some of the most wonderful street and outdoor theatre around, and have also tentatively dipped their toes into the muddy waters of television. The Dodgy Trio have a number of comedic cabaret and walkabout shows that they perform at festivals, comedy clubs, and corporate events, as well as a larger piece of static outdoor theatre that comes with its own touring set. Constantly writing and creating new work, they are happy to be commissioned to develop bespoke pieces for one-off or on-going projects.
Acts Available Include:
The Ladies of the Waves:
This is a ten minute non-verbal comedy show set entirely to music, in which three 'ladies of a certain age' who make up the world's only dry-land synchronised swimming team. They perform their hilarious routine with utmost sincerity and conviction, however things take an unusual turn when they forget to look out for the dry-land shark!
The ladies are also available for walkabout and mix and mingle should this be required.
Suitable for cabaret slots, festivals, water themed events.
The Wish Team:
A walkabout show in which two to four rather sour tempered fairies mingle with the crowd, granting wishes to lucky passers-by. Souvenir 'wish vouchers' are distributed to be taken home and used at a later point. Suitable for childrens' parties and other family events, festivals, fairy and magic themed events. The tougher fairies are also suitable for corporate events, meet and greet or mix and mingle.
Best in Show:
Three 'human show' judges have been sent from outer space to judge your crowd and find the best in each show category. Qualify for an award and you will go home with a Polaroid picture of you and a judge, complete with a statement telling you which award you have won. Previous awards have included: Best Leggy Blonde, Most Original Mover, Most Unusual Dresser, and Most Outrageous Eye Makeup.
There are no requirements for this act, other than a sense of humour and variety of humans for us to play with. Polaroid giveaways can be branded with your company logo or the date of the event.
The Drainspotters:
An interactive static show, in which campaign group The Worthing Drainspotters Association will come and set up their display table at your event. Expect to be enlisted into the fight to save the drain, with the help of badges, leaflets, and campaign magazine 'Manhole Monthly'. If you show a particular aptitude for saving the species, you may even be invited into the company office for a one-to-one chat and enrolment.
Suitable for festivals, street theatre, and for meet and greet at a variety of events.
Sisters of Elvis:
These are three intergalactic femmes fatales on a mission, who will mingle with the crowds on the lookout for Elvis Presley DNA. If they think an audience member possesses it they will distract them with a small routine set to Elvis music (the routine you get depends on the level of your Elvis DNA). At the end of the routine they extract the DNA with the snap of a Polaroid, which you may get to take home as a souvenir if you are lucky.
Suitable for corporate events, space themed parties, pink or 50s themed parties, and of course Elvis themed events.
Open for Business:
A static theatre show, that comes complete with full set, including flooring and backstage area. This is a physical comedy show set to music, and takes place in an office setting. It is perfect for workplace themed events, office parties and similar. This show is also available as a touring party of nine.
Ghostly Victorian Lady and her Otherworldly Maid:
This act is perfect for Halloween and any event requiring unusual, spooky entertainment.
The lady and her maid will mix and mingle with the crowd, leaving the skin tingling as they pass on their way. The lady wheels a strangely small perambulator, from which we hear the sound of a baby crying, of a horror theme tune, of distant screams, the sound effects can be chosen especially for your event.
The act is exquisitely delivered by trained, professional actors, who bring just the right edge of the underworld to this chilling piece.
Flights of Fondant Fancy:
This act is fast-paced, quirky puppet show with guest actor appearances, which follows the charming story of a pair of mice, torn away from their career in the circus to fly for the RAF during World War Two. With a delightful soundtrack featuring classics such as 'Tea for Two' and 'Everything Stops for Tea', this wonderful puppet show not only shows the mice on trapeze – it also follows them into the air in their tiny RAF plane, to the rousing tune of the Dambusters. Performed on a small Vaudevillian stage, and featuring tea, trapeze, and lots of fondant fancies, it is a delightful small-scale static show that appeals to all ages – from tiny tots to grandparents.
Each show lasts 20 minutes and can be performed up to 4 times a day. Addittional meet & greet sessions with the puppets can be performed after each show. The team consists of two performers and one technician.
Trip, Light and Fantastic:
An outdoor theatre piece suitable for street theatre events, festivals and car free days.
Take a peek inside the offices of Trip, Light and Fantastic, and purveyors of fine English legwork. In what appears at first to be an ordinary office, an extraordinary day unfolds. There are the usual workplace antics, hiring and firing and a touch of romance. However enter a malicious 'extra pair of hands' and the day becomes peppered with singing pictures, a talking foot, a staple gun shoot-out, and a full scale office disco. It is a show not to be missed.
Testimonials:
"The Dodgy Trio's delightful act went down a treat at our benefit evening. The hilarious spectacle is not to be missed, a brilliant show full of quirky humour. The performers are talented, great at comic timing and very very entertaining."
– Mind Out
"On a wet afternoon The Dodgy Trio were a ray of sunshine flitting across the square…"
– Bath Fringe & Streets ltd
"We have always been delighted with The Dodgy Trio's shows over the years – they are always extremely enthusiastically received by our audiences."
– Glastonbury Festival
"The feedback for your performance was fantastic and everyone thought you were brilliant. Thank you so much for helping to create such a wonderful atmosphere during the reception and for tailoring your performance specifically to our requirements. I look forward very much to working with you again."
– ING Real Estate
Previous Clients Include:
Glastonbury Festival
Berlin Lacht Festival
Larmer Tree Festival
Edinburgh Fringe Festival
Streets of Brighton Festival
Lincoln Water Festival
Mablethorpe Beach Hut Festival
Bring Back Butlins!
Chelsea Festival
Jersey Water Festival
Ashby Festival
Coastal Currents Festival
Bedlam Fayre
Feast
Shunt
ING Bank
Komedia
Churchill Square Shopping Centre
Pink Picnic
Brighton and Hove Pride
The Terrence Higgins Trust
Bent Double at Komedia
Battersea Barge
Canal Café Theatre
Helicentre
The Discovery Channel
Photos of The Dodgy Trio