Christmas Workshops – Art & Craft Workshops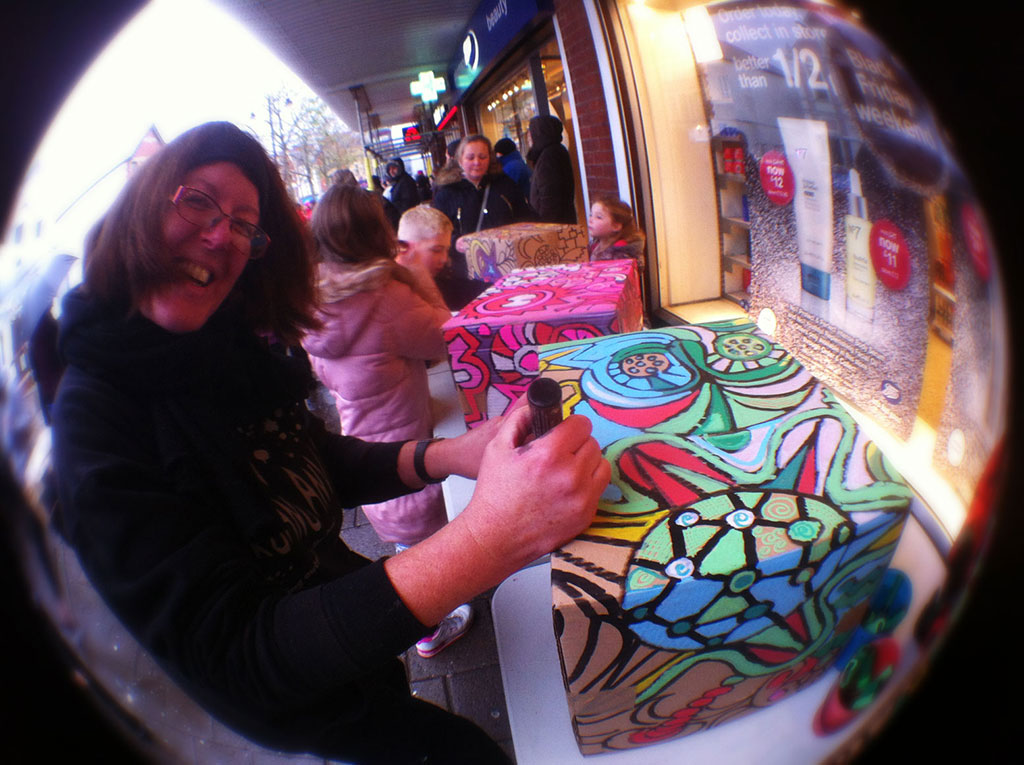 U.C have a great selection of festive workshops, which are perfect for encouraging children to get creative! This is great art and craft entertainment for children's Christmas parties and corporate Christmas events. Children can make their own Christmas gifts, Victorian Christmas cards, Christmas paper puppets, Festive paper lantern making, Christmas food decorations and more. This is great Christmas entertainment for children at large events.
Christmas Paper Puppet Making
Christmas Paper Puppet Making with a festive theme. We show you how to make Santa's, Snowmen, Christmas Trees, Reindeers and all manner of Christmas favourites using nothing more than paper, card and creativity! Take them home and create your own Christmas Puppet Show!!
Festive Paper Lantern Making
Festive Paper Lantern Making for an oriental Christmas theme, once you learn how to make one you can make hundreds…..lanterns can be taken home and lit as alternative Christmas lights! Christmas Food Decorations made from food 'passed its sell-by date' great for issues around recycling and waste! Sculptures make ideal alternative Christmas tree decorations for outside the home!
Victorian Christmas Cards
Rediscovering the forgotten art of the handmade Victorian antique Christmas card, using authentic scraps and decoupage printed papers. Workshops, where the entire family can create, and take home unique Christmas gifts. The perfect indoor activities for the festive season!
All the above are 'clean family workshops' (no paint, glitter etc. and just a little glue) with the minimum of mess.
Boxing Day
A new seasonal make n' take workshop from U.C. Forget the expensive wrapping paper and banal Christmas chintz, this is a chance to create your own gift boxes in all shapes and sizes, and the best thing is you get to take them home!!  The workshop is relatively mess free using non toxic chalk pens and featuring the bespoke design work of acclaimed professional artists U.C.
Prepare for "Boxing Day" and give your Christmas a creative alternative twist this year!
Technical Specification:
Workshops can take place indoors or out. They are suitable for shopping malls, stately homes, corporate events, galleries and exhibitions and anywhere were public involvement is a priority. If the event is indoors, they will require at least three standard sized trestle tables (ideally four) for larger events please contact us.
If the event is outdoors, they require the same number of tables, plus a covered marquee to protect against wind and rain (heated if possible!). They will also need secure parking for one car/van and nearby drop-off and pick-up points. If outside the Northwest region: Overnight accommodation for two people will be required(double or twin room). Setup time is 90 minutes and for break down, 1 hour will be required.
Standard Length of Performance:
The Christmas workshops are usually booked for 2 - 4 hours.
Testimonials:
"We had a fantastic day on Saturday and I simply cant recommend U.C, highly enough, their friendliness and professionalism is second to none. We had extremely changeable weather conditions, but they persevered with such a positive attitude, they are a pleasure to work with and I will hope to do so again in the near future."
- Daisy Entertainment
"It takes exceptional talent to create real art with complete strangers."
- British Telecom Summer Garden
"This is too big for my eyes!"
- Sunderland Waterfront Festival 2005
"What the both of you shared with the people during The Singapore Arts Festival 2003 was nothing less than superb. Definitely a chance of a lifetime that doesn't come around often, and very much an eye opener to what art is all about. I guess we were all grateful for the opportunity to get down on our knees, decorating the streets, bringing it to "life" it has been lots of fun being your liaison officer, hope you enjoyed your stay in Singapore, and we'll be more than happy to have your artists back. Keep up the great work!"
- National Arts Council of Singapore.
"We were really lucky to get this prestigious and talented company. Thank you for producing the stunning huge artworks for our People's Park."
- Ballymena Borough Council
"By taking street art seriously you have given it credibility."
- Walker Art Gallery
"You are developing an art form within its own right."
- Private Client
"Fantastic work."
- Manchester International Arts
"I just wanted to write and say how grateful I am to both of you for providing such superb quality events. Everyone commented on how much they enjoyed taking part, there are lots of comments and images that will stay in my mind for a long time to come. Thank you so much for bringing such a valuable experience to Bridgnorth. I would have no hesitation in booking you for future events and will most definitely be in touch! THANK YOU, YOU LOVELY PEOPLE!"
- Bridgnorth Council
"U.C. were brilliant, very easy to work with and extremely professional, it was a very successful event with lots of happy children and families enjoying themselves, I will hope to use U.C. again very soon."
- Daisy Entertainment and Event Management
"It was a pleasure for us to work with Cathrine and Philip, they did a great job. I didn't have any chance to thank to them so I'd appreciate if you can share it with them too. I hope we will have the chance to work with you and with them again."
- Image PR
Previous Clients Include:
Newcastle Brown Ale
Fastway
European Car Free Day
British Telecom
International Festival of Street Art
Healthy People, Healthy Planet
Mr Wimpy
Asda
Liverpool European Capital of Culture
Christmas Workshops are art and craft workshops in Liverpool, perfect for workshop entertainment, birthday party entertainment, bar mitzvah entertainment, wedding entertainment, school fayre entertainment, school fete entertainment, charity ball entertainment, christmas party entertainment.
Photos of Christmas Workshops
Book Christmas Workshops
Want to book a performer, or just find out more? Give us a call on +44 (0)208 8291140 or use our online contact form via the button below.