The Cash Cows Extreme – Party Orchestra | UK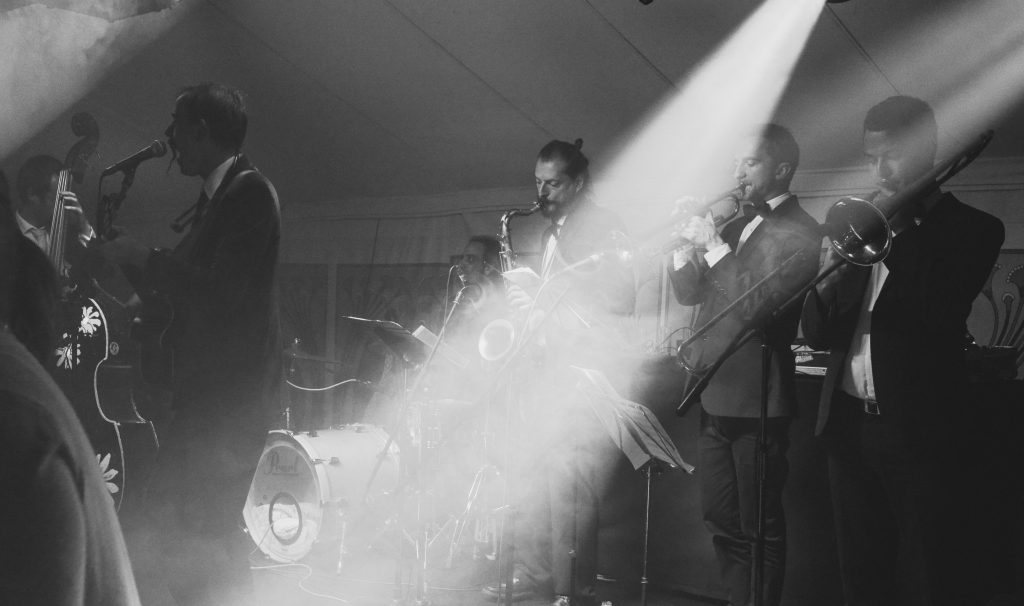 The Cash Cows EXTREME are like no other. The sound they bring to life will shake your bones and tingle your toes. Their reworking of classic songs from the last 100 years is truly original and gets folk on their feet and audiences guessing what song is next.
Featuring a highly accomplished 3 part horn section who have played with the likes of Adele and Peter Andre and a really rocking fiddle player from the highlands of Scotland they have transformed music and brought sweet sweet music to thousand across the globe.
The Cash Cows EXTREME can be tailored to suit your needs and event size. If you would simply like a four piece with bass, drums, guitar and a horn that is fine, similarly if you have a huge event and really want it to sound massive with pianos, percussion, backing singers etc etc give us a call and let's see how big we can go…
Previous clients:
Highclare Stud
Pfizer
EuroMoney
William Reed
Mobile Me
Royal Horticultural Show
Rayban
F1 Grand Prix
Testimonials:
"Cash Cows were absolutely AMAZING tonight, our group loved them and the lads were a pleasure to work with – thank you so much, they really added that something extra special to the night!!! Will definitely keep them in mind for future gigs, such a talent!"
Yellow Fish Event Management
"Such a pleasure to meet you, I love your music"
HRH Prince Harry
Repertoire Includes:
Heard It Through The Grapevine (Marvin Gaye)
Stand By Me (Ben E. King)
The Letter (Boxtops)
Brown-eyed Girl (Van Morrison)
Dock of the Bay (Otis Redding)
Sunny Afternoon (The Kinks)
Come on Baby Light My Fire (The Doors)
The Last Time (Rolling Stones)
Nine to Five (Dolly Parton)
In The Midnight Hour (Wilson Pickett)
Son of a Preacher Man (Dusty Springfield)
Ain't No Sunshine When She's Gone (Bill Withers)
Piece of my Heart (Janis Joplin)
The Chain (Fleetwood Mac)
Billy Jean (Michael Jackson)
Thriller (Michael Jackson)
Shine (Take That)
Hit Me Baby One More Time (Britney Spears)
Toxic (Britney Spears)
Independent Women (Beyonce)
If I Were a Boy (Beyonce)
Can't Get You Out Of My Head (Kylie)
Living on a Prayer (Bon Jovi)
Eye of the Tiger (Survivor)
Disco 2000 (Pulp)
Englishman in New York (Sting)
Psycho killer (Talking Heads)
A Little Respect (Erasure)
Little Lion Boy (Mumford and Sons)
Your Sex is on Fire (Kings of Leon)
Dance Wiv Me (Dizzie Rascal)
Dog Days are Over (Florence and the Machine)
House of the Rising Sun (Trad.)
The Wild Rover (Trad.)
Summertime (Gershwin)
King of the Swingers (Disney)
Goldwatch Blues (Trad.)
St James Infirmary Blues (Trad.)
American Pie (Mclean)
This Old Train (Guthrie)
This Land is your Land (Guthrie)
It's a Long Way to Tipperary (Trad.)
Fever (Nina Simone)
Feelin' Good (Nina Simone)
You Ain't Nothing but a Hound Dog (Elvis)
Devil in Disguise (Elvis)
Blue Suede Shoes (Elvis)
Suspicious Minds (Elvis)
Let It Be (The Beatles)
Yellow Submarine (The Beatles)
Yesterday (The Beatles)
Dont Look Back In Anger (Oasis)
Married with Children (Oasis)
Half the World Away (Oasis)
Folsom Prison Blues (Jonny Cash)
Ring of Fire (Jonny Cash)
The Door is Always Open to My Heart (Dean Martin)
No Woman, No Cry (Bob Marley)
Redemption Song (Bob Marley)
The Harder They Come (Jimmy Cliff)
Like a Rolling Stone (Bob Dylan)
The Hurricane (Bob Dylan)
Dont Think Twice It's Alright (Bob Dylan)
One More Cup of Coffee for the Road (Bob Dylan)
I Shall Be Released (Bob Dylan)
Photos of The Cash Cows Extreme