Austin Powers (Brian) – Impersonator | UK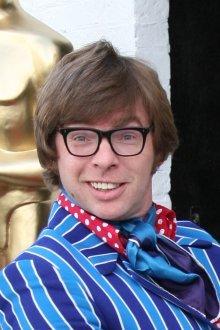 The smiles on faces, the howls of laughter and the wild delight of guests at an event interacting with Austin Powers! Knowing its not only ok to take some time out from real life but such groovy fun to escape into his world! An event where everyone feels theyve stepped on the good foot and done the bad thing, baby – thats why Brian is Europes number one Austin Powers Impersonator.
A professionally trained actor, Brian has gone that extra mile to ensure his clients receive Austin, Austin, Austin! His suits are tailored, made to measure, hes a lookalike, soundalike and totally all things Austin-alike! Along with all the classic lines, he is a master of ad-lib, improvising to whatever is happening or being said around him. Wind him up and let him go! With Austin, its non-stop, fab entertainment and hilarious interaction with guests from shagadelic start to fab, fab finish!
MC Powers!
Along with Meet n Greet, Mix n Mingle, pose for Photographs duties, Brian is regularly called upon to act as host/MC at awards Evenings and other special events, as confident with as without a script and he can write material tailored to the clients needs. And remember, when requested, he can provide your event with his own 60s/70s professional dancers!
Austins Tiger Bed!
An inflatable Queen sized bed with tiger skin patterned, satin sheets - a great opportunity for photographs and a guaranteed, never-to-be forgotten collection of hilarious memories for guests.
Austin Paparazzi!
What better memento of guests arriving at the event than to have Austin not only meet and greet but taking their photos too. As Austin says, Come on people, work with me, show me love!. Whether your event theme is Austin Powers, 1960s, 1970s, Hollywood, Oscars or any theme where you simply want to have the best of fun - Austin is your man!
Standard Length of Performance:
Brian usually performs for 3 hours, but can extend at the clients request.
Testimonials:
" I am just writing to say a huge thank you for attending our recent exhibition in Glasgow. There is no doubt that you helped us make a real mark and that the dental business wont forget us for a long time! It was great to see the reaction on peoples faces as you did your stuff. Your professionalism and attention to detail has been really appreciated by us all as you worked the crowd, and I am amazed at the amount of knowledge you managed to pick up regarding our product range... if you ever want a job, just let us know!! You have made a good meeting great, and your natural warmth and enthusiasm created a tremendous atmosphere on our stand which attracted a lot of new business for us. On behalf of all the team here, a huge thank you and we cant wait to work with you again in the future.... Groovy Baby!"
- Optident
"A big thank you for your super, sexy job. You worked that crowd, and had those girls buzzing all over the event. Great job and thank you so much for being you!"
- Incentive Team International
"I insisted on my client hiring Brian for an Austin Powers themed private party. I knew from the outset that he was totally professional and willing to accommodate my clients requirements. He made this side of my sourcing really easy and fun. On the night of the event, he was on time - well early actually. He organised his running order according to the logistics of the venue. I cant recommend him enough, and would be willing to personally endorse him for any future event! Thank you Brian and cant wait to work with you again in the future!"
- The Brickhouse
"Austin was AMAZING  - just brilliant. The way in which he drew guests into the 60s theme was fabulous."
- Inspired Thinking Group (via Contraband)
Previous Clients Include:
Microsoft
Nintendo Europe
Digiturk
Ernst & Young
JP Morgan
Geopost
Kraft, O2
Samsung
Orange
Barret Homes
EDF Energy
Manchester City Council
GK Ford
EA Games
The Student Loan Company
UCAS
The Montrose Highland Games
Photos of Brian