Anna – Acoustic Violinist | UK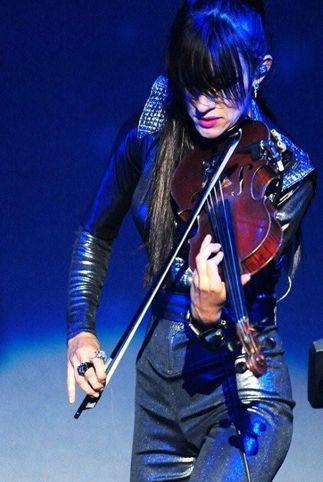 Anna
Anna has been hailed as the "vixen of the violin" for stunning live stage performances that have won audiences and fans all over the world. Her distinctive and original sound combines influences from rock, classical, gypsy, metal and Middle Eastern music, creating a new genre for the violin.
Anna's electrifying stage presence and unique style of playing has cemented her position as one of the world's leading stage performers. She's best known in the United States for her exhilarating role with the multi-platinum selling arena rock band Trans-Siberian Orchestra where Anna is String Director and solo violinist.
As well as touring throughout the world performing her solo material, she has recently joined forces with Jon Lord (Deep Purple) and will join him for his solo concerts with Symphony Orchestras, performing Concerto for Group and Orchestra and the Sarabande suite.
Anna has featured with guests including Steven Tyler (Aerosmith), Paul Rodgers (Queen, Bad Company, Free) and Jon Anderson (Yes). In 2007 Anna joined Jethro Tull as guest soloist, playing her own compositions as well as Tull classics. She is currently touring with Oi Va Voi, promoting their latest album in venues and festivals across the world.
Anna also tours throughout the year with her solo material. Her most recent recording, Rise of the Warrior, is an attention-grabbing collaboration with Dutch musician/producer Joost van den Broek. The album showcases Anna's wide ranging style: symphonic melodies combined with rock and metal rhythms, seizing the best from a whole host of genres.
In live performance or on record, the music of Anna is not to be missed.
Standard Length of Performance:
2 x 15 minute sets.
Testimonials:
"Anna was vibrant on violin in both her physical and playing abilities."
– Rock Report
"Anna's violing came alive with every flip of her hair and bounce of her body. Her energy was incredible. She kept the audience tapping, clapping and beating to the music."
– Private Client
"Anna, a whirling, headbanging mistress of the violing if ever I've seen one."
– Sleaze Roxx
"When Anna is on stage, her presence is such that it is hard to take your eyes off her. She's that good."
– 30 Days Out
"She's the ultimate performer regardless of the size of the crowd or the style of music."
– Private Client
"One person's sound and presence at times stole the show: Anna."
– Independent Music Magazine
Previous Clients Include:
Bloomberg
BNP Paribas
Cadillac cars
Ernst & Young
Ford
Jordanian Royal Family
Lexus
Mercedes
Mourant Ozannes
Saatchi Gallery
Sanyo
Sex & The City Premiere
Tate Gallery
V & A Museum
World Rally Championship
Women's Olympic Committee
Young President's Organisation
Repertoire Includes:
Rise Of The Warrior
Sprit Of Tara
Ballingoola
The Farewell
Dawn Of The Sphinx
Call To Arms
Fallen Warrior
Army Of Souls
Battle Of The Gods
Fallen Ashes
Nemesis
The Journey Home
All the tracks in the track list are original music from the artist.
Photos of Anna