52nd Street Swing – Swing Band | UK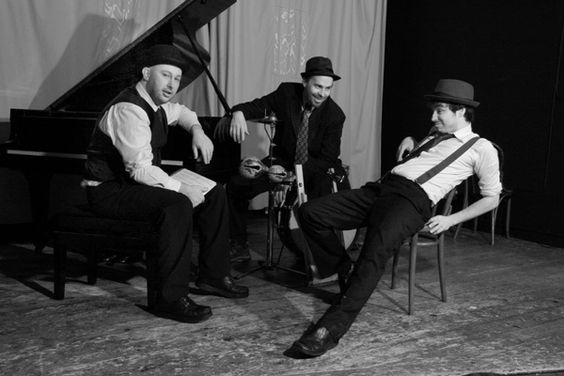 52nd Street Swing are a three piece Harlem swing band that have turned back the clock to play a dazzling set of vintage American music. Classic favourites like 'Ain't Misbehavin', 'The Joint is Jumpin' and 'Your Feet's Too Big' are carefully woven into well known hits like 'Jeepers Creepers', 'Darktown Strutters Ball' and 'I Ain't Got Nobody' to create an authentic 1920/30's Harlem party atmosphere.
They bring back to life the forgotten era of prohibition, speakeasy's, Vaudeville, tin pan alley, rent parties, stride piano and hot jazz.
Standard Length of Performance:
2 x 45 minute sets
They provide all necessary equipment. The minimum they require is a power supply. They are happy working with in-house PA's as long as there is an engineer provided by the venue at no expense to us. If the venue has a piano we would like to use it.
The band also have The Bombshells available to add that sexy touch to the performance. They are dressed in burlesque style costumes that leave you speechless whilst also bringing glamour to the event!
Testimonials:
"52nd Street Swing were just the ticket for the gansters and moll theme. Very very talented musicians and performers interested in making the ball as good as it could be for us."
– Private Client
"52nd Street Swing were great fun, highly professional and a big hit with out guests. 10 out of 10."
– Private Client
Previous Clients Include:
Bury Met Arts Centre
Square Chapel Arts Centre
Helmsley Arts Centre
Otley Courthouse
No. 5 Cavendish Square
Birmingham Jazz Festival
Wigan Jazz Festival
The Old Courthouse (Isle of Man)
Seven Arts
Matt n Phreds Jazz Club
Repertoire Includes:
Im crazy bout my baby
Aint Misbehavin
The Joint is Jumpin
Your Feets Too Big
Dinah
Spozin
Darktown Strutters Ball
Squeeze Me
Baby Brown
Two Sleepy People
This is so nice it must be illegal
Honeysuckle Rose
I Aint Got Nobody
Jeepers Creepers
Tango Til Theyre Sore
The charleston
Georgia
Bill Bailey
St Louis Blues
My Buckets Got a Hole in it
Im gonna sit right down and write myself a letter
When youre smiling
Just a closer walk with thee
When the saints go marching in
Down by the riverside
Amazing grace
I wanna be like you
African ripples
Handful of keys
Vipers Drag
Hold tight (I want some seafood mama)
This is so nice it must be illegal
Sweet georgia brown
The sheik of araby
Carolina shout
Spring cleaning
Bach up to me
The mule walk
Keeping out of mischief now
Zonky
Pork and Beans
12th st rag
shy & sly
Sing Sing Sing
Bei Mir Bist Du Shoen
24 Robbers
Didnt He Ramble
Photos of 52nd Street Swing