Zoot – Various Stilt Walkers | UK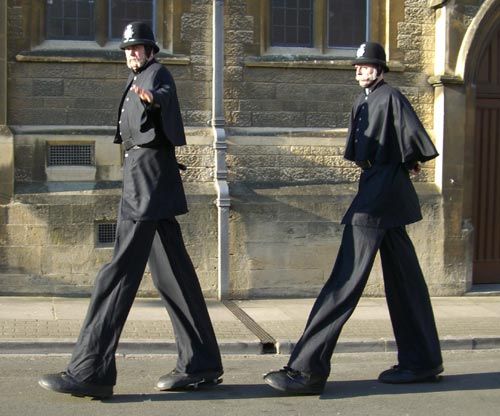 Zoot Stiltwalkers have a great selection of characters to choose from! Juggling or balloon modelling can be added to any of the acts to entertain the largest audiences or the smallest individuals.
Acts Available Include:
Zoot Suits
Alphonse and Luigi Zoot are the original purple zoot suited dudes! Suitable for any event where sophistication and … just being cool is required!
Victorian Stilt Walkers
Victorian Gentlemen Philleas Fopp and Montague Dandy are the height of sophistication! Sherlock Holmes and Dr. Watson, the tallest super sleuths in the world and Victorian policemen – Sergeant William Cuff and Constable Robert Dents – the long legs of the law!
Jester Stilt Walkers
Baldwin the Fool and Godfrey Pugh are jesters of the highest quality.
High skill and consumate foolishness for your Medieval event
Pirate Stilt Walkers
Captain Jack Calico Rackham and Bosun Ned Bones are pirates as tall as a crows nest!
Set times are approximately 3 x 45 minutes.
Chefs
Chefs Extraordinaire promise to whip up a crowd in no time, appetise the audience with delectably dextrous skills, entertain everyone with their stirring good humour and bring the temperature up for their fiery finale flambé!
Sherlock Holmes & Doctor Watson
The classic detective and his faithful assisstant are given a comic twist in this unique street theatre act.
Testimonials:
"Thanks so much for coming along to the Pirates event. I thought your pirate stiltwalking costumes were particularly eye catching and the attention to detail with the boots and wooden leg were inspired."
- Gloucester City Council Events
"Zoot Stilts appeared at Tewkesbury Medieval Festival for the first time last year [2008]. I found them co-operative, very easy to get on with, and a real asset to the event. It was noticeable that they attracted a large crowd whenever they performed, and despite their apparent height on stilts, young children seemed to relate to them very well. I am booking them again for this year [2009], and have no hesitation in recommending them for any event."
- Tewkesbury Medieval Festival
"Just a quick mail to say the two Zoot Stilt walkers were a huge hit and the weather stayed dry so a very successful evening. Please thank the entertainers again from us all at Midas and hope we can work together again."
- Midas Prosound Ltd
"Yet again we were all very happy with the performers and the feedback we have had is that everyone thought they were great so if we do the event next year we would be more than happy to book them again."
- Midas Prosound Ltd
Previous Clients Include:
Llandudno Victorian Fair
Gloucester City Council
Tewkesbury Medieval Fair
VIP London Christmas
Nottingham City Council
Bourne Town Council
Hastings Marathon
Gravesend Maritime Festival
Bath Christmas Market
Cheltenham Town Council
Photos of Zoot