Zoot Pirates – Walkabout Performance Act | UK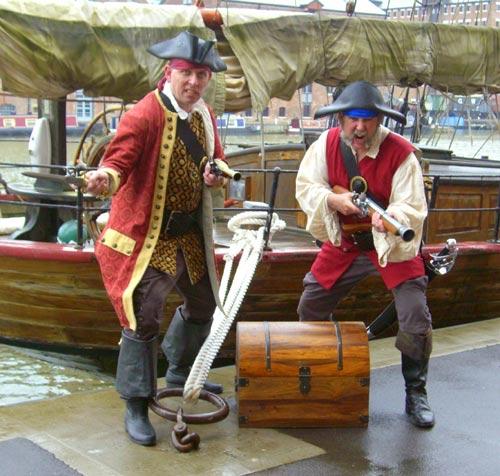 Captain Jack Calico Rackham and Bosun Ned Bones are pirates who have sailed the seven seas to bring you walkabout entertainment of the highest quality. Avast me hearties!
This walkabout entertainment is also full of pirate character and interaction, the two pirates can also perform juggling.
These two pirates also have a unique walkabout act with their very own ship!(Well part of a ship at least!) You see they only have the top deck left after a battle and are on the look out for a new ship to take them on new adventures searching for treasure and landlubbers to entertain!
Their circus show is transformed into a boisterous splendour of entertainment with mock sword fights, cannon ball juggling, flintlock pistols and a yo-ho-ho! These pirate entertainers will make a splash at any event whether corporate, community, private or promotional.
Pirate shows are available which include knife juggling routine of death, the cannon ball juggling act of doom and the cutlass of danger! Pirate sword fights are available as part of the show and the comedy sword fighting can be performed separately if required.
The pirate costumes are of the highest quality and all are authentic looking and appropriate for the period. All other landlubbers and pirates beware!
Standard Length of Performance: Approximately 3 x 45 minutes.
Testimonials:
"Thanks so much for coming along to the Pirates event. I thought your pirate stiltwalking costumes were particularly eye catching and the attention to detail with the boots and wooden leg were inspired."
- Gloucester City Council Events
"It was lovely to see you perform. The client was absolutely delighted with the whole evening. So thank you for a job well done."
- Grass Roots
"Zoot are really nice guys. Their pirate show was a real asset to our event, entertaining adults and children alike, in fact they fast became the favourite part of our guests visit and our staff loved them too. Our event went on for 32 days, and they performed the show 6 times a day, but each and every time it was fresh and funny. They are true professionals. I would have no hesitation in recommending them, and if we ever need this type of entertainment again they would be the first people I contact."
- Spinnaker Tower
Previous Clients Include:
Llandudno Victorian Fair
Gloucester City Council
Tewkesbury Medieval Fair
VIP London Christmas
Nottingham City Council
Bourne Town Council
Hastings Marathon
Gravesend Maritime Festival
Bath Christmas Market
Cheltenham Town Council
Photos of Zoot Pirates