Yam & Leo – Duo Aerial Silk & Rope | UK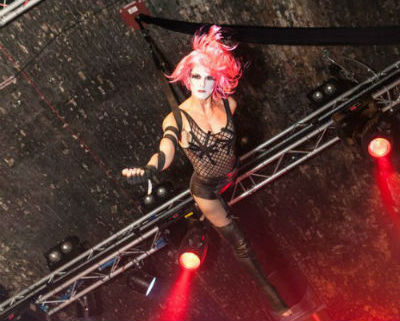 Yam & Leo specialise in contemporary aerial shows on rope, silks, straps, hoop and aerial plastic and have a large variety of solo and doubles acts to offer. Yam & Leo have performed in many events and productions around the World, including opening events, dinner shows, weddings, cabaret nights, festivals and promotions. Each of their acts is original, unique, stylish and with a high level of aerial skills.
Acts Available Include:
Knockout
A flirtatious teasing game that developed into a playful duel in the air. This is a stylish, original and high skilled double rope act with a strong visual impact. It's funny, sexy and most of all, exciting. Length: 6 minutes.
'Some Like it….'
Inspired by the visuals of silent movie and based on the 1920-30' time period, this sixteen minute aerial/physical theatre act plays freely with gender identities and the comic side of traditional sex roles using cross-dressing to play and question the difference between masculine and feminine.
The act explores ways of integrate new, high level of aerial skills with theatre, movement and strong visual images to develop a narrative show.
In Some Like it the performers are using cross dressing to question, reconstruct and later de-construct the polarised gender roles, so typical for the classic movie narrative. Length: 16 minutes **Can also be performed in a shorter version.
Straps by Yam
Yam's new aerial creation. The act combined a unique movement and transitions alongside incredible strength on the aerial straps. Length: 5 – 7 minutes.
'Timeout' by Yam
An eight minute silks show combined with live cello music. The unique combination between the aerial routine with the live electric cello playing, creates a dramatic and beautiful atmosphere that bring the audience to sit down and relax as if somebody just stopped the time. Length: 6 – 8 minutes.
Tangoesque
A solo rope act inspired by the most passionate dance – Tango. Overly passionate, extremely flirtatious and full of energy, the character creates an upbeat rhythmical duet between him and his biggest love – the rope. Length: 5 minutes.
Frozen
Kissed by the snow queen, his soul frozen, this beautiful faerie spirit is left emotionally dead to the world. Only the ephemeral, crystalline beauty of snowflakes can pierce his heart. In intricate and delicate movements on a silver white silk, he tries to catch and chase them. But, what will happen when the snow stop falling? Length: 6 minutes
Web
This act tells the story of one of the most mysterious but none the less most beautiful creatures on earth – The Black Widow. In her journey to search for a new victim and to fulfil her duty in nature the character creates a strong atmosphere and draws the audience into her own private web. The act combined with high rope skills, live video and animation. Length: 8 minutes.
Nocturnal
An award winning act that explore the lust, passion, fear and movement of the classical nightmare creatures. This solo silk act was inspired by the classic Nosferatu story and other tales of blood drinkers that lurks in the dark or in the soft reflection of the moon. Length: 7 minutes.
Metamorphic by Leo
Metamorphic  can be performed on a four metres high or more. The act can be adjustable to vary events and themes. Length: 4 minutes.
'Plastic Aria' by Leo
Performed in a pvc sheeted costume, this piece is done with totally covered ears, skin and eyes exploring the sound, feel and visuality of aerial-plastic: 1 mm thick clear pvc plastic suspended 6 meter in the air. This piece creates stages images exploring the play of light against body and plastic against a soundscape made from recordings of the natural sounds of this artificial material.
In contrast to previous work, this is a more stripped down, sculptural and fragile side of Leo's circus work. A minimum of 6.5m ceiling height & 3m x 3m floor space is required.
Testimonials:
"Leo and the Royal Footmen were very well received. Leo was stunning and the Footmen were fabulously funny, I hope they enjoyed the experience also!"
– Hartlepool Borough Council
"Yam & Leo did possibly the best aerial stuff I've ever seen. Really insanely good, sleek, fluid moves and at times they looked like they were just floating in mid-air. Escaped me in good measure"
– BJC Elevation
"Great act, Pleasure to watch definitely want them to come back next year"
– Glastonbury festival 2008
"Thanks so much – they were great, and the whole show went really well."
– North One TV
Previous Clients Include:
Omega
Jackson's Lane Theatre
Circus Cirkur
Glastonbury Festival
Subtopia Festival
North One TV
ITV
Krystallpalast Variete
Stratford Circus
Barbican centre
La Breche festival
Photos of Yam & Leo