World of Coco – Various Stilt Walkers | London | UK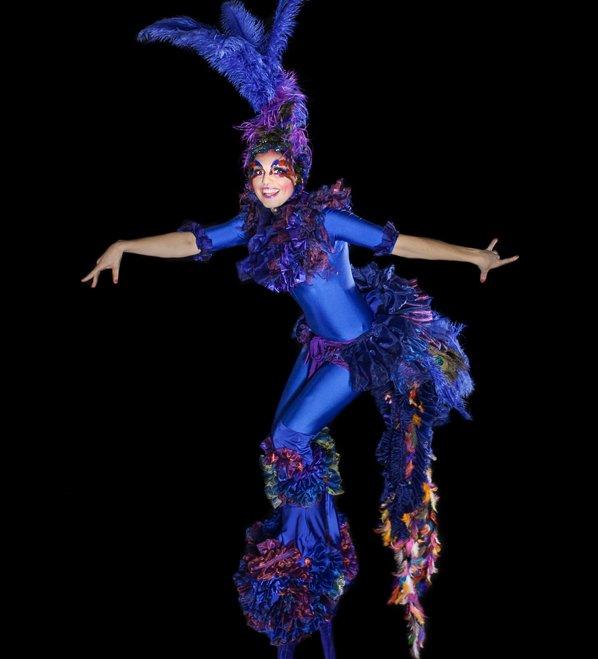 World of Coco
World of Coco are dedicated to providing stunning entertainment. Their high imapct, versatile stilt walkers help you create the atmosphere you desire for your event, whether its lively and animated or graceful and balletic. Beautiful, endlessly creative and gorgeously glamorous our stilt walking performers are highly experienced.
These flamboyant 'Stilt Creatures' add a colourful touch of the carnivalesque to any event. At 8 feet high, these fantastical characters are visually enticing and provide exquisite entertainment.
Birds of Paradise
The fantastical flamboyant stilt Birds of Paradise create a wild and wonderful atmosphere. These enticing walkabout characters add a colouful touch of the carnavalesque and provide exquisite entertainment. With huge feathered crown and beautiful glittery painted face designs, They can flutter and roam around in almost any setting and provide a visually stunning backdrop.
Stilt Damselflies
World of Coco;s gorgeous 'Stilt Damselflies' create an air of magic and allure. Part girl, part dragonfly, these shimmering creatures are exquisitely corseted with sequins, adorned with transparent silken wings and crowned with a hazy halo of butterflies. They are fascinating to behold as they flutter and sashay through their favourite events. 9 foot tall, gracious and chirpy, the Damselflies always have time for some lively chatter with which to greet your guests.
Ice Queens
The Ice Queens are beautiful and extravagant winter themed costumes from World of Coco. These stilt walking characters have a wonderfully frosty atmosphere, with glittering gem encrusted headdresses, sparkling LED lights, pure white eyes and a giant glamorous dress revealing their shimmering white and silver frosted skin. Glistening icicles grow out from their bodies. With dynamic movements reminiscent of cracking ice, they will enchant and amaze all they come across with the sound of their ethereal song and tinkling bells. The Ice Queens are spectacular as statues or as interactive characters.
Circus Girl Characters
These vintage characters create an air of faded glamour
Mermaidens
Ethereal oceanic nymphs from the deepest sea! These aquatic creatures have exquisite headdresses encrusted with jewels foraged from long lost ship wrecks. Blue and white lights glisten from within their tails and long entangled hair. These truly otherworldly creatures create shimming bubbles surrounding themselves and their audience within a supernatural world. The Mermaidens contain beautiful blue and white LED lights and pretty fibre optics. They are spectacular in both night and day.
Costume List:
Bird of Paradise
Stilt Damselflies/ Dragonfly
Ice Queens
Circus Girl Characters (vintage)
Mermaidens- Mermaids
Disco stilts – 70's, Retro
Testimonials:
"Sophie and the Super Heroes were incredible! Punctual and professional – they really got into the spirit of the day and went out of their way to make an impact on Microsoft's Pride Parade presence! They interacted really well with the crowds and were a fabulous addition to the day adding a real sense of occasion and fun! Thank you so much :)"
– Article 10 Integrated Marketing Ltd (via Contraband)
"We were absolutely delighted with World of Coco last night! The impact of the stilt walkers outside on arrival certainly caused a stir and gave attendees a great first impression of the event. Both ladies were a pleasure to work with. They were incredibly professional and friendly so a real plus for the event – we couldn't have achieved such success without them!"
– Insurance Institute of London
"Please pass on a great big thank you to the girls for their performance yesterday. They looked great and the public loved them, they were a fantastic addition to the activities on the square. Thanks to you also for all your help in the lead up to the event, the day was a great success."
– Innovision Events
"The performers were great. They kept in touch, arrived on time and looked great. We would definitely think about rebooking them again. Once again thanks for all your help and we will no doubt be in touch."
– Unison
"The stilt walkers were fantastic and the guests loved them."
– Private Client
"World of Coco were superb and entertained the crowds with their antics so all in all I was very pleased with their performance."
– Farnborough International Limited
"They were BRILLIANT – really really good – will send over a few photos but clients were very happy"
– Events & Venues (via Contraband)
"…The girls looked fantastic and really did a great job. I would have them on the event again."
– Penguins Events Ltd (via Contraband)
"Thanks so so much for everything last week. It was great overall. The stilt walkers were great performers…Thanks again and no doubt we'll be in touch again :-)"
– Music and Sound Awards Ltd (via Contraband)
Previous Clients Include:
Glastonbury
Streets of Brighton
Traquair Fair
Bradford Markets Festival
Gevleugelde Stad, Belguim
Corporate Events
Metro Centre opening
National Museum of Film and Photography
Xscape
Eureka
Indoor Venues
The Square Chapel Arts Centre
Circus Ricardo's
Alhambra Theatre
Millennium Forum
Photos of World of Coco
Book World of Coco
Want to book a performer, or just find out more? Give us a call on +44 (0)208 8291140 or use our online contact form via the button below.