Wonderful West End – Cabaret Shows | London| UK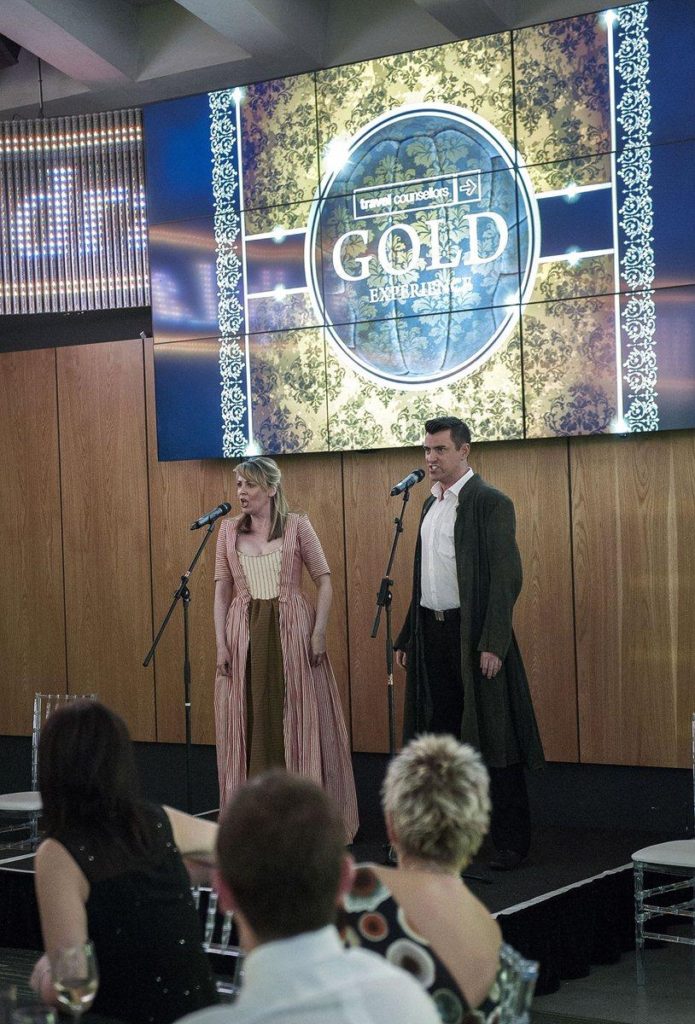 Wonderful West End
Wonderful West End have been providing bespoke entertainment to both the corporate and theatre markets for over 25 years, specialising in the musical theatre shows of London's West End. The shows are fully costumed and usually feature members of the original cast of any particular show.
A number of different formats are available from 4 singers with backing tracks up to 16 singers and dancers and a 24 piece orchestra. The entertainment they provide is perfect for corporate events, gala evenings, company parties, hotels, theatres, weddings, birthday parties, bar mitzvahs, private parties, anniversaries etc.
Jersey Boys
The Jersey Boys is the story of Frankie Valli and the Four Seasons and is currently one the most popular shows in London's West End. It follows the ups and downs, starting from their days with "The Variety Trio" and documenting their time in and out of prison and dubious involvement with the mob! Every song is a winner in this show from the beautiful ballads of "My Eyes Adored You" to the up to date dance floor filler "Oh What A Night", there is something for everyone and the performance is guarenteed to get everyone moving! Songs include: "Walk Like A Man", "Rag Dolls", "Lets Hang On", "Big Girls Don't Cry" and "Can't Take My Eyes Off You".
Mamma Mia
ABBA meets the West End in this musical based on the hit songs of the Swedish supergroup Mamma Mia tells the story of Sophie who on a quest to find her real father has narrowed the search to a possible three. Things get very complicated when Sophie gets married as all three potential fathers offer to walk her down the aisle. Everybody knows and loves the songs of ABBA making this show ideal for any occasion. It can be performed with as few as 4 cast members up to a maximum of 14. Songs Include: "Mamma Mia", "Super Trouper", "Gimme, Gimme, Gimme", "The Winner Takes It All", "S.O.S", "Waterloo", "Money, Money, Money" and "Dancing Queen".
We Will Rock You
We Will Rock You is set 300 years into the future when the earth has been renamed the "iPodPlanet" and is controlled by the Globalsoft Corporation. Musical instruments are forbidden and rock music is unknown. The show is formed upon the songs of the ultimate British rock group – Queen. A very upbeat and colourful show makes it ideal for corporate entertainment and theatres alike. Songs Include: "We Will Rock You", "Another One Bites The Dust", "Killer Queen", "Bohemian Rhapsody", "I Want To Break Free", "Don't Stop Me Now", "Radio Ga-Ga" and "One Vision".
Les Miserables
One of the longest and most established shows currently in the West End, Les Miserables tells the story of Jean Valjean as he is released from prison after 19 for stealing a loaf of bread and subsequent escape attempts. Featuring the most popular ballads in the West End, this show is ideal for dinner and gala performances. This show can be performed with a cast of 4 to 14 people. Songs Include: "Master Of The House", "Bring Him Home", "One Day More", "On My Own", "I Dreamed A Dream", "Empty Chairs At Empty Tables" and "When Tomorrow Comes".
Other Shows
Wonderful West End can provide you with almost any show past and present from the West End. Previous performances include: Wicked, Chicago, Buddy, Dirty Dancing, Phantom of the Opera, Sister Act, Blood Brothers and Mary Poppins.
Standard Length of Performance: Shows can last up to 2 hours.
Technical Requirements:
Client must provide full sound and lighting rig including Sennheiser Lavallier radio mics (for each performer), adequate foldback and CD and MD playback.
Testimonials:
"What a resounding success! Positive comments from all who attended"
– Eagle Star
"Simply superb!"
– Vodafone
"We have never attended such as wonderful show in our lives"
– Marks and Spencer
"The event was a huge success and Wonderful West End were fantastic. Most of the delegates were up dancing and really enjoyed the show. The group were lovely and were really accommodating when the client changed some timings the day before the event!"
– Punchline Media
"The client was really pleased with the whole event and the UK Managing Director made a point of coming to speak to me to say that Wonderful West End were fantastic – length of set was perfect and content was entirely appropriate to the event."
– Punchline Media
"I could have danced all night!"
– Private Client
"The evening was fantastic"
– Private Client
"They went down well and the client was happy. Thanks again for all your help and I will be in contact again soon!"
– Capitol
"The party was absolutely wonderful. The highlight of course being the Jersey Boys. They were fantastic. Bernard was totally blown away and loved every minute. It was for us all 'a night to remember'. Thank You for organizing everything. It has been a pleasure dealing with you and hopefully, I will call on you again, for future events."
– Private Client
"It was a really fantastic evening and much of it's success was due to the very appropriately named Wonderful West End. Their performance was everything I hoped and guests, without exception, were plentiful in their praise of the show. Anne & Harry Symonds, who were celebrating their Golden Wedding Anniversary, were delighted with the cabaret and asked me to pass on their very sincere thanks to David and all his team. For my part, I would like you to pass on to the WWE cast, Tom and the techies, the choreographer and, most of all, David, my thanks for their professionalism throughout the entire event. I do hope you will make sure WWE know how much their hard work and talents were appreciated!"
– Talk Up
"Yeah the feedback was great! The chairman was very happy with both the singers!"
– Private Client (via Contraband)
"The event was great everyone was stunned by the performers they went down really well. I'd never seen the film or the stage production and to be honest I didn't think I knew any of the songs until they came on but I loved it and will definitely go and watch it at the theatre next time it's on! Thank you so much for all your help on this too Archie you were great as usual and much appreciated."
– Travel Counsellors Ltd (via Contraband)
Previous Clients Include:
Wembley Stadium
Ford Motor Company
Courage Brewery
Radisson-Edwardian Hotels
The Banqueting House
IBM
Vodafone
Marks & Spencer
Barclays
Eagle Star
Photos of Wonderful West End
Book Wonderful West End
Want to book a performer, or just find out more? Give us a call on +44 (0)208 8291140 or use our online contact form via the button below.