Wine Cabaret – Wine Tasting Cabaret Show | Brighton| South East| UK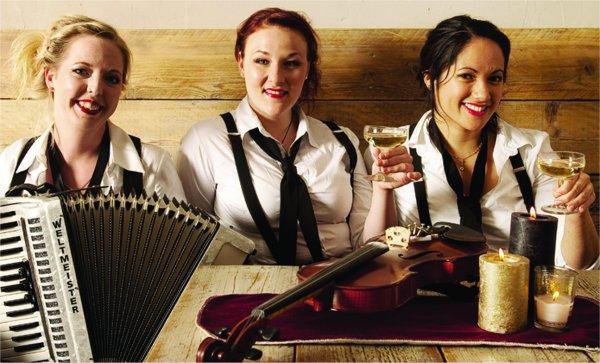 Wine Tasting Cabaret
An Australian company based in Europe, artfully integrate their spicy brand of musical cabaret with a fresh twist of interactive wine tasting. As fervent wine lovers and passionate corporate entertainers, they have created a unique fusion of two worlds. The performers interactive with guests through talking about each wine, with some exciting performances in between.
A multi-talented bunch of musicians, singers and stage performers, the troupe is set to storm the scene with appearances at major music and theatre festivals around the world. If you are looking for interactive corporate entertainment with a completely original concept, then these guys will not disappoint. They have integrated wine tasting into a cabaret show, which incorporates three professionally trained performers. The arrangement includes vocals, piano, violin and accordion which are all acoustic and mobile.
They are inspired by the search for personality in a wine, human qualities of a wine, and the experiences in life that encapsulate the wine. They have exciting partnerships with local wine distributors in Sussex, and the client can choose the wine they want to taste, involving them in the process and giving them ownership of the evening entertainment. They also have the opportunity to climax the show with a very high quality wine as a treat for employees. eg. Penfolds Grange or a Dom Perignon.
Champagne Cabaret
Join this talented trio of 'Songeliers' as they serve to you the Champagne Cabaret, an intoxicating musical journey of love, loss and the celebration of life. Along the way, you will taste some of the finest French Champagnes, world‐class sparkling Rosé, as well as some of the finest bubbly from around the world, including songs from Frank Sinatra, Tom Waits, Morrissey & Siouxsie, The Cranberries, Oasis, Queen and many more. The perfect evening for a group of friends who love champagne, great music, and lots of laughter.
'A celebration of life in all its froth and bubbles.' Pop the cork on your evening with this international trio of 'Songeliers' as they present their renowned Champagne Cabaret. Story, music and wine songs from the likes of Queen, Morrissey and Bublé paired with five unique sparkling wines.
Wine Cabaret
The Wine Cabaret is an interactive wine‐tasting experience paired with a considered blend of musical refreshments. With melodies from around the world audiences will sample wines from some of the best cellars on an international vinicultural adventure. Bring a group of friends and enjoy an evening of fun, laughter, and exquisite wine‐tasting all served with generous helpings of live music from iconic greats such as The Eagles, INXS, U2, Alanis Morissette, Van Morrison & many more!
'Hand-picked music straight from the vine'. Celebrate your evening with this international trio of 'Songeliers' as they serve up their renowned interactive wine tasting cabaret. Enjoy story, music and wine songs from the likes of INXS, U2, Cold Chisel and The Eagles paired with five amazing wines.
Technical Specification:
The performers will bring LED lighting strips, 4 x small led footlights but will not need a PA as they are completely acoustic.
Standard Length of Performance:
The show runs for 1 hour and 15 minutes. The shows can also be adapted into a lunch, dinner or supper event which will have a 2 hour runtime.
Photos of Wine Tasting Cabaret
Book Wine Tasting Cabaret
Want to book a performer, or just find out more? Give us a call on +44 (0)208 8291140 or use our online contact form via the button below.