Wii Party Zone – Competitive Games | UK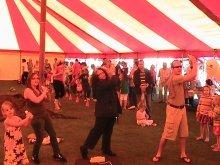 Looking for that something different? Nintendo Wii Party Zones take fun corporate entertainment to the next level. Whether booking for team-building events, inter-office competitions, community events, corporate events, weddings, or for just dancing, playing, driving or drumming your way through a party, they can provide the Nintendo Wii, 4 controllers, large screen, projector, sound system and operative to ensure you get the most out of your time.
The entertainment is aimed at all ages but ideally will suit an adult audience. Games are played (or competed) in groups of 4 with a safe gaming zone marked out for each player. The 'Party Zone Operative' will come fully trained in running your Zone, with the ability to run a variety of competitions that will draw peoples interest into an entertainment area that is as fun to watch as it is to play.
You can have dance and also change the game throughout the day (mario kart, big beach sports, Wii sports etc), if you decide you want some variety throughout the booking.
They use a 3m x 3m waterproof black gazebo to house the equipment, which has 3 sides closed and the front open. This is where players stand to play the games. As they use a projector to display the large gaming image, having the front of the gazebo facing away from the sun is very beneficial. So when planning your site this may be something to keep in mind. They carry a 50inch plasma to use in case there are any issues with brightness on the day.
Adding an element of competition to the booking always helps the excitement build at the Wii tent throughout the course of the day. They have a magnetic score board (a bit like the fastest lap time scoreboard on top gear) that they can use to log the best score for each player. They run very relaxed competitions, but they are great fun. It is also beneficial for the team to keep their vehicle behind the gazebo, as this is where they store their spare equipment (games, tv controllers etc).
Options Available Include:
Wii Party Zone
The original interactive group gaming experience with a whole host of great games to get everyone up and enjoying themselves! Games available include;
Mario Kart
Just Dance
Just Dance 2
Wii Sports (Boxing / Tennis / Baseball / Golf)
Rock Band with drums/guitar/microphone
Big Beach Sports (volleyball/ frisbee etc)
Racket Sports Party (Tennis / Squash / Badminton)
EA Sports More Workouts ( Fitness based game)
Any special requests can be made and easily catered for.
Testimonials:
"Thank you so much, you provided an excellent service from start to finish and you really helped the evening go so well."
-Private Client
"I would definitely recommend you to everyone I know, so helpful and efficient."
- Private Client
"Thank you for making our evening so great"
- Private Client
"Many thanks for helping the evening run so smoothly, and ensuring everyone had a good time"
- Private Client
"Many thanks for Friday, the event went really well. The guests all really enjoyed the Wii party zone and so did I! A special thanks to the two guys who worked on the Wii zone. They did a great job entertaining the guests! It was a pleasure working with you, and I am looking forward to the next event."
- Big Group
"It went very well thank you. The Wii Party Zone was a huge hit! People loved it and most likely come to stay. Many Thanks!"
- Jesus House (via Contraband)
Previous Clients Include:
Bournemouth Centre for Trade and Commerce
Dorset Fire and Rescue Service
The Mirimar Hotel
East Close Hotel
Highcliffe Castle
The Langton Arms
The Haven Hotel
Kingston Country Courtyard
Marsham Court Hotel
The Christchurch Harbour Hotel
Larmer Tree Gardens
The Connaught Hotel
Photos of Wii Party Zone