Weston & Morris – Acoustic Guitar Duo | UK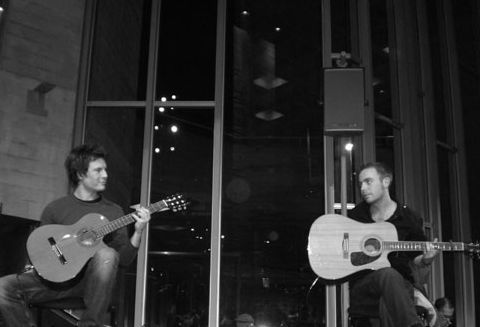 The Guitar Duo are a contemporary instrumental guitar duo sourcing inspiration from many guitar genres. A mix of jazz, latin and gypsy infused music juxtaposed with more calming guitar compositions, create an ideal atmosphere for both formal and informal events. They have played for a variety of corporate events, weddings and private parties around the UK and Europe such is the diverse playing energy on offer.
Standard Length of Performance:
The band can do three sets of 40 minutes or up to 3 hours of music.
Technical Specifications:
The performers will need nearby power sockets and two armless chairs.
Testimonials:
"I've come to admire the musicianship of these two young and incredibly talented musicians. A fabulous guitar duo, they are reinventing the medium with alluring and wonderfully played versions of well known and popular tunes and instrumental pieces. They also play their own original compositions which transcend genre. Technically brilliant, the duo create virtuosic music which is both accessible and at the same time profound- they can draw both the average listener and the serious music fan. They are really good at drawing in and entertaining the audience with their comfortable stage presence and positive attitude and give off a fresh enthusiastic vibe while at the same time being utterly professional."
– The Complete Guitarist
"We were delighted to have the Morris-Weston Guitar Duo play for our wedding. They really kept the atmosphere alive and flowing and made the first dance very special with an original arrangement of one of our favourite songs. Thank you"
– Private Client
"The Morris-Weston Duo played at our business function and were fantastic. They created a wonderful atmosphere with their music and kept all the guests entertained by playing a wide repertoire of songs from jazz and latin to up tempo gypsy numbers."
– Private Client
Previous Clients Include:
V&A Museum
Ernst & Young
The Wallace Collection
Toyota
Image Events (Chandos House)
Rochester Bridge Trust
Funnybone Limited
Chewton Glen Hotel
Athelhampton House
Trinity House
Riverbank Park Plaza
Repertoire Includes:
Latin, Gypsy & Jazz
Indian Dance
Sueno Con Mexico
Aguna de Aia
Remembering…
Don't Mean A Thing…
Night in Tunisia
Summertime
Samba dOrpheus
Djangology
Minor Swing
Marnha de Carnaval
Yesterdays
Sweet Georgia Brown
Belleville
Vendredi 13
The Saga of Harrison Crabfeathers
Djangos Tiger
Chanson de la Rue
Café Parisien
Contemporary
Nothing else Matters
Jump
Stairway to Heaven
High & Dry
While My Guitar Gently Weeps
The Man Who Sold the World
Sunny Afternoon
Paint it Black
Palolem
Rubinas Blue Sky Happiness
My Belonging
A Curious Blues
Classical
Prelude from 1st Cello Suite: J.S Bach.
Born in the Sea
Astoria: Segovia
Capricho Arabe: Tarrega
Andantino in A: Matteo Carcassi
Romanza
Photos of Weston and Morris