Virtual Track Racing – Virtual Animal Races | UK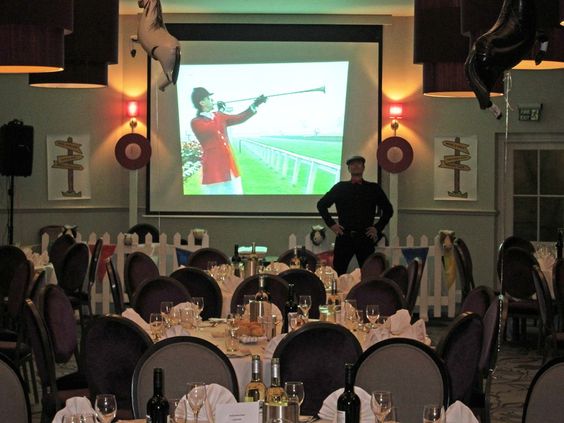 Create a day at the races on the large screen! This virtual animal race includes 8 races on DVD projection, hosted by the best MC's and aided and abetted by the jockey's / ticket sellers dressed in authentic racing silks.
Huge selection of exciting races filmed at the top UK and American race tracks! This is a great participation event and is ideal for corporate events, club fundraising or just for pure fun!
Space required is 3-6m by 3m for the screen. Standard package is with front projection unit.
It can be played during dinner or as an after dinner entertainment. Races are run every 10-15 minutes. Guests place their bets with the ticket sellers and are given a betting / Tote slip, if they win they come and collect their winnings. The racing is played purely for fun or on a 'Tote' basis. The Racing is perfectly legal. We are guided by and adhere to provisions set in the Gambling Act 2005.
Why not theme your racing area with winning posts, picket fencing, astroturf (3m by 2m) sections to create a Winners enclosure and coloured bunting! Can also be combined with a casino to create a top gambling night.
Standard Length of Activity: The optimum time period is 2-3 hours.
Testimonials:
"Thanks for supplying another great night of entertainment"
- BBC
"The horse racing appeared to bring out the best in everyone, it certainly brought about the shared fun and camaraderie aspect which was good to see"
- Private Client
"A short note to thank you for your part in what was a very successful and enjoyable evening.... The service and quality far exceeded our expectations"
- Private Client
"Thank you, by all accounts everyone had a really great evening and really enjoyed the horse (and pig!) races, particularly those who won!! They were well set-up and ready to go on time, efficient from one race to the next - overall well done."
- Thomson Reuters
Photos of Virtual Track Racing