Vintage Gramophone DJ's | Gramophone DJ's | UK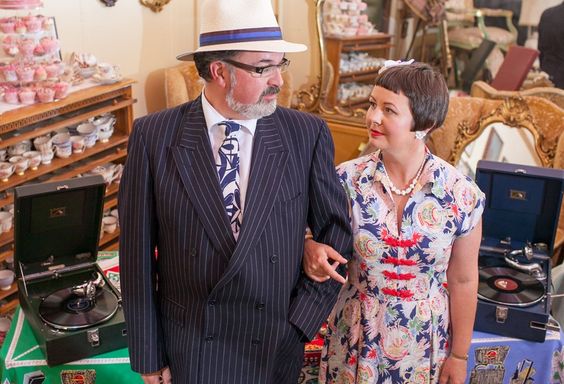 It's a wind up, but not in the usual sense as DJs Matt and Annabel spin the discs on their 1930's picnic wind up gramophones. These two shellac jockeys started collecting old 78rpm discs over five ago and have now had to convert their garage to cope with the vast collection of over 25000 records and 15 gramophone players.
Matt and Annabel use original vintage gramophone players which, by all accounts, were the iPod of their day, portable and with a great sound. These are linked up to a P.A. system to amplify the music for any size of venue.
Vintage Gramophone DJ's using original wind-up gramophones playing 78rpm Shellac discs from a collection of over 25000 recordings, ranging from 1900 – 1960
Costumes Available:
Victorian, Edwardian, WW1.
1920s Gatsby, Flapper Gangster, Hep-Cat, Peaky Blinders day wear.
1930s Café de Paris, evening wear, ball-gowns and tails, day wear.
1940s American resort wear, English and American day and evening wear, Spiv, WWII
1950s All types.
They can accommodate most fancy dress requests and party themes
Standard length:
Up to 4 hours
Testimonials:
"I just wanted to say thank you so very very much for coming and playing at our wedding, we absolutely loved the music you played, the atmosphere you created was perfect and exactly what we had hoped for! We had a lot of people saying how lovely and different it was, I hope they complemented you too! We really appreciated you being there"
-private client
"Many thanks for playing at the Members party again this year. We loved your set up, the gramophones sounded fantastic and your music for the cocktail reception fitted perfectly. Looking forward to having you back in the near future"
-River Cottage HQ
Previous Clients Include:
Hugh Fernley-Whittingstall River Cottage HQ
Wayne Hemmingway
The Times Cheltenham Literature Festival
Bestival
Camp Bestival
MINTFEST
Moet and Chandon
Selfridges
Harvey Nichols
QVC
National Rail Museum
Photos of Vintage Gramophone DJ's