USO DJ Set – Vocal String Orchestra & DJ | UK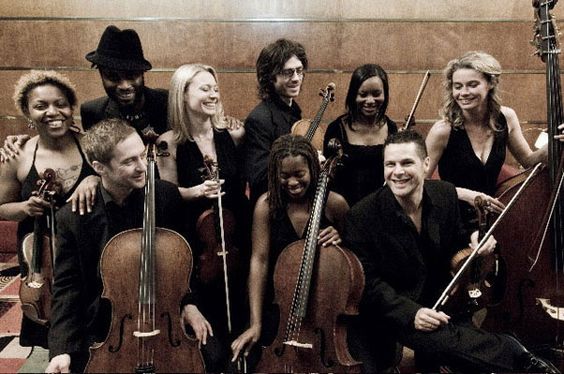 The USO DJ set is a unique fusion of live percussion, strings, male or female vocalist, sax, and DJ. The USO DJ set entertains your guests with an upbeat performance of soulful house and Latin grooves, suitable as either contemporary and 'cool' background music, or as dance music. The USO DJ set is 'something different' for exclusive private functions, product launch events, corporate events, film wrap parties, media events and celebrity parties.
USO is a young, contemporary and diverse string-based ensemble with a groovy twist, DJ and vocals. By adding percussion and bass to the classic string ensemble, they've created their own unique blend of strings, beats and bass lines. Soulful arrangements of lush strings and funky rhythms combine to create a fresh, modern and classy sound.
Available in different sizes, USO is ideal for receptions, parties and special events – where live music is required to enhance the occasion. They have an exclusively arranged repertoire of chilled out lounge grooves, contemporary pop and soul, cool jazz and blues, and beautiful classical music. They also undertake special commissions by request.
USO have recorded and performed alongside many of the music industry's most high profile and successful artists, including Groove Armada, Jay-Z, Keane, Nitin Sawney, Cliff Richard, Gabrielle, Nightmares On Wax, Robert Miles, Maxi Priest, Brinsley Forde (Aswad), Shola Ama, Kenny Thomas, Steve Brookstein, Paul Potts, Heather Small, Carleen Anderson, Octave One, China Black, Misty Oldland & Denise Pearson from 5 Star. They have also featured in TV and video promotional campaigns for Kylie Minogue, Emma Bunton, Sonique and Annie Lennox.
Weddings
Exclusive repertoire and versatile sound with classic and beautiful service, followed by an uplifting and fun reception.
Standard Length of Performance:
Performance times can vary from 2 x 1 hours to 3 x 45 minute sets.
Testimonials:
"I absolutely loved the music last night as did our guests. The orchestra were fantastic, the perfect background to the wonderful setting".
- Private Client
"USO were great to work with, true professionals and fantastic musicians - my clients were delighted!".
- Freese Event Management Ltd
"The party we held in Vincy in honour of Lord Weidenfeld's birthday was a great success, and our guests were amazed by the wonderful music and atmosphere. We really enjoyed hearing you, and we would surely recommend you."
- Private Client
"I just want to say a huge thank you - USO's performance was amazing!"
- Tailor-Made Events
"A huge 'Thank You' to you and the rest of USO - you were all absolutely fantastic, and we've had so many great reports from our guests who all thought you were super! You went over and above all expectations."
- The Lawn Tennis Association Wimbledon Ball
"I just wanted to email to say a HUGE thank you to you and the USO on the fashion shoot on Wednesday. Thank you for all your help in pulling in a very good-looking group of men. They provided a stunning centrepiece to the shoot. The crew wanted to cry when they started playing in the field at Osterley Park, it was amazing. The director was so pleased, and it was just what she had imagined in her head. I think all the girls want to have them at their weddings to play!"
- Red Magazine
"The band were very well received. They were very nice to work with, were presented very well and 100% met the brief. One delegate said that they played the room very well - started off mellow and then worked them into the mood to go out...(you get me!). I even heard one of the delegates chatting about booking them for her wedding!! I thought they were brilliant."
- A Little Bird (via Contraband)
"USO were great, they were extremely professional and literally just got on with the rehearsals and the gig itself without needing much input from me at all so I was very grateful for that!"
- Travel Counsellors Ltd (via Contraband)
"The event went really well thank you! USO were brilliant you were so right I was really impressed with them. So impressed that I wanted to talk to you about using them for another event. Thank you so much for suggesting them they were absolutely perfect for what we wanted. You are a star!"
- Euromoney Trading Ltd (via Contraband)
"I was more than happy with all of it.....The band were amazing, and Banbury was great too.....Thanks again for everything- I couldn't have done it without you!!"
- Incentivise Ltd (via Contraband)
Previous Clients Include:
Oasis
Mariah Carey
Lancôme
Nokia
Deutsche Bank
Ikea
Gian-Luca Vialli (Chelsea FC) wedding
Alan White (Oasis) wedding
Juliana Ratner (CNN Newsreader) wedding
Peter Andre & Jordan wedding
WOMAD
Cannes Film Festival
'Nine' Film Launch
Basel Art Fair
Lord Norman Foster
Gartner Winner's Circle Gala
Rupert Murdoch
Wimbledon Ball
DJ Set Repertoire:
Fools Theme - Urban Soul Orchestra & Sir Piers
Esperanze (Brown Skin) - John Kumahara / India Irie
Moves (Give me the night) – Alex Alvarez / George Benson
Amazing Love - Anane
Celebration of Life – Antonio Ocasio
Knights of the Jaguar – Mad Mike / Rolando
Outro – Kenny Dope & the Bucket heads
Zion – Soul to Soul
Wonderwall – Oasis (USO Drum & Bass version)
Crescendo (Glenn Underground & the Urban Ensemble)
Aldeia de Ogum - Osunlade
Memories – Jose Carretas feat Zeep & USO
Soul of the World - Urban Soul Orchestra & Jose Carretas feat Fola
Blackwater - Octave One
Black Is The Colour – Nina Simone
Beet 5 – Urban Soul Orchestra / Beethoven
Photos of USO DJ Set