USO Acoustic Ensemble- Vocal String Orchestra | UK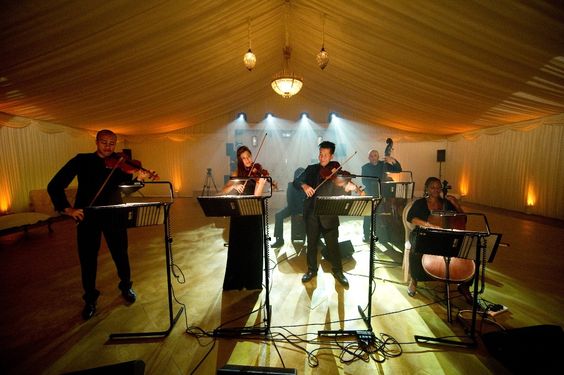 The 6 piece USO Acoustic Ensemble adds a groovy twist to the traditional string quartet by adding percussion and bass to create a beautiful, organic sound, providing sophisticated live music for during dinner, drinks reception, or private party.
A vocalist can be added in to the Acoustic Ensemble to turn this into a 7 piece; this option can perform 1 x 45 minute set along with up to 2 x 45 instrumental sets.
USO is a young, contemporary and diverse string-based ensemble with a groovy twist, DJ and vocals. By adding percussion and bass to the classic string ensemble, they've created their own unique blend of strings, beats and bass lines. Soulful arrangements of lush strings and funky rhythms combine to create a fresh, modern and classy sound.
Available in different sizes, USO is ideal for receptions, parties and special events – where live music is required to enhance the occasion. They have an exclusively arranged repertoire of chilled out lounge grooves, contemporary pop and soul, cool jazz and blues, and beautiful classical music. They also undertake special commissions by request.
USO have recorded and performed alongside many of the music industry's most high profile and successful artists, including Groove Armada, Jay-Z, Keane, Nitin Sawney, Cliff Richard, Gabrielle, Nightmares On Wax, Robert Miles, Maxi Priest, Brinsley Forde (Aswad), Shola Ama, Kenny Thomas, Steve Brookstein, Paul Potts, Heather Small, Carleen Anderson, Octave One, China Black, Misty Oldland & Denise Pearson from 5 Star. They have also featured in TV and video promotional campaigns for Kylie Minogue, Emma Bunton, Sonique and Annie Lennox.
Weddings
Exclusive repertoire and versatile sound with classic and beautiful service, followed by an uplifting and fun reception.
Standard Length of Performance:
3 x 45 minute sets (with 1 of these featuring a vocalist)
Testimonials:
"I absolutely loved the music last night as did our guests. The orchestra were fantastic, the perfect background to the wonderful setting".
– Private Client
"USO were great to work with, true professionals and fantastic musicians – my clients were delighted!".
– Freese Event Management Ltd
"The party we held in Vincy in honour of Lord Weidenfeld's birthday was a great success, and our guests were amazed by the wonderful music and atmosphere. We really enjoyed hearing you, and we would surely recommend you."
– Private Client
"I just want to say a huge thank you – USO's performance was amazing!"
– Tailor-Made Events
"A huge 'Thank You' to you and the rest of USO – you were all absolutely fantastic, and we've had so many great reports from our guests who all thought you were super! You went over and above all expectations."
– The Lawn Tennis Association Wimbledon Ball
"I just wanted to email to say a HUGE thank you to you and the USO on the fashion shoot on Wednesday. Thank you for all your help in pulling in a very good-looking group of men. They provided a stunning centrepiece to the shoot. The crew wanted to cry when they started playing in the field at Osterley Park, it was amazing. The director was so pleased, and it was just what she had imagined in her head. I think all the girls want to have them at their weddings to play!"
– Red Magazine
"The band were very well received. They were very nice to work with, were presented very well and 100% met the brief. One delegate said that they played the room very well – started off mellow and then worked them into the mood to go out…(you get me!). I even heard one of the delegates chatting about booking them for her wedding!! I thought they were brilliant."
– A Little Bird (via Contraband)
"USO were great, they were extremely professional and literally just got on with the rehearsals and the gig itself without needing much input from me at all so I was very grateful for that!"
– Travel Counsellors Ltd (via Contraband)
"The event went really well thank you! USO were brilliant you were so right I was really impressed with them. So impressed that I wanted to talk to you about using them for another event. Thank you so much for suggesting them they were absolutely perfect for what we wanted. You are a star!"
– Euromoney Trading Ltd (via Contraband)
"I was more than happy with all of it…..The band were amazing, and Banbury was great too…..Thanks again for everything- I couldn't have done it without you!!"
– Incentivise Ltd (via Contraband)
Previous Clients Include:
Oasis
Mariah Carey
Lancôme
Nokia
Deutsche Bank
Ikea
Gian-Luca Vialli (Chelsea FC) wedding
Alan White (Oasis) wedding
Juliana Ratner (CNN Newsreader) wedding
Peter Andre & Jordan wedding
WOMAD
Cannes Film Festival
'Nine' Film Launch
Basel Art Fair
Lord Norman Foster
Gartner Winner's Circle Gala
Rupert Murdoch
Wimbledon Ball
Acoustic Ensemble Repertoire:
Pop/ Soul/ Urban:
Nightmares on Wax Les Nuits
Groove Armada: Edge Hill
At The River (Sand Dunes)
Nitin Sawhney Koyal
Seal Kiss From A Rose
Omar There's Nothing Like This
Bill Withers Just The Two Of Us
Ain't No Sunshine When She's Gone
Brand New Heavies: Midnight At The Oasis
Stevie Wonder Past-Time Paradise
Marvin Gaye Heard It Through The Grapevine
Isolee Brazil.com
Paul Simon Diamonds on The Soles of Her Shoes
Maria Carey: Emotions
Vision of Love
All I want For Christmas
I Miss You Most At Christmas
Born On This Day
Boyzone: Love Me For A Reason
Dido Thank You
Sting Fields of Gold
Lenny Kravitz It Ain't Over Till It's Over
Pop/Rock:
Coldplay: Viva la Vida
Elbow One Day Like This
The La's There She Goes
Queen: Bohemian Rhapsody
Madness: It Must Be Love
ABBA Money,Money,Money
Super Trouper
Beatles: Eleanor Rigby
When I'm 64
Norwegian Wood
Oasis: Roll With It
Hello
Wonderwall
Don't Look Back In Anger
Some Might Say
She's Electric
Morning Glory
Champagne Supernova
Married With Children
Take Me Away
Damien Rice The Blower's Daughter
Reggae:
Bob Marley: Sun Is Shining
No Woman, No Cry
Who The Cap Fits
Jo Bennett Leaving Rome
Peter Andre Mysterious Girl
Reggae Philharmonic The Tree Song
Orchestra Love & Hate
Sharpeville
Jazz:
Freddie Hubbard Little Sunflower
Herbie Hancock: Chameleon
Ian Carr/ Nucleus: Easy Does It
Abelardo Valdes Almendra
George Gershwin Summertime
Henry Mancini: Moon River
Fats Waller: Ain't Misbehavin'
Joe Garland: In The Mood
Jerome Kern: Smoke Gets In Your Eyes
Calos Jobim Girl From Ipanema
Bart Howard: Fly Me To The moon
Film / TV:
Geoffrey Burgon Brideshead Revisited – (Main Theme)
Ennio Morricone: Gabriel's Oboe (From 'The Mission')
Chi Mai ( From 'Life of David Lloyd George')
John Barry: Out Of Africa – (Main Theme)
Francis Lai Love Story
Ernest Gold Exodus (Main theme)
Georges Delarue: Camille (From Le Mepris)
Craig Armstrong Balcony Scene from 'Romeo & Juliet'
Song/ Musical:
Bocelli: Time to say Goodbye
Bernstein: Somewhere
America
Arr. Kershaw: Cabaret
Loewe: I Could Have Danced All Night
Wouldn't It Be Lovely
On The Street Where You Live
Get Me To The Church
Harburg/Arlen: Somewhere Over The Rainbow
Contemporary:
Nigel Kennedy: Ederlezi
Vitamin Quartet: 'Falling Slowly'
Classical:
Albinoni: Adagio
J.S.Bach: Air on a G string
Brandenburg Concerto No.3 in G
Concerto for Two Violins in D Minor
Jesu: Joy Of Man's Desiring
Boyce Symphony No.4
Corelli; Christmas Concerto
Handel: Water Music Suite
Firework Music (La Rejoussance)
Largo
Arrival of the Queen of Sheba
Two Bourees
Mozart: Divertimento No.1 in D
Eine Klene Nachtmusik
Ten Celebrated String Quartets
Pachelbel: Canon in D
Purcell: Trumpet Voluntary in D
Rossini: William Tell Overture
Vivaldi: Concerto for Four violins in E minor
Romantic:
Barber: Adagio for Strings
Bizet Habanera from Carmen
Borodin First Polovtsian Dance
Capua; O Sole Mio
Elgar: Chanson de Nuit
Chanson de Matin
Salut d'Amour
Mendelssohn: Wedding March
Ravel; Bolero
Schubert: Entr'acte
Rosamunde
Vaughan Williams: Greensleeves Fantasia
Wagner: Bridal Chorus from 'Lohengrin' (Here Comes the
Photos of USO Acoustic Ensemble