The Twilight Dancers – Street Dancers | UK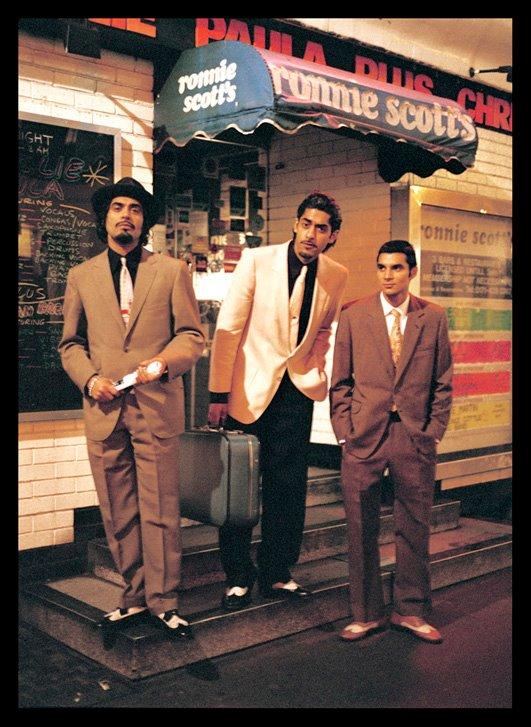 The Twilight Dancers
The Twilight Dancers – Sinbad, Ammo 'Too Sweet' and Jimi 'The Quiff'…
Slick, sharp and dynamic! The trio perform in their own formidable style, with a heavy dose of showmanship to a hip soundtrack of Latin Jazz, Ska, Indian and Electro Funk.
With their unique look inspired by everything from classic Havana of the fifties, Bollywood glitz of the sixties, right through to the Americana Soul movement of the seventies. 'The Twilight Dancers' are a slice of British cool, forever bringing classic retro-vibes into the 21st Century.
Their global appeal has taken them everywhere from Glastonbury to Mumbai, Los Angeles to Casablanca and a few ports in between on a amazing fun-filled adventure with a host of colourful characters along the way.
The Twilight Dancers were awarded the first ever 'UK OG's 4 Life Award' at the prestigious 'Carnival – Choreographer's Ball 2005'.
Performances last between 10 – 20 minutes.
Minimum 15ft x 15ft floor space required.
Testimonials:
"What a day! Good weather and very good entertainment. The Twilight Dancers were absolutely lovely guys and very good entertainment very well received. Thank you for your help with the acts this year, here's to 2015!.."
– Cricklade Festival (via Contraband)
"The Twilight Dancers have an unbelievably great show, which is why they have been our finale act at the Club for the last 3 years"
– The Tassel Club Night, Dublin.
"The boys have such a unique show which while being contemporary and hip pays homage to the Rat Pack, Seventies Funk and British gangstar movies, its a beautiful mix."
– Private Client
Previous Clients Include:
MTV Style Awards
Glastonbury Festival 2005/07/08
Lovebox Weekender
Coca Cola R.E.V's
Wella Fashion Show
Asian Business Awards
International Launch London Gin 24
Lost Vagueness At The Elephant Ball
Sunday Best Presents Bestival
The Tassel Club
Photos of The Twilight Dancers