The Vikings – Comedy Street Theatre Act | UK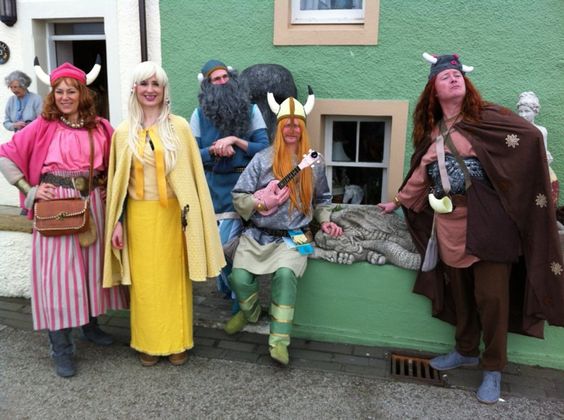 Hellbent on apologising for all their ancestors wrongdoing would sum up The Vikings. Luckily, 1200 years after their first invasion, they've been embraced with open arms in a succession of towns and villages across the North of Scotland, from Nairn to Banchory.
The Vikings can literally appear from nowhere but being highly mobile, they can pillage 3 or 4 villages per day, compensating descendants of their victims with gold coins or 2 inch square parcels of land in Norway. Olaf, Borg, Freya, Gudrun and Jorgen want nothing more than to make lots of new friends in Scotland, and cement relations for future generations to come.
Standard Length of Performance:
The performers usually do 3 x 45 minute sets.
Testimonials:
"Well done to all concerned. It brought a welcome bit of humour to the grey streets. They promised to arrange a Viking funeral for me, but I must make it clear that I dont need it right now. Maybe they can come back when Im dead!"
– Private Client
"The 35 children were enthralled, and the mothers enjoyed being propositioned, but the staff wondered why they weren't!!!! Their singing did leave a little to be desired, but the songs were very good. They were brilliant, thank you all so much!"
– Lossiemouth Library
Previous Clients Include:
Royal Bank of Scotland
Millennium Dome
Glasgow City Council
Manchester City Council
Cardiff City Council
DF Concerts
BBC
National Library of Scotland
Rocco Forte
Standard Life
British Waterways
Photos of The Vikings