The Travelling Hands – Party & Function Band | UK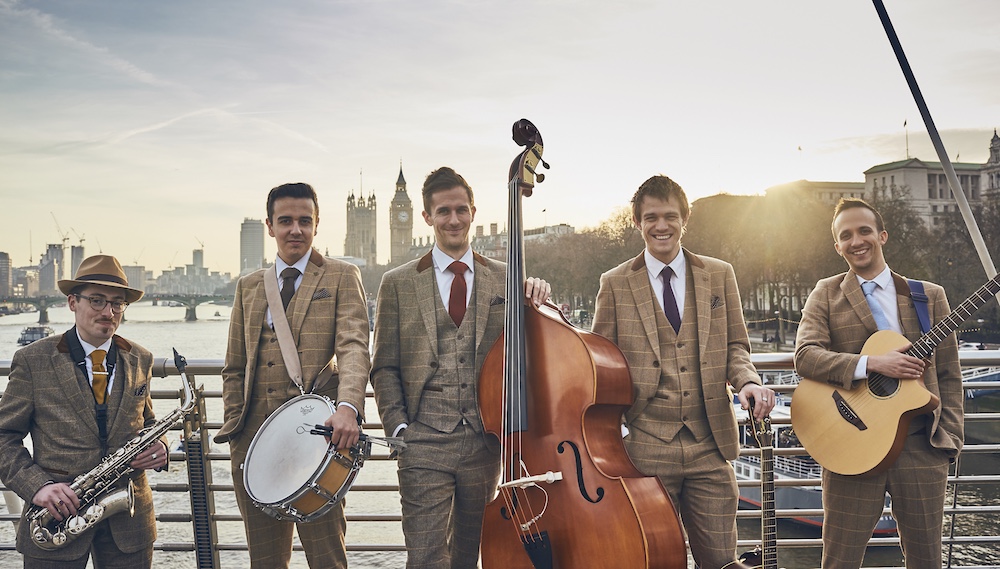 The Travelling Hands are one of the UK's leading roaming bands and offer a unique performance, moving to different groups of guests playing intimate customised sets in a feel good walk-around performance. The Travelling Hands are an entertaining, highly skilled and versatile acoustic roaming band, available to hire for corporate parties, balls, product launch parties, film premieres, anniversaries and weddings. These corporate entertainers will leave your guests amazed with their mix of classic songs and modern hits.
Combining two guitars, percussion, saxophone, double bass and a whole lot of harmonies, The Travelling Hands offer a fresh delivery of live music through their arrangements of classic songs and modern hits in a warm feel good 'Mumford & Sons' meets 'The Lumineers' style of performance.
Together, these musicians' five instruments create the perfect bed for harmonised vocals. If you want the full sound of a complete band, but with a more acoustic delivery or you're looking for a performance with a twist, then The Travelling Hands are the band for you.
Having performed as residency band at the Wimbledon Tennis Championships, plus a brilliant selection of venues including The Ritz, Isola Del Garda (Lake Garda), Lincoln's Inn, Hilton Doubletree, plus clients including Epson, Kuoni, WH Smith & many more, this is one acoustic band in demand.
Highlights:
– Premium acoustic band sponsored by Marc Darcy suits
– Previous venues and events include Wimbledon Tennis Championships, Chillon Castle & Lake Geneva (Switzerland), The Ritz, The Langham, The London Boat Show, Grosvenor House, The Ham Yard Hotel, Hampton Court Palace, The Silver Sturgeon (luxury river yacht), Altitude 360, Supernova, Isola Del Garda (Italy) plus countless luxury wedding venues nationwide.
– Performances for Jaguar Land Rover, Help For Heroes, James Caan (Dragon's Den), Taylor Wessing, Rabobank, Atos, Merrill Lynch, Epson, Kuoni, Kwik Fit, WH Smith, World Television & many more.
– One of the UK's leading walk-around acts moving around your event and performing to different tables or groups of guests, OR as a fixed band in one spot with sound system. 
– Professional acoustic band performing relaxed or lively music!
– Repertoire includes classic songs and modern hits in a warm, feel-good 'Mumford & Sons' style!
– Highly experienced band members each with over a decade's worth of gigging experience worldwide.
– Add an acoustic duo to kick-start the live music at your event at a special discount when booked with the full band.
– Corporate, professional, friendly and positive attitude.
Standard Length Of Performance:
2x45 minutes as standard. Other options available such as 2x30 min, 2x60 min, or 3x40 min
Adaptability for all events:
With five instruments playing together, it's very easy for the band to play a more relaxed set or a more lively one, so no matter whether you're hosting a black tie dinner or an informal birthday party, you can be confident that the band will look and sound the part for your event.
The extra options:
The PA Option
If you're looking for an acoustic band to perform with a live sound system instead of the walk-around option, The Travelling Hands have it covered for you as they also regularly perform as an amplified band with a top end professional sound system plus lighting rig at the ready. Perfect for events where you have a dance-floor, or where you'd like the music to feature more prominently at your event.
The Party Set
After The Travelling Hands have performed as a walk-around acoustic band, they can also perform a great party set as an electric band with full drum kit & electric guitars. As the band members will already be heading to your event for the acoustic performance, we can add this package onto your event at a discounted price.
Acoustic Duo, Trio or Quartet
If you were thinking of also hiring an acoustic duo or trio at your event to get things started, we have more good news. The band members often perform as duos or trios so this is very comfortable territory for them and they always deliver another top-class performance.
As the musicians will be heading to your venue for the full band performance, adding on a performance from an acoustic duo (consisting of the two acoustic guitarists/vocalists from the band) or trio (plus either percussion or double bass) is very easy to do. Perfect at the start of your event, over afternoon drinks or during a dinner as a small musical taster for your guests to enjoy.
Alternatively for smaller events, the full band can downsize to an acoustic quartet or trio.
Testimonials:
"In summary from start to finish the band were exceptional. Tom as the lead point of contact for the band was superb and we couldn't have asked for more help in terms of answering questions, recording demos and supporting our every need. On the day they arrived before time, and integrated brilliantly into the vibe we were trying to create for the wedding. In terms of sound, songs played and getting everyone on the dance floor we couldn't have asked for better. Tom, and the band, thank you for helping to make our woodland wedding an amazing day, and we would quite happily recommend them many times over to anyone who needs a band for their wedding!"
– Private Client (Wedding)
"The band were really lovely and everyone enjoyed them"
– Private Client (Wedding)
"Everyone loved the band, especially with the addition of the saxophonist. They were very professional and catered to all guests. Would definitely recommend to friends!"
– Private Client
"Wonderful experience from start to finish! So polite, friendly and fantastic on the day! Thank you to you all! I wouldn't hesitate to recommend!!!!!!!! Xxx"
– Private Client
"Thank you for doing such a brilliant job on our wedding day. When we envisaged having a band play us out if the church you were exactly what we had hoped for!  You were all such gentlemen and so lovely and kind. Thank you also for letting me play along with you for a song, it was a real highlight of the day for my wife and for myself."
– Private Client (Wedding)
"Thank you so much for making our wedding so amazing! You made the whole day for us and really can't say enough how happy we were to have had you guys there."
– Private Client (Wedding)
"The boys were fantastic. They went down really well and were a pleasure to have perform for us, a lovely bunch of lads."
– Host, Rabobank, July 2016
"The sets you guys played were simply fab. The number of people who came up to me and said how the band were the best they had ever heard was extraordinary, and they were completely right!! Thanks guys, really made the evening, there were a lot of happy people!!"
– Private Client (Wedding)
"For those of you who don't like long reviews; these guys are fantastic, talented and really made our wedding. Stop your search and book them. For a slightly longer review read on, from the moment of booking the band stayed in contact and always made communication when they stated they would, this included running through running order/arrival time, sorting out the playlist and if we had any special requests for the day. Tom arrived before the rest of the band with all his equipment at the time we had agreed, he then proceeded to transport their equipment to the venue and start setting up. First of all, Tom is an extremely friendly and likeable person. He offered to help out with anything as we were running behind he performed a few errands for us and generally helped us out for which we are very grateful. On to the music, as a band they are a very talented bunch, we left the set list up to them and my goodness did they deliver a fantastic blend of current and past music which had all age groups dancing, singing or at the very least tapping their foot along! I'm no Simon Cowell but they sounded fantastic with an excellent range throughout varying songs and genres. This coupled with the fact they were able to interact and react to the various unplanned situations during their set (first dance etc) made them an excellent choice for the wedding. An added twist, was that our wedding was a surprise wedding, with our guests turning up and expecting an engagement party, the band were extremely discreet and the surprise went down a storm. We spent hours and hours searching for a band for our wedding by the end of it all their samples seem to sound the same, save yourself the hassle and book The Travelling Hands. A fantastic night had by all. THANK YOU GUYS!"
– Private Client (Wedding)
"Great bunch of lads and our guests loved the fact that they moved around the venue and mingled, playing music to suit the guests they were playing to at that time. We even got them to play our first dance live which we are so so glad we did as they nailed it. Thanks to The Travelling Hands for helping to make our wedding even more memorable."
– Private Client (Wedding)
"Thank you all so so much for yesterday, absolutely amazing day and brilliant sets. All the guests were amazed at your music. Fantastic!"
– Private Client (Wedding)
"They were brilliant! Great fun, super music and got the guests all fired up for an awesome party! Thank you!"
– Private Client
"What a fantastic band, exactly what we wanted. Thank you so much."
– Private Client (Wedding)
"Feel good songs performed in such a unique way. Everybody loved it!"
– Corporate Event
"We couldn't have had a more exciting band. They were brilliant, provided a great mix of music & truly made it a night to remember."
– Private Client (Wedding)
"The perfect band for my 30th birthday. You were all great – thanks guys!"
– Pete, Host, Private Event
"They were absolutely brilliant at our wedding last Saturday. They played the first dance song of our choice perfectly, and a good mix of old and new songs to get the guests dancing. The band were quick to respond to any questions before the day, and nothing was too much trouble to make sure the day was perfect. Thank you so much for making our day special!"
– Private Client (Wedding)
"The Travelling Hands were absolutely fantastic, they had everyone at our wedding up and dancing and they played our first dance – which was a request song – beautifully. We've had so many lovely comments about them. Tom and the band were really relaxed and easy to work with which was a blessing in the run up to, and on the day of, our wedding. Thanks for helping to make our day so special!"
– Private Client (Wedding)
"We can't thank you guys enough for agreeing to make the trip to Italy to play at our wedding. Jasper and I fell in love with your music the moment we heard you play. All our guests have been saying how much they loved "the band" and it was your music that really set the mood for both the ceremony and the party!!!! We thank you from the bottom of our hearts"
– Private Client (Wedding)
"The Travelling Hands surpassed all our expectations, they were brilliant. They played a great mix of upbeat songs and had everyone dancing. They are a great group of guys and they looked like they were enjoying themselves as much as we were. Their set-up was great (lighting etc), they set their sound levels perfectly and their vocals were fantastic. We could not have asked for a better way to end the evening. They even let us play our own playlist through their equipment during their breaks."
– Private Client (Wedding)
"Thanks for everything on Saturday; you guys were everything we were looking for. You made our evening excellent."
– Private Client (Wedding)
"Thanks for making our street party such a success yet again. Your choice of music was excellent, you sounded fabulous and, most importantly, you got people dancing."
– Private Client (Street Party)
"A big thank you from Mike and I for helping our party go so well last Friday – we had a lot of compliments about your music and singing. We thoroughly enjoyed it and your contribution gave a lovely atmosphere. As I said on the night, I would be more than happy to recommend you to anyone."
– Private Client
"Thank you for last weekend! We had an absolutely amazing time and everyone was just full of overwhelming praise for you guys. Thank you SO much for going with my crazy idea & playing round the campfire. It was lovely."
– Private Client (Birthday)
"They were excellent. Very sociable and eager to please; their playing and repertoire was an extremely pleasant backdrop to our daughter's wedding breakfast. We would have no hesitation in recommending them to anyone for a wedding reception, or any other gathering… professional and well-delivered acoustic music."
– Private Client (Wedding)
"We were incredibly pleased that we chose The Travelling Hands to provide the live music at our wedding. They were always professional and both we and our guests enjoyed the entertainment. Their song repertoire was varied and well executed. We would not hesitate to recommend you to anyone looking for a great band."
– Private Client (Wedding)
"I know I thanked you last night about 5 times but wanted to put it down in print! We had the most fantastic evening last night and you were fabulous. I have had so many people thanking us and singing your praises. Can't thank you enough. I am sure we will be in touch again."
– Private Client
"LOVE THEM – Fabulous! Great feedback from the night. Would 100% recommend them again and we didn't want them to stop! Thank you!"
– Hallmark Hotels, Corporate Event
"The Travelling Hands were great, perfect for the venue and for the intimate wedding event. All of our guests loved them."
– Private Client (Wedding)
Previous Clients Include:
Sportsworld (Performing for 3 days at Wimbledon Tennis Championships 2015)
WH Smith
Epson
Kuoni
Hallmark Hotels
NHS
Wedding, The Ritz
Wedding, Isola Del Garda (Lake Garda)
Queen's Counsel Celebration, Lincoln's Inn, London
Numerous luxury wedding venues
Repertoire:
2010s
Adele – Rolling In The Deep
Aloe Blac – I Need A Dollar
Bastille – Pompei
Bruno Mars – The Lazy Song
Bruno Mars – Marry You
Bruno Mars – Just The Way You Are
Cee Lo Green – Forget You
Daft Punk – Get Lucky
Ed Sheeran – A Team
Ed Sheeran – Lego House
Ed Sheeran – Thinking Out Loud
Foster The People – Pumped Up Kicks
James Bay – Hold Back The River
Jessie J – Price Tag
Lumineers – Ho Hey
Maroon 5 – Moves Like Jagger
Mark Ronson – Uptown Funk
Mumford and Sons – The Cave
Mumford and Sons – I Will Wait
Olly Murs – I Just Want You To Dance With Me Tonight
One Republic – Counting Stars
One Direction – What Makes You Beautiful
Of Monsters & Men – Little Talks
Pharrell Williams – Happy
Robin Thicke – Blurred Lines
Taylor Swift – Shake It Off
Tom Odell – Grow Old With Me
2000s
Black Eyed Peas – I Gotta Feeling
Mark Ronson / Amy Winehouse – Valerie
Damien Rice – Volcano
Feeder – Buck Rogers
Girls Aloud – Love Machine
Gnarls Barkley – Crazy
Jack Johnson – Better Together
Jack Johnson – Banana Pancakes
Jason Mraz – I'm Yours
The Killers – Mr Brightside
Kings Of Leon – Use Somebody
Kings Of Leon – Sex On Fire
The Kooks – Naïve
Reef – Place Your Hands
Stereophonics – Dakota
Toploader – Dancing In The Moonlight
The White Stripes – Seven Nation Army
Wheatus – Teenage Dirtbag
1990s
Backstreet Boys – Everybody
Blur – Parklife
Coldplay – Don't Panic
Eagle Eye Cherry – Save Tonight
Foo Fighters – Everlong
Iris – Goo Goo Dolls
James – Sit Down
Nirvana – Smells Like Teen Spirit
Peter Andre – Mysterious Girl
Oasis – Wonderwall
Oasis – Roll With It
1980s & 1970s
Bill Withers – Aint No Sunshine
Bill Haley & His Comets – Rock Around The Clock
Bob Dylan – Knockin On Heaven's Door
Bob Marley – Is This Love
Bob Marley – Three Little Birds
Bon Jovi – Living On A Prayer
Bryan Adams – Summer of 69
The Eagles – Take It Easy
Eric Clapton – Before You Accuse Me
Fleetwood Mac – Everywhere
Free – All Right Now
George Michael – Faith
Jackie Wilson – Higher and Higher
Journey – Don't Stop Believing
Lynyrd Skynyrd – Sweet Home Alabama
Michael Jackson – Billie Jean
Richie Valens – La Bamba
Stealers Wheel – Stuck in The Middle
Stevie Wonder – Superstition
The Proclaimers – 500 miles
Tom Petty – Free Falling
Tracy Chapman – Fast Car
The Undertones – Teenage Kicks
Wild Cherry – Play That Funky Music White Boy
Van Morrison – Moondance
1960s & 1950s
Ben E King – Stand By Me
Chuck Berry – Johnny B. Goode
Elvis – Blue Suede Shoes
Elvis – Hound Dog
Elvis – Suspicious Minds
Little Richard – Tutti Frutti
Spencer Davies Group – Keep On Runnin
The Beatles – Hey Jude
The Beatles – Twist And Shout
The Beatles – I Saw Her Standing There
The Monkees – I'm A Believer
Van Morrison – Brown Eyed Girl
Wilson Pickett – Mustang Sally
Photos of The Travelling Hands