The Temperance Society | UK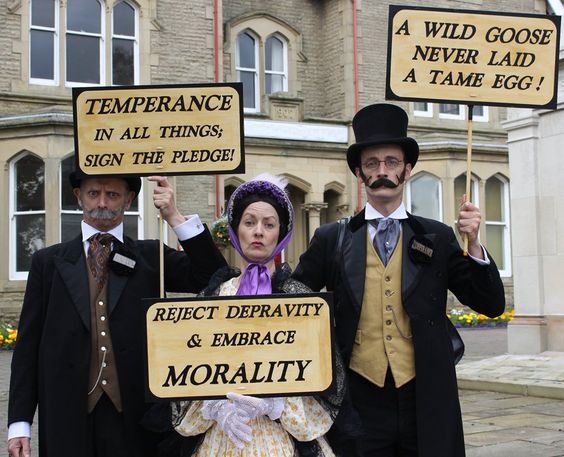 Is your deportment dreadful? Has your etiquette evaporated? Are your morals meagre or missing? Indeed is your sobriety sodden with sin? Then never fear, the Victorians are here, to help you mend your ways. Theyre frightfully proper, sombre and stern, with a terribly stiff upper lip. With a rustle of crinoline and a crackle of starch theyll dust down your decorum, stiffen your backbone, and sort out your p's from your q's. Arriving in a whirlwind of petticoats, these Victorian crusaders are the very model of virtue you need in these times of excess!
The Temperance Society at Christmas  (the festive version of this show)
Ever fearful of the festive frivolities The Temperance Society is on a mission to keep you on the straight & narrow this Yuletide season. So if you're drowning in a sea of depravity then clamber aboard the lifeboat of morality!
Both acts are available as a one – five person comic walkabout show.
The premise of The Temperance Society is restraint from fun & frivolity; all done with tongue firmly wedged in cheek! They have pledges to be signed, pointers on etiquette & deportment, and apparatus to help determine whether 'one' has the remotest chance of reform or is a lost cause!  These 'shocked & shockable' characters make a hilarious addition to festivals, parties & festivities in general.
Standard Length of Performance:
The standard length of performance is 3 x 30 or 2 x 45 minutes.
Testimonials:
"Thank you for your performance at this years Blues Festival in Colne - The Temperance Society was perfect street entertainment and the interaction with the crowds spot on, we have had loads of positive feedback. A really professional and funny act, appreciated by all - thanks once again".
-  Colne Rhythm & Blues Festival
"That was superb, I loved it, and you can quote me any time on that!"
- Pendle Council
"Curious Cargo supply a truly professional and enjoyable experience. The expertise and passion they have brought to the project has been inspiring. It was a delight to work with them to develop the characters of the Temperance Society. Their through research, attention to detail and will to make a success of the project resulted in a performance that was truly memorable."  
- Manchester City Galleries
"Accessible and high quality, their shows were hugely popular with people of all ages and the company were a joy to work with – positive, professional and fun". 
- Kendal Arts International
Previous Clients Include:
Manchester City Art Gallery
Rhythm & Blues Festival, Colne
Banquets Tour, Lakes Alive
Frost Fair, Northampton
Girl Guides Association, Centenary Celebrations
Festival of Light, Huddersfield
Riverside Festival, Nottingham
Mintfest, Kendal
Preston Guild
Photos of The Temperance Society