The Royal British Legion Band- Marching Band | UK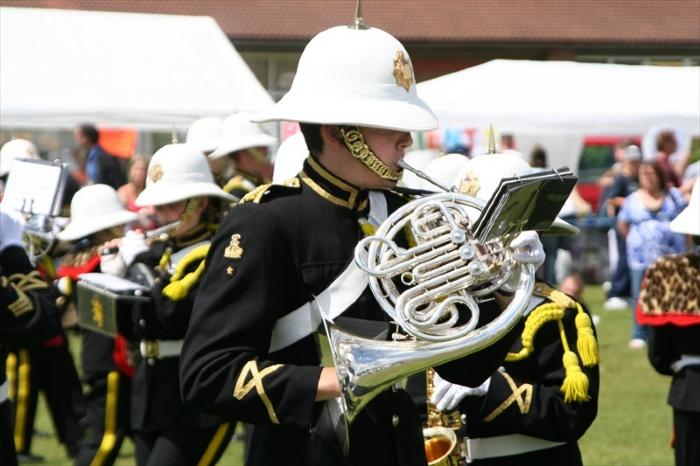 There are two parts to the band, the main band and then drumming band. They can be booked together as one or individually. They were both formed in 1952 and are one of the longest running independent youth bands in the country today. The band consists of approximately 45 members with an average age of 16 years. It was the first ever youth band to appear at the Edinburgh Military Tattoo. The band has appeared at the Royal Tournament, Festival of Remembrance and the Birmingham and Wembley Military Tattoos.
The band has taken part in the World Music Contest held in Kerkrade, Holland on five occasions, 1993, 1997, 2001, 2005 and 2009, and the total number of medals received to date is 7 gold and 3 silver. In 2004, the band took part in the Rochester Marine Tattoo in the USA. In March 2004, the band became the Supreme Concert Band Champions at The Youth Marching Band Associations contest and in April 2005, and again in April 2006, was judged the Concert Band Champions at the British Youth Band Associations contest.
The band is available for tattoos, carnivals, concerts, fanfares, county shows and festivals both here and abroad. The band plays a wide range of music to match any military band and, along with their Royal Marine style uniform, project the professional style and performance that has earned them their amazing reputation.
The band can supply music ensembles ranging from 1 musician to a 42-piece concert / marching band. The band is able to provide musical arrangements, even if the music is not in their stock. This is charged extra if needed.
The band can provide the following ensembles:
Fanfare teams: 2 man / 3 man / 4 man / 6 man / 7 man / 8 man & 10-man team.
String quartet: (4 people) 2 violin's, 1 viola, 1 cello.
Saxophone Quartet: (4 people) playing the whole range of saxophones.
Wind quintet: (5 people) 1 flute, 1 clarinet, 1 oboe, 1 French horn, 1 bassoon.
Brass quintet: (5 people) 2 Trumpets, 1 French horn, 1 trombone, 1 tuba.
The band can also put out a 12-piece dance band, an 18-piece dance band or a 16-piece small orchestra for dinner/evening background music.
Concert band: 25 piece, 32 piece, 42-piece band playing classic military band music, show and film score music, popular orchestral arrangement, and light pop arrangements for both background and full concert in theatre / park bandstand situation.
They also have a corps of drums, which can be 2, 4, 5 & 6 drummers in the corps and the band can have a corps of drums in front. (the minimum size band would be 21 musicians and an additional 4 drummers to make a 25-piece band)
Their last group is a Guard of Honour - They have 12 ceremonial swords for a guard of honour for a wedding as guests arrive to a function or a conference.
Technical Specification:
Minimum space to march needed is 35m x 35m . Soft Drinks, refreshments, parking and somewhere to change will need to be provided.
Standard Length of Performance:
The band perform 2 marching displays which last for 25 minutes each.
Photos of Royal British Legion Band