The Ronnie Scott's Jazz Band | UK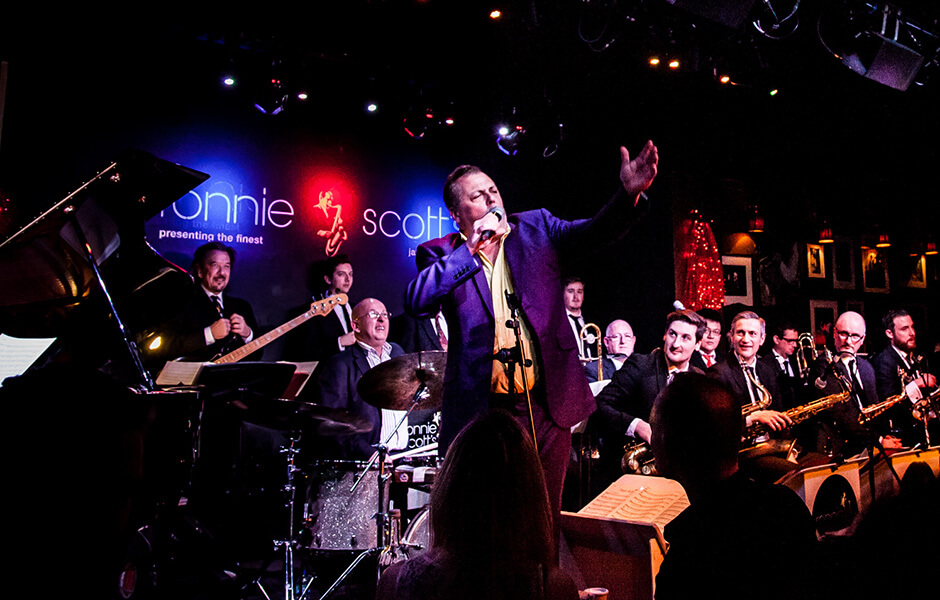 The Ronnie Scott's Jazz Band is quite simply the best big band available in the United Kingdom today.
In its two year tenure at the world famous Ronnie Scott's Jazz Club in the heart of London, the band has gained an incredible reputation for presenting big band jazz of all types. Noted for its stunning recreations of the great big bands of the past, the band can also speak with its own contemporary voice, and has on occasion backed international artists such as Curtis Stigers, Marti Pellow, Ronnie Cuber and Peter Grant.
As a repertory band, they have presented full two-hour programmed concerts featuring the work of Benny Goodman, Tubby Hayes, Duke Ellington, Count Basie, Maynard Ferguson, Machito, Buddy Rich, Quincy Jones, Harry James, Woody Herman, and Stan Kenton.
Options Available Include:
Corporate Party Power Set
The best programme for corporate events!
Pretty much as it sounds, a show built largely around the vocal talents of Georgina Jackson and Iain Mackenzie. A one-and-a-half hour set of very carefully selected big band tracks guaranteed to keep the floor full. As well as the very best of the Rat Pack, expect to hear such anthems as "Fever", "Mad About The Boy", Valerie" and many others, including the orchestra's unique and famous gospel-funk reading of "Summertime"
Classy Oke
Why not incorporate a Karaoke feature in the corporate party programme? Re-named Classy Oke it gives 4 or 5 singers the opportunity to sing live with an international orchestra. Singer Iain MacKenzie routines the volunteers with a keyboard and menu of songs then each sings a chosen song with Iain always there to give a helping hand.
Testimonials:
"I was thrilled with the Ronnie Scotts Jazz Orchestra performance at Newham Under the Stars! Im sure the band could tell from the audience response just how much their performance was appreciated and I hope they enjoyed performing as much as the audience enjoyed watching them. Their sound is fantastic and I would have been happy to listen to them performing with Claire Martin all night!"
- London Borough Of Newham
"Mingling UK jazz generations and featuring a legion of nonchalant studio hyper technicians, the band play with an explosive relish"
-Private client
"…bravura and punchy swing"
- The Guardian
"Crammed on to the stage at Ronnie Scott's, the musicians' supply a series of controlled detonations in which instrumental flair goes hand in hand with joie de vivre."
-The Times
Previous Clients Include:
Bill Clinton
Elton John
Jools Holland
Ronnie Scott
Claridges
The Times
The Guardian
London Borough Of Newham
Photos of The Ronnie Scotts