The Optioscopes – Illuminated Dancers | UK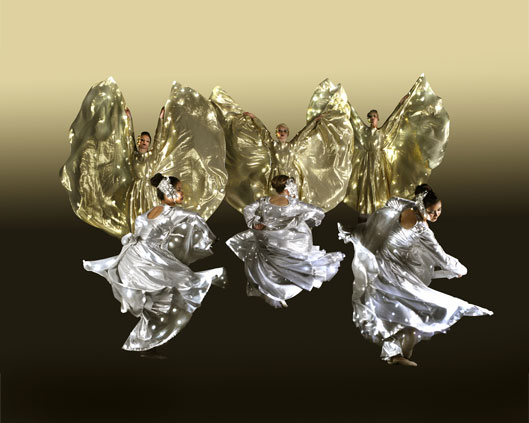 Divine are proud to present The Optioscopes.
Arresting, original and spectacularly beautiful. This fleet of three dazzling tempests billow, whirl and revolve, assuming an endless variety of forms. These winged creatures are each illuminated with over 90 blinking points of bright light, and diamond dipped with over 6000 crystals and mirrors. The Optiscopes can also perform on stilts.
There is now a total collection of a staggering 22 costumes!
Costumes Available Include:
White
3 Gold
3 Silver
7 Colours (Pink, Purple, Orange, Red, Yellow, Blue and Green)
3 In Sheer Black
Britannia / Union Jack Costume
The new costumes can also be transformed into elegant wingless dresses, perfect for ribbon dance, flag performance etc.
The newest addition to the range is a spectacular costume featuring a Britannia head-dress, which can be worn as shown or illuminated by hundreds of blinking points of bright light. This costume can also be worn on stilts.
Divine produces memorable and high impact performances designed to knock your guests' socks off! Adding that elusive element of magic and excitement, they have earned a strong reputation for producing highly engaging, original and skillfully produced work.
They rehearse intensively, allowing them to build up a wealth of beautifully choreographed and polished material. They draw upon this repertoire to create bespoke shows at the drop of a hat. They regularly combine, adapt and accessorise pieces from their extensive wardrobe to create work to exactly fit new briefs, themes and branding.
Divine have supplied a highly professional and unique service to the events industry since 1999. Efficient, friendly and reliable, we place a strong emphasis on attention to detail and excellent client relations. Their performers are multi-skilled, versatile, charming and well turned-out! As a company they believe in being flexible, helpful, thoughtful and accommodating.
Optioscopes can appear as a wandering act, performing individually or in unison wearing their own music boxes if required. They can also perform fully choreographed stage shows. Their costumes are designed, created and lovingly maintained using innovative techniques and beautiful materials from around the world. Their team of skilled costumiers is bursting with creativity and enthusiasm, constantly developing existing pieces and producing new work. State of the art and a la mode!
Standard Length of Performance:
Solo performance: 4 mins; Duet: 5-10 mins;3-4 artists 10-20 mins; 5+ artists 10-40 mins (but can be longer for bespoke made shows)
Dance-about: sets of 30 minutes.
Space Requirements:
Solo – 1m x 1m
Duet – 3m x 3m
3+ artists – 5m x 5m
Testimonials:
"The dancers were superb once again and lovely to work with – cant recommend highly enough….Thanks for your help and please pass on my thanks to the girls."
– England Squash & Racketball (via Contraband)
"Just wanted to catch up say thanks so so much for the girls on the 19th! The client loved it and they went down a storm. It was great that they were so accommodating with the track that the bride and groom wanted."
– Event Concept
"I felt so guilty! I was supposed to be working but I just couldnt take my eyes off of the Optioscopes, you were absolutely beautiful all night."
– Private Client at The British Museum
"The surrealest moment in my programming life was seeing the spontaneous arrival of the Ballerinas on stage, it felt like a Fat Boy Slim, Divine were perfection!"
– Continental Drifts
"Thank you for Divines performance at St Leonard's Festival this year. Fire ballet… what a perfect way to end a perfect day!"
– Thirty-Six Hours Ltd
"Youre so professional its a joy!!"
– Calmer Karma Ltd
"Quite irresistible. So pretty and vivacious. You mesmerized our guests! An abiding memory of a magical day. Gorgeous!"
– Private Client
"The girls were great – they adapted perfectly to the existing conditions in the club. I was very happy with them. Thank you very much."
– OgilvyAction
"The event went well, and all of the performers were absolutely fantastic, incredibly professional, flexible and accommodating. They put up with our rather chaotic and constantly-changing schedule and they were a real pleasure to work with. I told all of them after the event how incredibly grateful we were, but will you please pass that on to them again from us. Their performances were really fantastic and I know that the audience enjoyed the entertainment immensely. May I also say a huge thank you to you, Archie and everyone at Contraband, you were all incredibly helpful and worked amazingly hard to help us out. I know that our Secretary General was very happy with the performers and with your professionalism. Thank you! We very much hope to work with you again in the future. Once again, thank you so much for all of your hard work."
– Arab Chamber of Commerce (via Contraband)
"All the acts were great and went down really well! The girls were great and braved the cold weather to welcome guests and looked fantastic…"
– Upstage Communications Ltd (via Contraband)
"The girls were great in Madrid – very easy to work with and they did what we asked of them without any issues. More importantly, they looked great and performed brilliantly."
– George P Johnson GmbH (via Contraband)
"All went really well thank you. They looked amazing!"
– Quintessentially Events Ltd (via Contraband)
"Just want to say thank you. The dancers & Lacey were fantastic. Exactly what I was imagining came to life yesterday. Thank you so much, you did an excellent job. I will definitely have you in mind for any future events. Thank you."
– Olusegun Obasanjo Foundation (via Contraband)
Previous Clients Include:
Buckingham Palace
The Hong Kong Style Awards
Mumbai Childrens Festival
British Home Stores
The BBC
The Olympics Committee
Channel 4
The Indian High Commission
MTV
ITV
Howden India
The Victoria and Albert Museum
Glastonbury Festival
Canary Wharf
Barclays Bank
Commonwealth Film Festival
Lynx
Cannon
Alton Towers
Farnborough Air Show
The Australian High Commission
The Mayor of London
The Born Free Foundation
Selfridges
China White
John Lewis
Somerset House
The Millennium Dome
Photos of The Optioscopes