The Invisible Man – Comedy Act | UK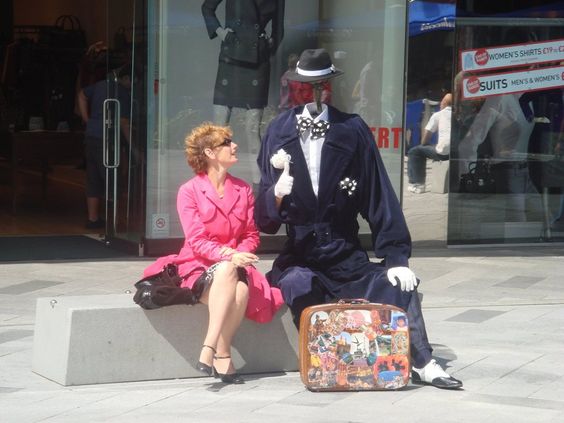 The Invisible Man has to be seen to be believed!
The Invisible Man walkabout show was created in the summer 2007 and shown at Thames Valley Festival in September. Street performing on South Bank, Covent Garden, Oxford and Stratford, as well as private functions has meant this act is supremely polished.
The Invisible Man (T.I.M.) is a unique and visually awe-inspiring act. TIM is a multi-skilled performer that gives you a walkabout act and a magic cabaret all in one, producing outbreaks of laughter, gasps of amazement and occasional startled screams wherever he goes.
TIM is totally professional, reliable and adaptable. He can 'appear' at any corporate or private event, however big or small, to amuse and mesmerise your guests or make your product truly and unforgettably visible.
Surreal and hilarious magic! TIM is an expert in visual comedy magic. Whatever he touches becomes invisible, wands pass through his body as if there was no one there! TIM's magic strolling repertoire includes 8 foot pole out of a 3 inch pocket, toilet paper mystery, ghost in a hanky and 'bottle through body'.
The Invisible Man has an uncanny power of "seeing through" people to divine their thoughts or tell them their innermost secrets, especially if character readings are requested. He will predict people's actions or make them predict his. Though apparently headless he will memorise a whole deck of shuffled cards in less then three minutes!
T.I.M. can also welcome guests, serve drinks, dance, mime and contact juggle.
Standard Length of Performance: 2 x 30 minute sets or 3 x 30 minute sets.
Testimonials:
"Great to have you entertain my guests. The Invisible Man costume is sheer genius! And as far as the magic goes, there were few cynics there who thought they've seen it all. I was a little worried about what they'd say. But you've blown them all away. Thank you!"
- Private Client
"The Invisible Man was a real blast, absolutely side-splitting, from his surreal appearance to his histrionics! Where had he been? Get him out there!"
- Private Client
"Last night's event went really well and all acts did a fantastic job! The invisible man and the man in a box were brilliant!"
- Private Client
Previous Clients Include:
BP
Apollo
OxExh Services
Chamber of Commerce
UNICEF
The Red Cross
Save the Children
Oxenses
Bernardo's
Chelsea Bulding Society
Oxfordshire Police Station
Plus many schools, hospitals and private events.
Photos of The Invisible Man