The Golden Man – Human Statue | UK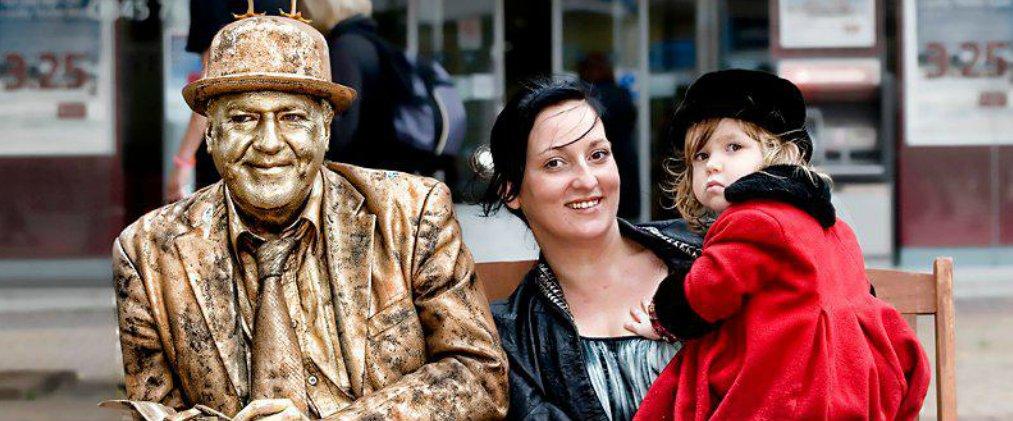 The Gold Man sits on his bench enjoying fish and chips but a cheeky bird
has landed on his hat ready to swoop down and steal his fish!
The Gold Man is much more than a Human Statue its a comedy performance
that allows the public to participate by joining him on his bench, perhaps to sit quietly or pose for a photograph. He surprises those who believe he is really a statue and amuses onlookers.
Standard Length of Performance:
The Gold Man usually performs for 2 x 45 minutes or 3 x 30 minutes, with a minimum break of 1 hour 45 minutes (negotiable).
Testimonials:
"This guy is brilliant! Every time we book him, he always attracts large crowds."
-St Stephens shopping centre, Hull
"We've had human statues before, but the Gold Man is different, he is so funny to watch and I love the moving bird on his hat, it's the detail that makes the difference."
-Gran Canaria Pride
Previous Clients Include:
Gran Canaria Pride Festival
Sibiu International Theatre Festival
Sproei International Street Theatre Festival
Glastonbury Festival
Manchester Mardis Gras
She's Gott it Events
Lord Mayers Carnival Hull
Bridlington Spa
St Stephens Shopping centre Hull
Hull Pride
Photos of The Golden Man