The Debonairs – Swinging Little Big Band | UK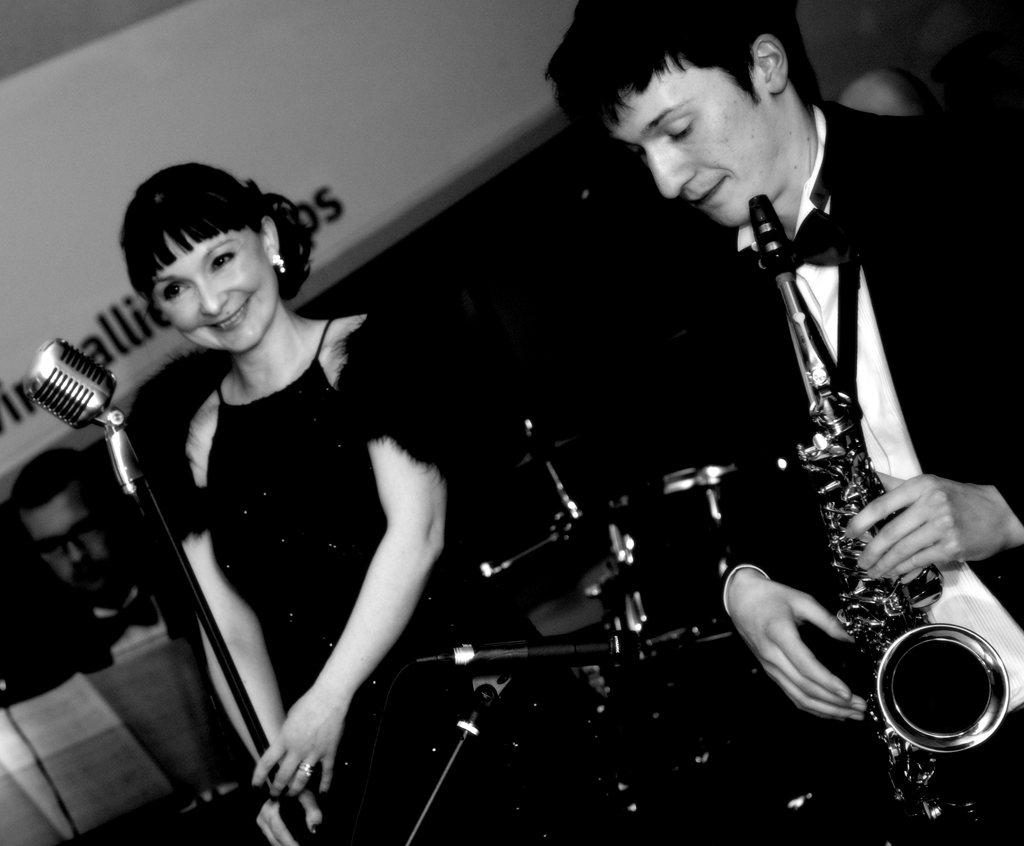 This is a jump jive swinging little big band!
The Debonairs are a lively up tempo swing dance band, perfect for Gatsby, 1920s, 1930s, 1940s, 1950s and World War themed events. Their passion is the popular music of classic Hollywood and the Jazz Era, from the energy of the roaring 20's, the determination of the 30's, the defiance of the 40's and the glamour of the 50's.
Their unique combination of Swing, Dixie and Latin rhythms played to songs made famous by the likes of Tommy Dorsey, Glenn Miller, and Frank Sinatra, by composers like George Gershwin, Irving Berlin, and Cole Porter, is elegant, sophisticated, nostalgic and still fresh and exciting.
Enjoy their 8 piece band including their versatile vocalists. They can play at your ball, dance, wedding, festival or concert, for celebrations, corporate or fund raising events. For stylish weddings with a difference, we provide that sophisticated vintage sound and atmosphere with a mixture of romantic and lively up tempo sets that all ages can jump and jive to.
For the dance specialists, they are experienced in modern ballroom, Latin American, old time and modern sequence dancing. Alternatively they could have a good old 'Knees Up' during the air raid, keeping your spirits up with one of their 1940's/WWII nights, as they re-live the musical 'hits' and celebrate Hitler's 'misses' !
The concept of the Debonairs came from a desire to perform and bring to the public the great jazz and swing based music of the dance band days.
The Debonairs play music which has been specially arranged or transcribed by Max, to suit the very flexible and rich sounding line up of their 8 member band. The band size is optimal to give an authentic musical performance emulating period ensembles from Dixie jazz though to the big band sound, whilst being affordable to hire and economic in terms of the space required at venues.
The Debonairs play completely live and do not use backing tracks or any other performance enhancing contrivance.
Repertoire:
Ain't Nobody Here But Us Chickens
All That Jazz
Amado Mio
American Patrol
At Last
Begin The Beguine
Big John's Special
The Black Bottom
Blues In The Night
Boogie Blues
Brazil
Bring Me Sunshine
Cabaret
Charleston
Chattanooga Choo Choo
Cheek To Cheek
Cherokee
Come Fly With Me
Cry Me A River
Darktown Strutter's Ball
Diamonds Are A Girl's Best Friend
Don't Sit Under The Apple Tree
Fly Me To The Moon
Flying Home
Foggy Day
Heatwave
Hit That Jive Jack
How About You
I'll Be Seeing You
I'm Begining To See The Light
In The Mood
Is You Is Or Is You Ain't My Baby
It Don't Mean A Thing
It's A Sin To Tell A Lie
It's Been A Long Long Time
Iv'e Got My Love To Keep Me Warm
I've Heard That Song Before
Jump Jive An' Wail
Jumpin' At The Woodside
Lambeth Walk
Leaning On A Lamp Post
Leroy Brown
Let There Be Love
Little Brown Jug
Luck Be A Lady
Mack The Knife
Mambo Italiano
Midnight In Moscow
Moonlight Serenade
My Baby Just Cares For Me
My Heart Belongs To Daddy
Nice Work If You Can Get It
Night And Day
Nightingale Sang In Berkley Square
One For My Baby
One O'clock Jump
Opus One
Papa Loves Mambo
Pennsylvania 6-5000
Perhaps Perhaps Perhaps
Put The Blame On Mame
Puttin On The Ritz
Raf March Past
Rockin' In Rhythm
Sentimental Journey
Sing Sing Sing
Skyliner
Straighten Up And Fly Right
String Of Pearls
Stuff Like That There
Sway
Sweet Georgia Brown
Tea For Two
That Certain Party
That Old Devil Called Love
The Black Bottom
The Continental
The Folks That Live On The Hill
The Man I Love
Things
Things Ain't What They Used To Be
Tiger Rag
Tisket A Tasket
Tuxedo Junction
Twentieth Century Fox Fanfare
Ukulele Lady
Watch The Birdie
We'll Meet Again
When I Fall In Love
When Johnny Comes Marching Home
Why Don't You Do Right?
Witchcraft
Woodchoppers Ball
You Do Something To Me
You'll Never Know
Technical Specification:
For venues up to around 250 people, they can provide their own sound system. Venues must be dry, warm and have an adequate and safe domestic electricity supply.
Standard Length of Performance:
The band usually perform 2 x 45 minute sets with a break, but can play 2 x 60 minute sets if required.
Testimonials:
"Your band's performance was excellent and everyone had a wonderful time; I can't tell you how many people came up to me to ask where we found you and how good they said you all were. As a "small" band you put out a "big band" sound. You're too good not to be noticed. Thanks again and good luck for the future!!"
– Private Client
"Awesome band. You absolutely blew us all away at Swingaroo on Friday. Hopefully we're getting you back next year!"
– Swingaroo Vintage Dance Hall
"Thanks again for playing at their wedding. The music was perfect for giving the drinks reception that vintage feel and definitely added a touch of class! We have had so many lovely comments from guests (most of my family and friends are also musicians so they are very hard to impress!) We really appreciated your professionalism on the day and beforehand in fitting round their ever changing plans and song preferences for the day. We will definitely be recommending you to their friends for future events.
– Private Client
"We gave a great reception to the Debonairs. – as this 'small big band' reminded us of Duke, Glenn, Woody and others, and singer Sarah did the same for such as Ella, Peggy and Marilyn. Absolutely everything went with such a swing. "
– Brookdale Club / Stockport
"We all had a brilliant night at the Swingaroo christmas party – what a great party atmosphere – Awesome band, absolutely blew us all away at Swingaroo on Friday. Hopefully we're getting 'em back next year! "
– AD / Preston
"Thanks again for playing at our wedding. The music was perfect for giving the drinks reception that 'vintage' feel and definitely added a touch of class! We have had so many lovely comments from guests. We really appreciated your professionalism on the day and beforehand in fitting round our ever changing plans and song preferences for the day. We will definitely be recommending the Debonairs to our friends for future events."
– Private Client
"Thank you for the most amazing night. You were just superb and made our 1940's party such fun and got everyone on the dance floor! We're trying to think of future parties just so that we can book you again! Thank you thank you thank you! "
– Private Client
"Thank you for sounding so amazing last night, from start to finish we loved every minute of it."
– Private Wedding
"You guys were amazing! Thoroughly enjoyed your sets -Couldn't stop dancing and singing! Thank you for helping to make their evening special. (Bridesmaid)."
– Private Wedding
Previous Clients Include:
Brookdale Club
Swingaroo Vintage Dance Hall
Regency Dance Centre
North Staffordshire Chamber of Commerce and Industry
Motorsport Vision
Absinthe & Lace Burlesque
Chartered Institute of Public Relations
Period Promotions
Ministry of Defence Stafford
Royal Centre for Defence Medicine
Catterick Garrison
The Plaza Stockport
Unite the Union
Britain Does Vintage
Photos of The Debonairs