Jazz and Swing Musicians: The Casablanca Steps – UK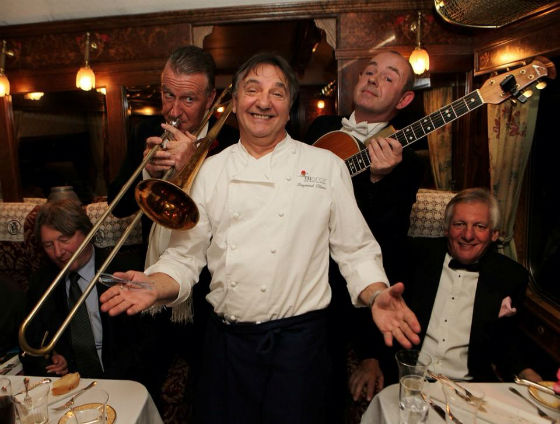 One of the most experienced and established 1920s / 30s musical acts in the UK, The Casablanca Steps are four individual and talented performers unequalled in their field who recreate the authentic musical ambience of the 1920s and 30s when the "Charleston" was all the rage and the swells were "Putting On The Ritz".
Their performance is of the highest standard with over 40 TV shows throughout the UK and Europe to their credit. On the back of their recent appearance on the One Show for the BBC they were asked to perform one of their songs in the second season of the ITV drama 'Home Fires', which was broadcast in Spring 2016. They have entertained in festivals, theatres, corporate events and private parties worldwide with great acclaim, and have more recently entertained on some of the worlds finest cruise ships including the legendary QE2. Their more recent maritime experience was entertaining for the launch of the new Queen Elizabeth in the presence of HRH the Queen. It is not the first time they have rubbed shoulders with celebrities and Royalty, them being personal favourites of Prince Philip after their performance for him at St James Palace, and performing with French & Saunders and Mark Owen from Take That on The Kelly Show and The Late Late Show in Ireland
Their totally   unique   sound and authentic   three   part vocal   harmonies,   combined   with a quintessentially English visual element of   serious "tongue   in   cheek"   humour make their show a unique experience for all ages, and their ability to break down the arts barriers with their outstanding performance always leaves their audience begging for more.
Indulge in an evening with Wooten, Clarke, Archie and Pico – four great performers who really know how to entertain.
Previous Client List: 
BBC – The One Show
ITV – Home Fires
British Chamber Of Commerce Tapei, Taiwan
City Centre, Manama, Bahrain
Coca Cola
HRH Duke Of Edinburgh, St James Palace, London
Orient Express
Mosimanns, London
Smithkline Beecham
Shell Oils
QE2
Renaissance Lines
P & O Lines
Holland America Lines
Paramount International
Selfridges
Wimbledon
Center Parcs
Weston Park
Fenwicks
Selfridges
Music Publishers Association
St Patrick's Day Festival, Dublin
Reuters
Waterstones
National Railway Museum
Marks & Spencer
Rural Crafts Association
Bettys
Anderson Consulting
Countryman Fairs
Federation Of Master Builders
Marks & Spencer
Duke Of Westminster
Warners
Granada TV
Yorkshire TV
HTV
BBC Midlands
Ulster TV
RTE Late Late Show
Carlton TV
RTL
Channel 4
Testimonials: 
"Their stylish 'take' on a particular era of music wins all age groups.
I could watch them again and again."
Sir Alan Ayckbourn
Stephen Joseph Theatre
'I just wanted to say a huge thank you for The Casablanca Steps performance at the Burns an a That Festival at the weekend in Ayr.  The band were absolutely superb.  Our client was delighted, the public totally loved them and I personally found them a real pleasure to deal with in every way.'
'Fantastic performers, excellent musicians and all-round nice guys.  Hope we get a chance to work with them again in the future.'Fiona
Anderson, Zisys AVMN Limited.
 Absolutely Fantastic David and I thoroughly enjoyed your performance at our 25th Wedding Anniversary.We saw the guys perform at the County Show and have been waiting to find something to celebrate and have them perform.I have lost count of how many of our guest have congratulated us the choice of Band and Entertainment.
 David and Tracy Irwin-Smith. 4 June 2016
 "The Feed back on you guys has been amazing thank you and well done" 
Richard Howard – Jennys Ball – 3 October 2015
 'I so much enjoyed your performance at Walters 21st. Thank you so much for your professionalism and ease of management. Your music and playing were sublime.' Griselda Kerr. July 2014
 "This is a short note post honeymoon to let you know that the Casablanca Steps were a HUGE hit at the wedding a few weeks ago. I loved it, Steve loved it, and all our guests were blown away. When we thought it couldn't get any better the dancers were amazing!!!
Please pass our thanks to the band & dancers, and accept our thanks to you for all your help in this process."
 Best Regards from an extremely happy customer,
Louise & Steven Malone
 "A very big thank you for layng on a
totally professional and highly entertaining performance, which succeeded in
capturing the mood of the evening and delighting our guests."
The Grange
Leicestershire
"I would like to thank the 'boys' for the making of the most successful of events.
They went down a storm ."
Adrian Gumbley
Surrey
"The Casablanca Steps were fantastic
and such a hit with our guests.
The cabaret was a scream."
Bryony & Peter Nowell
Kent
"Everyone enjoyed your music and your act. It was so lovely to see the younger guests dancing at the tables."
Judy & Chris Jenkins
Bristol
"Thank you for providing such great entertainment for the RA Officers Mess Christmas party.
You and the boys were on cracking form, and really started the evening off in fine fashion.
I cannot tell you how many people came up to me enthusing over your performance… you really do cause quite a stir and I really do appreciate how much hard work goes into making such a good impression."
Capt AA Kealy
14th Regiment Royal Artillery – Larkhill
"All our guests raved about how excellent
you were and that booking you had been an inspired choice."
Tim Darwen
Surrey
"You changed the ceremonial occasion into
a terrific party and we should like to record our thanks and admiration."
Mrs & Mrs FC Underhill
Herefordshire
Photos of The Casablanca Steps