The TestostaTones – Male Acapella Group | Norfolk| Eastern| UK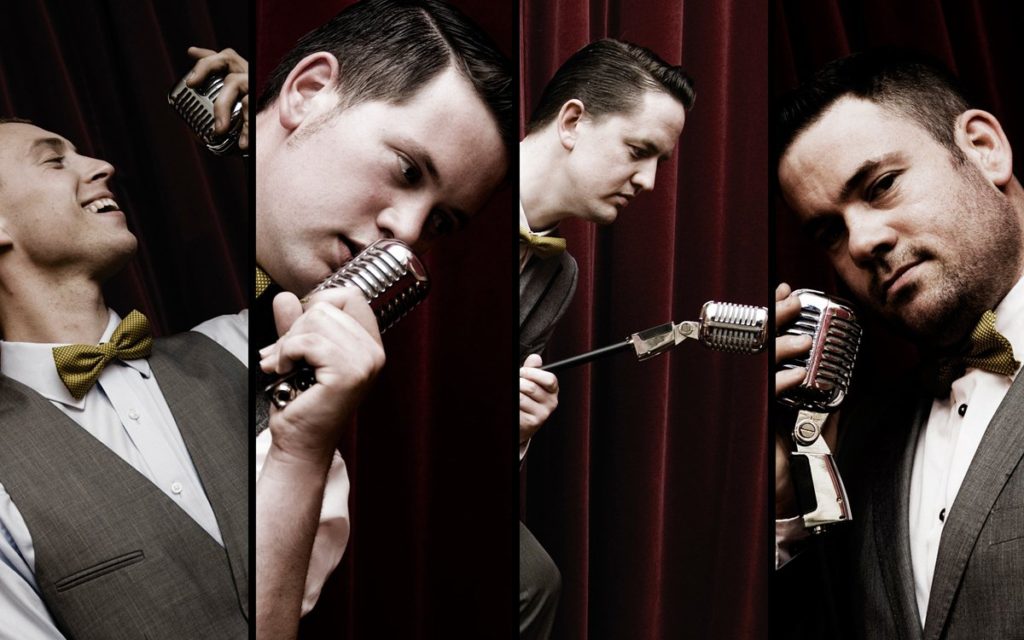 The TestostaTones
The TestostaTones – unashamedly celebrating classic acapella singing are a sharp-suited, first-rate, close-harmony family vocal group that can perform any time, anywhere. If you would like to hire a male Acapella group for corporate entertainment , the TestostaTones are one of the best groups in the business!
They hail from the port town of Lowestoft on the East Coast – birthplace to Benjamin Britten and, indeed, can boast a relation to the famous composer (cousin twice removed – and boy do they boast!) They are now based near Norwich but spend time performing in and around London, Cambridge, Colchester, Norwich and elsewhere.
Their approach and original style has brought them to the attention of BBC Radio 2 who invited them to make a live appearance resulting in recording a personal jingle for the station.
Specialising in Doo-Wop, classic Rock & Roll and BeBop and also incorporating Gospel, Jazz and Soul; they cover classic acapella songs such as 'Life Could be a Dream' and 'Goodnight Sweetheart' amongst others but also pride themselves in taking some very contemporary songs and making unique covers of them in these classic styles.
They also provide a service of arranging songs to commission for special occasions and for jingles (an old-fashioned sing-a-gram service or a completely personalized bespoke corporate jingle).
The TestostaTones drag close-harmony into the 21st century; gone are the straw boaters, stripy jackets and bow ties: what remains are songs delivered with harmony and style performed by this modern day barber-shop quartet with (more than a little) charm and a dash of cheek. Performing with a dynamism and energy that might only come from a family group, which can rely on intuition. And all with a bold charm offensive that has charmed the most diverse of audiences and ages from 9 to 90!
The TestostaTones also offer 'Ice-Breakers' for corporate events. If you're keen to make sure your corporate event has the right balance of not only business but is also memorable and interesting, they'd be happy to work with you to put together a song covering whatever subject your meeting or conference is about and make sure the quirky ice breaker has the desired effect of injecting a little excitement into the proceeding.
On top of these services, they also offer:
Live Vocals
Live vocals using backing tracks and exploring other 50's styles (from traditional swing to early Rock)
The Record Player
Offering a visual edge to standard background music at functions, and to fill the gaps in their sets. With an authentic vintage style disc jockey playing rare vinyl and classic songs from 1952 – 63 on a set of original decks, 45 rpm's, EP's, LP's from the best; Sam Cooke, Jackie Wilson, Bill Haley, Elvis, Chuck Berry and others.
Live Band
The same set and repertoire, but offering musical backing with a choice of drums, double bass, saxophones and electric guitar.
Standard Length Of Performance:
2 x 20mins, 2 x 25mins, 2 x 30mins, 1 x45mins, 1 x 60mins
The TestostaTones are extremely flexible about how we do what we do. Suggest what you want and we'll tell you if it's possible.
Testimonials:
"A belated big THANK YOU to you and the guys for contributing to our amazing evening. I've attached some of the press we got from the night, there was even more than this, it was the hottest ticket in town. Thanks again, you really added something unique to the night."
-Shan Kelly, Reuters
"You guys were fantastic; thank you so much!!! Once again thank you so much for helping make our wedding such a memorable day."
-Nina Leaberry, Wedding Client
"What can I say – having the TestostaTones performing as a surprise at the end of our event made the atmosphere absolutely buzz. We had request after request for more songs from them. Not only are they incredibly talented in voice, they carefully created a song just for our event and at all times were charming. Thank you wonderful boys – will be seeing you again soon."
-Caroline Whitmey, Inspired Assets, London
"Thank you! You did fantastically. People can't stop talking about it – especially (my wife) Julie. Many, many thanks."
-John Hobste , Ernsy & Young LLP
"I just have to express a huge thank you to you and your fellow TestostaTones for an absolutely fantastic performance – you were just brilliant, just wished we'd had more time to hear more from you. I can't thank you enough for helping make our event such a huge success."
-Michelle Gardner, Waveney Chamber of Commerce
"Bob and I would like to extend a big thank you to all four of you for helping to make our wedding day so special and also for card and good wishes. Our guests very much enjoyed The Surprise! and we had a lot of compliments on your singing. Many of our guests commented on how good you all are. I understand that some took your details for possible further bookings. You certainly deserved it!"
-Caroline Owen, Wedding Client
"That's fantastic. That's a work of art. That was terrific."
– BBC Radio2
"A quick note to say how impressed I was with the performance of the 4 guys at my nephew's wedding. They stole the show :-)))) The guys were professional, funny, relevant and balanced the whole show wonderfully. I finally decided to leave the decisions and logistics entirely in their hands in terms of performance, and not to either join in or interfere – wise choice :-). I am delighted, basically, and would not hesitate to recommend them to anyone, anywhere. THANK YOU THANK YOU THANK YOU for all your support."
– Private Client
"As always the boys were a complete pleasure. What is great about them is that they are so self sufficient in every way which makes dealing with the event much easier as they just get on with it and look after themselves. They are always a hit with the ladies (and some of the boys!) too!"
– John Lewis Plc (via Contraband)
"As always the boys and Tariq were fantastic. Ever the professionals and look after themselves which always cements in my mind why we book them!"
– John Lewis Plc (via Contraband)
Previous Clients Include:
BBC Radio 2
The Big Lottery Fund
Make Your Mark
BBC Wales
De Vere Hotels
Thursford
The Theatre Royal, Norwich
Norwich Cathedral
Packwood House, Warwick
Rookery Park Golf Club
Reuters
AEG the o2
Liberty's Department Store
Sotheby's
Harley Davidson
The Royal Festival Hall
Selfridges Department Store
Adnams
Ernst & Young LLP
CATerpillar
Battersea Power Station
The Mayfair Hotel
Kensington Gardens Hotel
The Big Lottery Fund
Repertoire:

Blue Moon – The Marcels
Earth Angel – The Penguins
Get a Job – The Silhouettes
In the Country – Cliff Richard and the Shadows
Life Could be a Dream – The Crew Cuts
Living Doll – Cliff Richard and the Shadows
Money Honey – Clyde McPhatter and the Drifters
Remember Then – The Earls
Runaround – Sue Dion and the Belmonts
Minute Man – Billy Ward and the Dominoes
Teenager in Love – Dion and the Belmonts
Why Do Fools Fall In Love – Frankie Lymon and the Teenagers
Banana Boat Song – Harry Belafonte
Goodnight Sweetheart – The Spaniels
If I Didn't Care – The Inkspots
In the Still of the Night – The Five Satins
Only You – The Platters
Sea of Love – Phil Phillips
There's a Moon Out Tonight – The Capris
To the Aisle – The Five Satins
When You Dance – The Turbans
All You Need is Love – The Beatles
Bring Me Sunshine – Morecambe & Wise
Born to be Wild – Steppenwolf
Can't Buy Me Love – The Beatles
Can't Take My Eyes Off You – Andy Williams
Chapel of Love – The Ronettes
Here Comes the Sun – The Beatles
Here, There and Everywhere – The Beatles
Hit the Road, Jack – Ray Charles
Hound Dog – Elvis Presley
What a Wonderful – World Louis Armstrong
You Never Can Tell / C'est La Vie – Chuck Berry
Photos of The TestostaTones
Book The TestostaTones
Want to book a performer, or just find out more? Give us a call on +44 (0)208 8291140 or use our online contact form via the button below.