Takalid – African Drumming Workshops | UK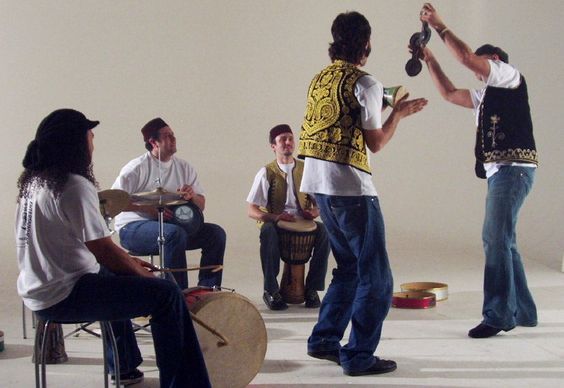 Takalid means "tradition" and as a new-formed drumming band lead by Master Drummer Abdelkader featuring some of the hottest drummers from all around the world full of energy and its great fun!
They are now performing at festivals and running workshops around the UK for schools, art centres, museums, clubs, private parties and other occasions.
This drumming program will teach and entertain kids and adults of all ages. Whether you are 7 or 80 years old, you can learn at once and with fun how to play hand drums and some North African rhythms.
You will also learn about the traditional instruments that are used in Algeria and North Africa such as bendir, derbouka, karkabou, tambourine, djembe and hadjoudj.
Drums help you relax, be creative, learn about other cultures, and understand the music and the art of improvisation.
With Abdelkader, you will do it in a fun and friendly environment. No need for notation! Students will benefit from learning new and unique techniques.
Abdelkader is well known for his unique and exciting approach to drums and percussion, he has been working in London, Greenwich and Lewisham with children and adults over the last 12 years.
Workshop Length:
Each workshop is between 40 & 45 min in length.
Testimonials:
"For the very best in live global music, dance and physical arts."
– Private Client
Previous Clients Include:
Cheapside Primary School
Windlesham Village County Infant School
Breadside Preparatory School
St Nicholas At Wade Primary School
Argyle Primary School
Islamexpo
Photos of Takalid