Strictly Come Drumming – Drumming Workshop | UK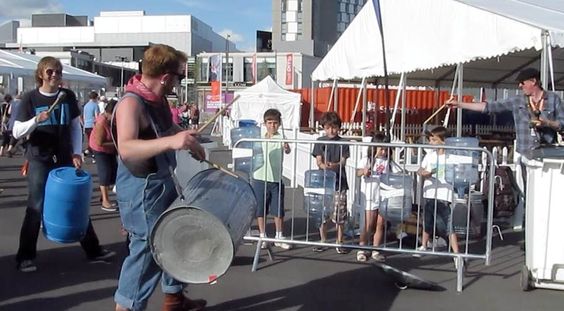 Clatteratti the amazing junk percussion band now run drumming workshops. Strictly Come Drumming workshops can be tailored to adults or children, business energisers and corporate team building. They are a fun and exciting way to encourage children and adults to work together to create a great sound!
Children's Workshops
Junk percussion workshops are a great way to engage, have fun and learn! Participants will explore the elements of multi-cultural rhythms, music from recycled junk, and how sounds are created and composed.
The junk nature of the instruments give the children more freedom to express themselves, and will give them a greater sense of achievement as their own compositions emerge into their final performance at the end of the day.
All our workshop leaders are experienced facilitators who have worked with a variety of abilities and ages. Our key vision is to awaken and enable the child's imagination.
Adult and Corporate Team Building Workshops
Strictly Come Drumming workshops provide high impact teambuilding drumming activities and icebreaker drumming sessions for businesses. They use drums/junk percussion in professional settings to illustrate the principles of leadership development and interactive teamwork.
Objectives and Outcomes:
– Team building drumming activities
– Ice breaker drumming sessions
– Energiser drumming Sessions
A Clatteratti ice breaking drum session is a powerful way to open or close conferences. To revitalise and re-focus participants between presentations or before speeches or awards. It is also a great option as a keynote address or a way to end off on a guaranteed high note at the end of a meeting.
Traditionally, drumming has been used as a prelude to community functions. Open your conference with group drumming and get off to a powerful start. Drumming quickly breaks the ice and breaks barriers between participants. To relax and invigorate participants, treat them to a break-out drumming session in-between speeches and presentations. Since companies spend a lot of money arranging conferences, its vital that participants remain focused and connected. Or, end with a drumming session to leave a lasting memory of the event, and leave participants feeling inspired!
Sessions can be run using junk percussion techniques and instruments or traditional drums.
Technical Specification:
The workshop will require a room large enough for the number of participants to move around comfortably, and easy car access.
Standard Length of Performance:
Workshops can be any length, but generally a minimum would be an hour and maximum would be 2 and a half hours.
Testimonials:
"We had a fantastic time with Clatteratti on our staff team day. They were amazingly enthusiastic and did a great job of getting everyone drumming and dancing. It was very different to normal team building activities and certainly much more fun!"
– IntoUniversity, 2013
"The staff very much enjoyed the experience – it was a very good way of bringing a large team together to work as a whole. The energy and enthusiasm of the leader was infectious!"
– Dr Rachel Carr OBE
"Awesome! Thank you very much, it worked perfectly for us!"
– Camelot
Previous Clients Include:
Camelot
IntoUniversity
Brighton Festival
Photos of Strictly Come Drumming