Spit & Roast – Rotisserie, Fried Chicken & Other Meats | UK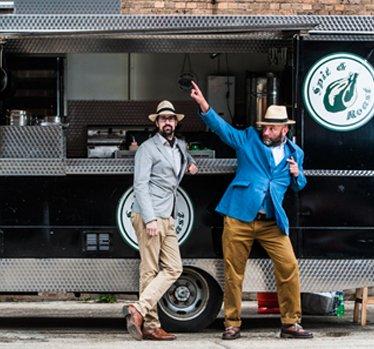 Spit & Roast is a food truck from East London. Specialising in the highest quality rotisserie chicken and other meats, as well as ridiculously good buttermilk fried chicken. Ross and Justin created Spit & Roast because they loved cooking delicious food, but felt contained by working in restaurants with their many complexities and costs. They wanted to bring high quality affordable food to the greater public. They love serving food at corporate events and private functions so please get in touch if you would like to have this delicious food served at your event!
All their rotisserie poultry and meats are free-range from their butcher Gavin Peckover in Roman Road. Their buttermilk fried chicken is a recipe created by them. Chicken pieces are marinated overnight in buttermilk. For cooking, they dip them in their secret dredge, then deep fry to golden perfection. Served with their Korean Hot Sauce – a must try.
Standard Length of Hire:
Spit & Roast can cater according to the client's requirements.
Photos of Spit & Roast