Flamenco Dancers: Ana & Jose – UK & Spain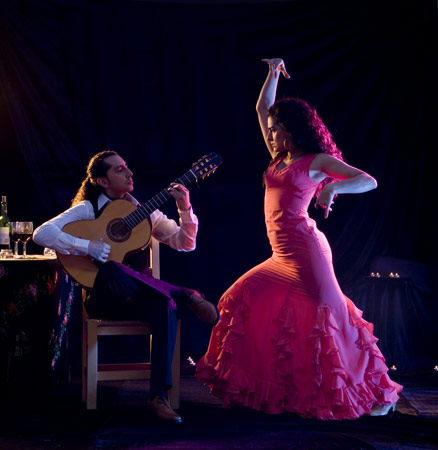 Spanish Dancers (Ana & Jose)
Flamenco Dance is the embodiment of sensuality, strength and confidence. This young, dynamic flamenco group created by brother and sister José (guitarst) and (dancer) Ana, work with some of the finest musicians and dancers emerging from Spain. They create a passionate and lively act, giving audiences a true taste of flamenco, it's power and passion!
Ana and José have been immersed in Flamenco from an early age, performing at family fiestas and gatherings at their home in Córdoba, Andalucía. Ana has trained with some of the best teachers in Spain including Belén, Mario Maya and La Tati and José has studied primarily with his Uncle who is a professional flamenco guitarist based in Barcelona. They now both run courses and workshops in Spain and the UK on Flamenco dance and guitar accompaniment and this can be offered in addition to their performance.
Other members of the team include some of the best artists to emerge from Spain complimenting Ana and José with their prodigious expertise and artistry.
Their performance is more than just a show – it's an unforgettable experience.
Ana and José have worked in theatres and festivals throughout Europe and the UK including sell out shows at Brighton Pavilion, Trinity Theatre, Tunbridge Wells, Winchester Cathedral and the Hawth, Crawley, giving audiences breathtaking performances, whatever the line-up.
Technical Requirements:
Wooden or laminate floor of area 6ft x 6ft or larger
Standard Length of Performance:
2 Shows of a maximum of 2 x 30 minute sets within a 3.5 hour period including sound check and set up or
3 Shows of a maximum of 3 x 20 minute sets within a 3.5 hour period including sound check and set up.
Technical Specification:
Adequate performance area of either roster staging of minimum of 10 feet by 8 feet or a good wooden floor (not laid on concrete), in order for the audience to benefit from the sound of the footwork.
For small venues (up to 50 guests) the client could hire a small AER or Crate 50 watt amp with input's for guitar and vocal plus 1 mikes and boom stand.
For large venues Ana & Jose need an appropriate PA and sound technician with ideally 2 floor mikes, 2 vocal mikes plus a DI box for the electro acoustic guitar.
Testimonials:
"The performers made the birthday celebration very special! We specially appreciate dancers taking on board our recommendation of getting the crowd involved – it makes the whole experience much more fun and personal! Besides our crowd likes to party and dance!!"
– Private Client
"Ana set pulses racing… she wowed the crowds with traditional Flamenco dance."
– The Argus
"Ana not only personifies the confidence, strength and drama of this beautiful dance, she spreads that energy, 5 stars!"
– Latest 7 Magazine
"The confidence with which she asserted her remarkable talent was absolutely breathtaking."
– Harts Advertiser
"Don't miss this opportunity to see flamenco in it's most pure and authentic form."
– Weekend Guardian
"Ana's smouldering show sweeps away flamenco cynicism… and like a fleeting Mediterranean thunderstorm, it was over before the evening was old."
– Worthing Herald
"Ana is a feisty and experienced dancer who demanded full attention."
– The Resident
"Yes everything went very well and everyone enjoyed all the acts!…"
– Private Client (via Contraband)
Previous Clients Include:
HSBC
BAA
RAC clubs
Pall Mall
Woodcote Park
Radisson Hotel
Stansted and Herstmonceaux Castle.
Meridien Television
BBC
Channel 4
Marriott Hotels
Deutche Post
O2
Holiday Inn
Openwide International Cruise Ships.
'The Shield'
'Ugly Betty'
BBC Radio Series 'Musica sin Fronteras'
Photos of Spanish Dancers (Ana & Jose)