Burlesque Dancer, New Zealand: Sophia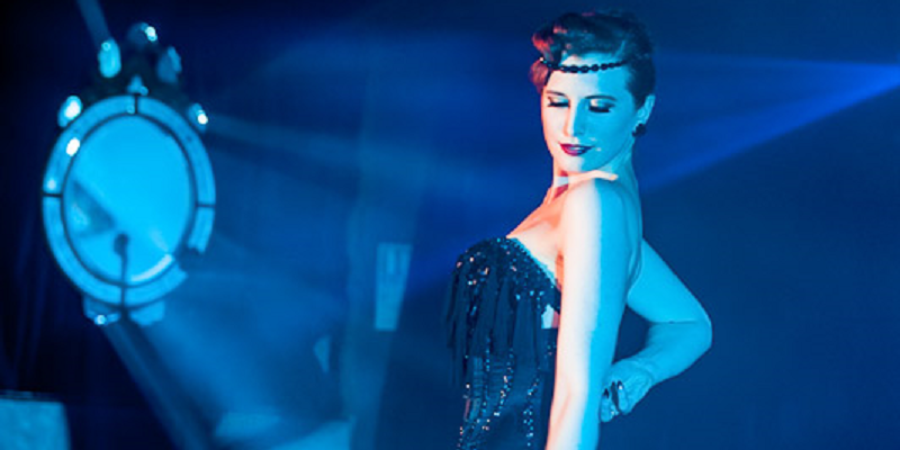 Sophia St. Villier —the flame haired burlesque artist with the looks of a Golden Age Hollywood Star and the body of a pinup goddess (5'10", 66666687709499359", 26", 66666687709499359")— has a variety of opulent vintage burlesque acts with exquisite bespoke costumes. Sophia specialises in classic yet original burlesque striptease informed by burlesque dancers of the past, with her own elegant and fun touches. Sophia has performed for Will.i.am at Playboy Club London's 1st Birthday alongside Professor Green, for Sky Atlantic for the Boardwalk Empire launch, at House and Lost director Greg Yaitanes' wedding in France and at Hampton Court Palace.
If you are looking for elegant, spell-binding entertainment, book Sophia and see for yourself why she is known as the
real life Jessica Rabbit!
Technical Specifications:
Appropriate lighting, flat, dry surface for dancing on, outside stages must be covered, music system to play music at an audible level, no candles nearby, sturdy chair with a back and no arm rests for acts, a warm changing area with a mirror, one person who checks on stage set up and collects all my costumes and props during and at the end of the performance.
Costumes Available:
– Dramatic hourglass enhancing gold and black beaded gown with black boa
– Jessica Rabbit/ Femme Fatale purple side split costume and midnight blue boa
– Decadent 1920s act with beaded gown, tasseled lingerie, 5′ black ostrich feather fans
– Lavish green fairy dress with 9′ fairy wings
– Crystal encrusted white opal costume with 6'5″ white peacock fans
– Red and black latex equestrienne/ huntress outfit
-18th Century Mistress Pink and Red costume with swing prop (must be rigged to the ceiling or rigging stand) inspired by Fragonard's 'The Swing'.
Standard Length of Performance:
Each act is approximately 5 minutes in length.
Testimonials:
"Sophia started performing with the Globe Star Management in 2010, and has never failed to thrill every audience I have booked her to perform for. Sophia has a slow, sensual style of performance, beautiful costumes and is calm and friendly backstage."
– Globe Star Management
"A burlesque siren at the top of her game, Sophia will have you enraptured from the second her stilettos touch the stage. This is a girl who could be the definition of glamour with her flame coloured hair and an abundance of sparkle and cheek- it is guaranteed she will have you gasping for more. Her acts hold the essence of true Classic Burlesque with exquisite lavish costumes and custom made pieces. One of those girls that puts the "Oooh" in to "Ooh la la."
– Le Theatre de Decadence
"I can say that Sophia was absolutely fantastic. I think she may have been the most popular event on the night which, given the massive array is quite impressive. She was certainly the best value of all the ents, given the entertainment that she provided and how many people saw it. She was thoroughly professional, beautiful, provocative and fun. Really enchanting and hugely popular. The venue for her second performance was changed on the night from the Dining Room to the Marquee, to ensure she had a more suitable stage, and when they announced it in the Dining Room just before she was due on it was like someone had just set off the fire alarm – literally a stampede of people all heading out the door towards the marquee!! I will definitely be recommending both Sophia and Contraband Entertainments to my successor. Thank you very much."
– RAF Brize Norton Summer Ball (via Contraband)
"Sophia was "amazing"…Not only is she a beautiful performer, she has the personality to match!! A pleasure to work with..The event and performance was enjoyed by all (many of the women there will be at the gym today, trying to obtain her figure:) Thank you so much for providing an excellent, professional service… it is greatly appreciated…Will definitely be in contact for any future events.."
– Private Client (via Contraband)
Previous Clients Include:
Floridita
Globestar Management
Royston and Blythe
Dizzy O'Dare's Cabaret of Curiosities
The Tassel Club
Volupte
Burlesque Baby
Playful Promises
Le Theatre de Decadence
Crazy Bear
Photos of Sophia