Show Girls – Themed Dancers | UK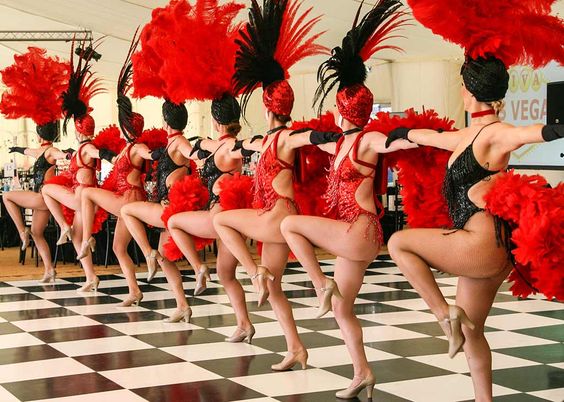 The Show Girls have soon become renowned worldwide for bringing their glitz, glamour and total entertainment value to any event. With over 60 stunning professional showgirls and dancers performing throughout the UK and worldwide, The Show Girls without a doubt are a must-have for any corporate event or function, Christmas party nights, television, casino, theatre, product launch or awards ceremony.
Creating that Wow factor from meeting and greeting your guests on arrival, posing for photographs on the red carpet and assisting with champagne service to full scale cabaret, theatre and production shows, with their many themes, The Show Girls can cater for all your entertainment needs. Whether you book as little as two, or as many as twelve of our acclaimed dancers you can expect stunning show girls, spectacular costumes and sparkling choreography.
The Show Girls' many themes include:
Viva Las Vegas
Hollywood Glamour
James Bond/Casino Royale
Moulin Rouge/Parisian
Winter Wonderland
Mardi Gras/Copacabana
Black and White Ball
Broadway themed events
Great Gatsby/1920's themed events
The Show Girls are the number one showgirl provider for many television shows with appearances on BBC 1, BBC 2, ITV, Channel 4, Channel 5 and Sky Sports. Television appearances include working alongside the Legendary Sir Bruce Forsyth, Bette Midler, Torvil and Dean and guest appearances on BBC's Strictly Come Dancing, ITV's Dancing on Ice, Big Brother, Hollyoaks, The Rob Brydon Show, The Alan Titchmarsh Show and in The Overtones music video to name a few.  The Show Girls have also recently featured in all their feathery glory in the latest McDonalds Great Taste of America advert and on BBC's Michael McIntyre's Easter Night at the Coliseum.
From prestigious red-carpet award ceremonies to sumptuous private parties, gala dinners, corporate events, theatre and television appearances The Vegas Show Girls can cater for all your entertainment needs.
From meeting and greeting guests on arrival in their own exclusive lavish way through to carefully choreographed unique performances to fit with your theme, The Vegas Show Girls will add an air of glamour and sophistication to your event making it both memorable and a real talking point. Whether it be that 'wow factor' opening performance or subtler ambient entertainment that you are looking for we are always happy to discuss your requirements.
Vegas/Hollywood/Vintage/Parisian/Casino Royale themed show girls are available themes for your event.
Technical Specification:
The Show Girls and Boys do not provide their own sound, p.a and lighting equipment. This must be provided by the venue.
Standard Length of Performance:
Set times include routines which last from 5 minutes to 20 minutes for a stand alone performance. The girls and boys are usually booked for around a 3 hour time period to include meeting and greeting guests and photographs.
Testimonials:
"Thanks so much for such a special night. The girls were fabulous and worked so well with Gary and the band. They were as marvellous as I thought they were going to be and everyone loved them. Hopefully we can have an anniversary party with them one time in the future and I would recommend them to anyone."
– Private Client
"Wow, your girls were absolutely fantastic! They were so pleasant and welcoming to my guests and they looked amazing. They danced so professionally and it looked like they had been performing with Elvis for years. The costume changes were brilliant. I couldn't believe how fantastic it all was. We managed to raise £7k for the charity. I found the whole process of dealing with you so professional."
– Kidney Research
"The performers were great!!  They got lots of people up and dancing so that was great, everyone seemed to really enjoy it. The outfits looked great and the  music was fab too. All in all, very pleased. We would definitely use you and any of your performers again, very professional and accommodating. Many thanks."
– Vets Now Ltd (via Contraband)
"The girls were great!!"
– Westwell Ltd (via Contraband)
"The night went really well thanks. The girls were excellent, very polite and helpful. Would definitely recommend them to others. Thanks for your help"
– Marson Garages Wolstanton T/as Tern Hill Hall (via Contraband)
"The girls were amazing! They looked phenomenal and they were so professional, we couldn't have asked for more! They took any changes to the schedule in their stride, and even though the event ran behind they were still smiling and their performance was wonderful. They went down a treat…..We'll definitely be in touch with any entertainment acts we require for future events, we've been really happy with how quickly you respond to any queries we've had, and your recommendation of the Show Girls was perfect for this event. Thanks again for all your help, hope to work with you again soon."
– Mood Design Solutions (via Contraband)
"….from what I saw the girls were fantastic, worked hard, looked fantastic and did whatever was requested of them with a smile.  Our owners that we were entertaining really loved it and it really gave our event that extra twinkle!!!! We would certainly love to work with them again…"
– Hoseasons (via Contraband)
"…The girls were brilliant, friendly, looked amazing and very professional. I know they had to make some adjustments to the routine on arrival and managed this very well…willing to do whatever we asked of them, including holding trays of champagne whilst mingling through a crowded area..Owners l spoke to said they looked great and certainly added that extra sparkle to the event."
– Hoseasons (via Contraband)
"How on earth can I possibly thank you, your ladies turned what was going to be a great evening into something truly memorable. Sophie and Sara even arrived early, and I've never seen two people so enthusiastic in the job they were doing. Their floorshow was fabulous; they met and greeted everyone in such a friendly way, with the most gorgeous smiles, and for their remaining time with us helped sell some extra gaming money and posed for photographs (we made £900 for the British Heart Foundation). I can't put adequately into words what a fantastic asset to your company Sophie and Sara are. I hope we treated Sophie and Sara as well as they treated us, and sincerely hope they had a safe journey home."
– Private Client
"…just a quick note to say thanks so much, it was all fantastic! They were all a credit to your company! …Thanks for all your help."
– Bauer Media Group (via Contraband)
"…The dancers were amazing – a really good interactive part of the party. They got almost all the guests dancing, even if they couldn't follow the moves they still all gave it a go!"
– AYMTM Ltd (via Contraband)
Previous Clients Include:
BBC
Channel 4
ITV 2
Ikea
Porsche
Grosvenor House Hotel, Park Lane
G Casinos
Alea Casinos
London Clubs
Most UK theatres with The Rat Pack Vegas Spectacular
Luminar Leisure
Drayton Manor Theme Park
Dubrovnik Palace Hotel
Several Army and Military bases
The One Show
Photos of Show Girls