Serpentine – Folk Band | UK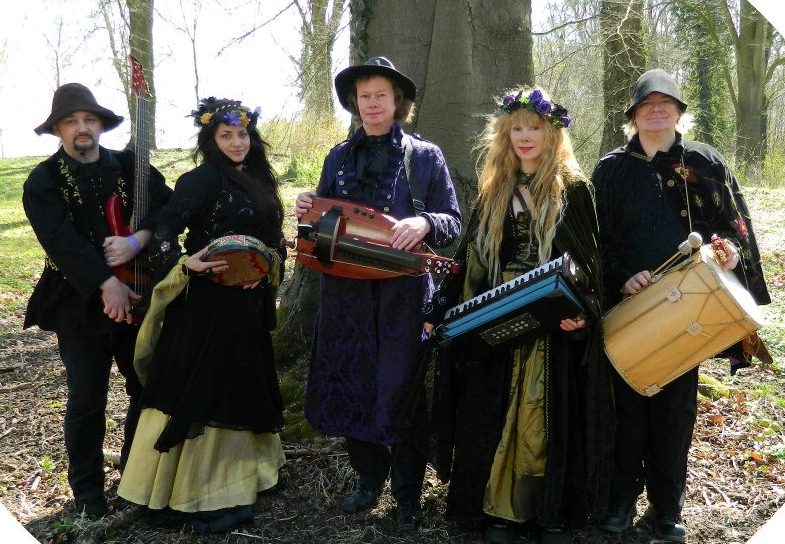 Serpentine mix medieval songs and barn dance tunes with world rhythms. Songs in Occitan, Old French, Old English and Latin blend with ethnic and medieval instruments to create an exciting and magical atmosphere. Driving salterello and estampie dance rhythms from medieval Europe are combined with Maggies voice and instruments such as hurdy-gurdy, cittole, harmonium and pipes. This folk music is perfect for festivals and a great way to gather guests together and get them dancing! They perform ribbon-twirling, flag-poi spinning and ivy arch shows and even a gypsy serpent conga!
Since 2009 Maggie Sand and Serpentine have been taking their music to their growing band of followers at UK and European folk, rock and medieval music festivals. Events at which theyve performed include the Elf Fantasy Fair in Holland, Largentière Festival in France, Sidmouth Folk Festival in England, and almost all of the UK medieval festivals.
Standard Length of Performance:
Option 1
This includes 3 x 5 minute sets of ribbon-twirling, flag-poi spinning and ivy arch shows, plus 2 x 20 minute dance calling sets and 1 x 5 minute gypsy serpent 'conga'. This will be amplified with a PA/mobile amp sound system.
Option 2
This is just for the Serpentine band which will be amplified with PA/speakers for music/dance sets.
Option 3
This option includes both option 1 and 2 and will last for 2 hours.
Testimonials:
...a stylish and fresh-sounding record ... I found myself readily warming to the charms of Maggie and her consort."
- fRoots
"These days mediaeval and renaissance music is usually to be found in the rarefied atmosphere of Radio 3 or the concert hall. In the hands of Maggie Sand and Serpentine it once again becomes a living, breathing thing."
- Folk London
"To create a rich sound that crosses the boundaries of traditional and early music requires exceptional talent, insight and the dedication to persist until the right blend has been achieved. Serpentine demonstrate that they have all three requisites... Those for whom such a cross-over is viewed with hesitation might find that this is the album that will change their minds."
- English Dance and Song
"Take English singer Maggie Sand with Mark Powell (citterno, hurdy-gurdy) and add some woodwinds and percussion for a sort of Blackmores Night, but with a more rootsy approach. There are songs and dance tunes from the Middle Ages and the Renaissance. A pleasant and decent album that is worth to give it a try."
- Folkworld
"...the musical journey moved back to the times of the alchemists with Maggie Sand. With her project Serpentine she draws from many sources and stirs the elixir until a special sound is formed. The audience at the Hinterhalt were allowed a taste of the brew. With her transcendental voice Maggie told timeless stories. The audience were impressed by over two hours of musical narrative."
- Isar-Loisachbote
"Maggie has a beautiful voice and is ably backed by her six-piece band... together they produce a fantastic sound. Serpentine are at Orpington Folk Club on Friday 6th March, so if you wish to hear them again, make it a date."
- The FAB Club
"Last month we were very privileged to have Maggie Sand and Serpentine as our special guests. What a great evening they gave us. There was a decent attendance at the club and everyone enjoyed the evening immensely. They have a good following in Europe and I think they are destined to become established favourites in British folk venues and concert halls."
- The Jug of Punch Folk Club
"Those of you who remember Shave The Monkey and loved them need to see Serpentine... they were terrific. Everyone enjoyed them."
- Fridayfolk Club
"Just wanted to say a HUGE thank you for playing at our event on Saturday. We raised nearly £10,000, which is amazing."
- North West Cancer Research
Previous Clients Include:
fRoots
The Fab Club
Elf Fantasy Fair
North West Cancer Research
Fridayfolk Club
The Jug of Punch Folk Club
Isar-Loisachbote
Folkworld
English Dance and Song
Largentière Festival
Sidmouth Folk Festival
Photos of Serpentine