Saxophone Quartet: Sax Quartet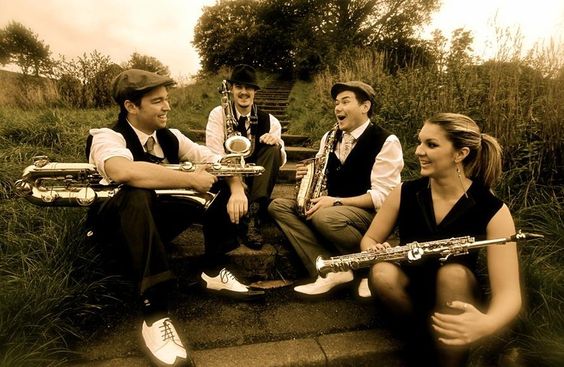 The Sax Quartet is an exciting conglomeration of some of the most prolific and pioneering young musicians on the scene. This collective caters to all occasions and scenarios with a wide ranging programme of tailored music from new takes on pop classics to swing era dance tunes and delicate interpretations of the classical greats. A great addition to your corporate entertainment.
Their carefully constructed arrangements combining power and energy with subtlety and musicianship make for a unique and thrilling live music experience liable to uplift and envigor any audience in any scenario. The members of The Sax Quartet have studied at some of the most prestigious music conservatoires in not only the UK but worldwide, and between them have performed globally in places from China to the Mediterranean coast, at venues such as The Royal Albert Hall, the worlds largest indoor jazz festival – North Sea in Amsterdam, London Fashion Week, Ronnie Scott's jazz club and the London 2012 Olympic Stadium.
Repertoire List:
Bespoke Songs
Ain't Nobody  – Chaka Khan
Greg Sinclair American Patrol
F.W Meacham Celtic Suite
Gavin Whitlock Crazy Rhythm
Joseph Meyer Disney's The Lion King Medley
Gregory Sinclair Dont Stop Believing – Journey
Gospel Fever – Russell Peterson
I Feel Good – James Brown arr. Greg Sinclair
In the Mood – Joe Garland
I Want You Back – Jackson 5 McTavish's Medley
Terence Greaves Mission Impossible
Danny Elfman Monsters Inc.
Moon River
Henry Mancini Moonlight Serenade
Glenn Miller Never Had A Friend Like Me from Disney's Aladdin
Arr. Gregory Sinclair New York, New York
John Kander Night in Tunisia
Dizzy Gillespie Party – Karen Street Peacherine Rag
Scott Joplin September – Earth Wind and Fire
Greg Sinclair Solitude – Duke Ellington Someone to Watch Over Me
Gregory Sinclair Soul Bossa Nova (Austin Powers)
Gregory Sinclair Subway  – Karen Street Superstition
Stevie Wonder Swing Low Sweet Chariot T.V Themes Medley
Gregory Sinclair Take Five – Dave Brubeck The Lone Arranger Goes Sax Mad!
Philip Buttall The Pink Panther Theme
Henry Mancini Theme from Disney's Cruella Deville
Gregory Sinclair Theme from James Bond
Monty Norman Ulla In Africa – Heiner Wiberny
When Loony Toons met Wallace and Gromit
Daniel Gooch When The Saints Go Marching In – Arr.
Terence Thompson You've got a Friend in me, from Disney's Toy Story – Randy Newman
Standard Performance Length:
Standard is 2 x 45 minute sets, but is flexible.
Testimonials:
"Thank you…for all the pleasure you gave us yesterday at the lunch party. You obviously have very high standards and the music selection was perfect"
– Private Client, Birthday Party.
"Guaranteed to put a smile on your face. Incredible performance and thoroughly enjoyed the music"
– Festival spectator in Wendover.
Previous Clients Include:
Trinity Laban Conservatoire of music and dance
Howard Felton
Marie Power
Royal College of Gynaecologists
Tony Aikenhead
Waltham Abbey
St Mary's Church
Cheltenham Town Hall, London
Photos of Sax Quartet