Sam Sam The Bubble Man | UK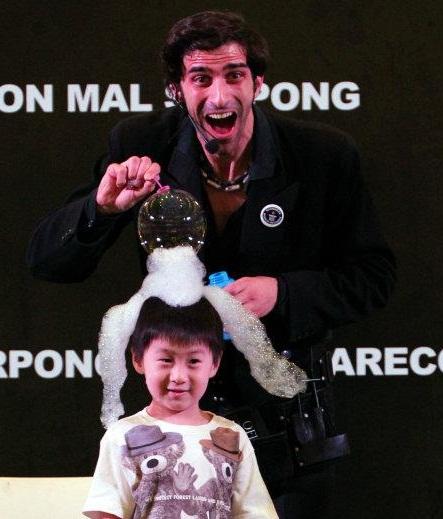 Sam Sam, Guinness World Record Holder
Sam Sam is a 10 times Guinness World Record Holder, including the World's Largest Bubble and Most People Inside a Bubble! He began making bubbles as a hobby in 1989, and has grown to become the country's foremost bubble expert, holding multiple world records for his skills, including putting 50 people inside a giant bubble, creating the longest bubble chain of 26 bubbles, making the most bounces with a single bubble, the most bubbles blown in a single minute and the most bubbles blown from a single dip pending verification!
He has volumes of experience and is available for kids parties to corporate events, staged events to 'mix and mingles'.
His TV accomplishments include several appearances on BBC's Blue Peter and ITV's This Morning, along with a whole host of tv talent shows on most terrestrial and cable channels.
Advertising, pop videos, bubble consultancy… whatever your bubble needs! He will custom make your bubble show to fit your event, including such tricks as the Tiniest Bubbles in the World, Loch Ness Bubbles, Square Bubbles, Fire Bubbles, and People Inside Bubbles.
Sam will provide:
Technical Expertise
Extensive bubble equipment
Access to diverse range of bubble solutions
Sam will also make himself available for a days training of the talent and an afternoon demonstration for the producer/ Client.
Options Available Include:
10,000 bubbles per minute (more or less as required)
Ultra-violet bubbles
Bubbles which burst into flames (no hazard)
The ability to put people inside bubbles
Bubbles the size of killer whales
In addition to his walkabouts and stage shows, Sam & Will can provide bubble table roving for dinner/drinks events. Sam also has a new Giant Bubble Show, perfect for indoor large events such as Audotorium or Mall shows.
Tricks include square bubbles, smoke bubbles, people inside giant bubbles, bubbles set to music, lots of audience participation, and much more.
Sam can mix and mingle with no safety issues. If the floor is not carpeted, he would bring his own carpet for when he is creating really big bubbles as this uses more liquid. The liquid is completely safe, made from 90% water and 10% soap and sugar solution.
In terms of space, Sam would ideally like 4m x 4m for the performance, but 3m x 3m would be fine.
Christmas and New Year got off to a flying start with the smashing of the previous record (42) for the most amount of people inside a giant soap bubble by our very own Samsam Bubbleman. He took the new record to 50 people, at the Science Museum here in London on November 23rd using a 39 foot wand, the biggest bubble wand ever created!
All sorts of bubblicity followed including features in the Sun, Daily Mail, and Daily Mirror. being the "and finally" section on the ITN 6 o'clock News and another appearance on ITV's This Morning!
Testimonials:
"Samsam literally 'blew' us away with his bubbles!"
– Peter Gabriel
"Fantastic!"
– Sir Paul McCartney
"SAM SAM was just great ! All of us at GPJ and the IBM client were extremely delighted to have Sam Sam the Bubbleman on the IBM stand. He is a great entertainer who mesmerised the crowds with his mysterious bubble acts and his quiet yet charming demeanour. I am delighted to have met Sam and look forward to recommending his services to clients/colleagues on future events.
– George P. Johnson
"Your bubbles blew my mind."
– Jarvis Cocker
"He is the Charlie and the Chocolate Factory of bubbles!…. the coolest person we've ever had on the show!"
– Chris Evans
"The star-turn at festivals"
– The Evening Standard
"Bubbles are the new Rock & Roll!" 
– The Independant
"The event went very well and the performers were AMAZING!  Thank you so much.  We would definitely like to use them for future events. Many thanks!"
– Private Client (via Contraband)
"Thanks for your email. The event went off well. I think William was very well received. The kids particularly liked when he started putting them in the bubble. It was lovely to watch and he was very sweet. Look forward to working with you again in the future."
– SIAN Events LLC (via Contraband)
Previous Clients Include:
Prince Charles
Prince Harry
Royal Family of Saudi Arabia
Lady Gaga
Shakira
Sir Paul McCartney
Sir Michael Caine
JK Rowling
Peter Gabriel
Damien Hirst
Chris Evans
Phil Jupitus
Lily Allen
Organisations – 2012 Olympic Opening Ceremony
Apple
Microsoft
Dreamworks
Universal Studios
Sony
Samsung
Fox
GSK
IBM
Pfizer
Rothschilde
Harrods
Abu Dhabi Grand Prix
Bahrain Grand Prix
Sony
O2
Madame Tussauds
Peter Gabriel
Ringo Starr
and many more.
Photos of Sam Sam, Guinness World Record Holder
Book Sam Sam, Guinness World Record Holder
Want to book a performer, or just find out more? Give us a call on +44 (0)208 8291140 or use our online contact form via the button below.