S Stilts – Various Stilt Walkers | UK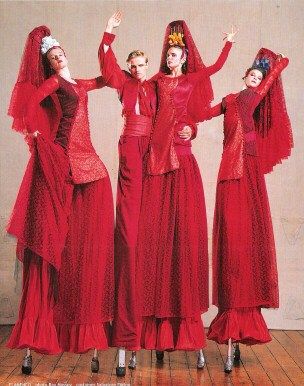 Whether you are launching a new product or service, entertaining clients, customers or staff, or hosting a conference or a trade fair, S Stilts will add a magic and inspirational touch to your event.
S Stilts is a professional theatre company founded in 1988, since then they have developed a widespread, and international reputation as an innovative, evocative and awe-inspiring company. Their repertoire based on their theatrical origins employs dance, acrobatics, stilts and aerial skills to delight and captivate audiences. They are at ease in any environment, whether it is outdoors, within a large hall, or simply inside a room. They create the atmosphere you require within the space that you have.
For several years S Stilts have worked with leading commercial companies to bring a touch of glamour, and of theatre, to their corporate hospitality events.
Their clients brief them to create stunning, modern and memorable performances that link directly to the objectives of their events. They want the 'wow' factor, and that is what S Stilts deliver.
S Stilts have a large existing repertoire of performances, which they continue to deliver around the world at art events and festivals, and which they tailor to corporate events. Their hallmark is to ensure that they understand the objectives of your event, and to work with you to develop and deliver a performance that matches those objectives. They create the mood that will support and enhance the atmosphere you want to create for your event. Above all they are different, stunning and memorable.
Acts Available Include:
Danza Antigua:
Inspired by the Mexican Day of the Dead, these towering skeletal figures combine skilful dance and acrobatics on stilts and in the air with stunning costumes to spectacular effect. Taking dynamic stiltwork to a new level, the creatures sweep across the room as dancing partners from beyond the grave, creating a fun spooky atmosphere that can transform virtually any space into a gothic theatre. This dramatic tango and salsa performance on stilts can also be extended to include aerial work and fireworks.
They can do a set act and mix and mingle with two dancers and acrobats on stilts.
Skywalkers:
Glide in their elegant white costumes, are they coming from the Sahara Desert or the Arctic Pole? Who knows? Just catch them when they are here, because like a mirage, they are quick to pass. They have enchanted audiences everywhere by creating an atmosphere of beauty and serenity and invoking a feeling of faraway lands. Up to 3 dancers/acrobats on stilts are available.
Blue Creatures:
Are glittery and glamorous, with very long fingers and mysterious Medusa-like headgear. They present a fast moving, upbeat cabaret-style dance routine which goes down a storm.
Available as 3 dancers/acrobats on stilts in an act or mix and mingle capacity.
Sizzling Flamenco Dancers:
10 feet high with flaming red mantillas and flowing skirts, will entrance your audience and transport them to the Andalusia of blood, sweat and passion. They sensually dance very hot flamenco, in a vortex of energy – something between a dance of love and a bullfight.
Available with up to 5 dancers/acrobats on stilts in both act and mix and mingle situations.
Birds Of Paradise:
Magically bring to your event the vitality, joy and scale of the Rio de Janeiro or Caribbean carnivals. Majestic and colourful, they make the imagination fly, soaring very high in a kaleidoscope of wings and colours.
Up to 6 dancers/acrobats on stilts available.
Bubbles:
Always on the lookout for the best party in town! All they need is fun, incredibly high heels and lots of bubbly. Up to 3 dancers on stilts are available for both act and mix and mingle.
Medieval:
A hybrid between court pages and carnival costumes. They immaculately exist around the place, spraying dazzling rays of light and movement from their colourful tassels.
They bring politeness and sudden transgression to your events. Available with up to 4 dancers/acrobats on stilts doing an act and space animation.
Spicy Birds:
Were originally commissioned for the release of the Spice Girls Movie. Busybodies and mischievous although very friendly, they move fast from space to space, convinced that they can fly. Up to 5 dancers/acrobats on stilts can do an act or mix and mingle.
Standard Length of Performance:
2 x 45 minute walkabout or 6-8 min show with 1 x 45 minute walkabout.
Testimonials:
"…Dream creatures…"
– La Stampa
"Spectacular."
– Free Press
"A sense of strange tantalising magic… captivating and uplifting."
– Private Client
Previous Clients Include:
A&B
B&Q
BBC
Benetton
British Airways
BskyB
BT
BTCellnet
Buena Vista
Capital Radio
Chrysalis Group
Clothes Show Live
Film London
Formula 1 Grand Prix – Shanghai
ITC
ITV
Jaguar
Mercedes
Millenium Dome
Nat West
Natural History Museum
Polygram Entertainment
Railtrack
Royal Academy of Arts
Spice Girls movie launch
Suzuki
Swatch
Touchstone Pictures
Utility Award
Warner Brothers
Photos of S Stilts