Ruth Hinks – Masterclass and Demos – Chocolate Master | UK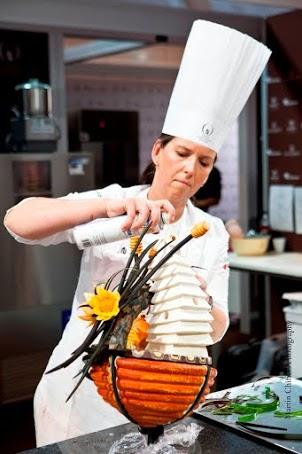 Ruth Hinks Masterclass
Ruth Hinks is available to book for a variety of events – we work in direct association with her representative as a booking agent for Ruth Hinks.
Ruth Hinks is the current UK World Chocolate Master and entrepreneur behind the multi-award winning chocolatier and patisserie, Cocoa Black.
Ruth is from South-Africa and has worked as a professional chocolatier and pastry chef for over 20 years. Her love and passion has won her many competitions in the culinary world making her very popular.
In 2004, Ruth Hinks was named Australian Pastry Chef of the Year. From 2005-7, she was employed as Head Pastry Chef at the 5-star Sheraton Grand Hotel in Edinburgh . In 2008, Ruth acknowledged a career goal of starting her own chocolatier and patisserie business, Cocoa Black.
From humble beginnings (around the kitchen table), Cocoa Black has grown to include a production kitchen, a chocolatier and patisserie shop, an ecommerce website and a Chocolate & Pastry School. Cocoa Black was named UK Confectioner of the Year in 2011 and was recognised through regional awards including: New Business of the Year (winner), Town Centre Business of the Year (finalist), Independent Retailer of the Year (finalist) and Tourism Business of the Year (finalist).
Following her international culinary success, Ruth has recently become an ambassador for global chocolate brand Callebaut. Ruth Hinks is a world class chocolatier and is a fantastic addition to any corporate event , be it through her cooking demonstrations, motivational presentations, teambuilding events or simply to show what wonders can emerge from a kitchen.
Contact us today to book Ruth Hinks for your special event.
Testimonials:
"We are delighted to have Ruth behind our brand – she is an advocate for everything we represent and she delivers to the highest standard…"
-Callebaut
Contact us today for this celebrity booking , a great addition to your event entertainment .
Photos of Ruth Hinks
Book Ruth Hinks
Want to book a performer, or just find out more? Give us a call on +44 (0)208 8291140 or use our online contact form via the button below.