Russian Violin & Accordion Duo: Mazaika – UK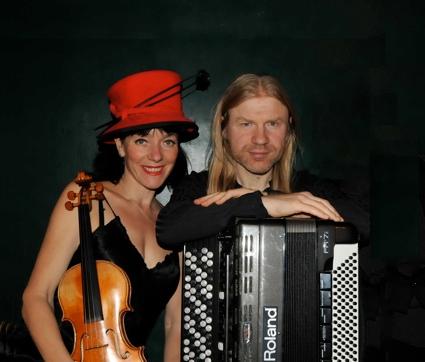 Russian Music (Mazaika)
Mazaika was formed in 1996 after Russian accordionist and singer Igor got together with English violinist Sarah. Their mutual broad taste in music and classical background has allowed them to enjoy a wide range of music styles. Their extensive repertoire consists of Russian folk and Gypsy music, Russian and Argentinian tango, classical virtuoso showpieces, opera highlights, Neapolitan songs and French chanson, Hotclub jazz and Igor's original compositions which always have a strong improvisational element.
The Mazaika Duo is a perfect, yet totally unconventional marriage of violin, accordion and voice, with performances full of fun, excitement and virtuosity, with emotional depth and musical subtlety. Their twinkling humour, rapport with the audience and with each other gives the audience an intoxicating experience which they will not easily forget. Mazaika can take you on a troika into the heart of Russia, where you will experience the joy and sorrow of Russian folk and Gypsy music and the fiery passion of the gypsy violin. Guitar, Double Bass and Balalaika are sometimes added to the ensemble for this repertoire.
Mazaika also performs as a Quartet with guitarist and double bassist. Mazaika Quartet started 2006 by thrilling the audience with a stomping yet soulful performance onstage at the Russian Winter Festival in London's Trafalgar Square. They have also appeared with their Russian band on the Terry and Gabby Show. They are in great demand for rural touring schemes in Britain.
Acts Available Include:
Strictly Classical
Anyone unfamiliar with the classical accordion will be stunned to hear the instrument's true versatility; evoking the streets of Paris or a gypsy campfire, yes, but just as easily fooling the ear by pretending to be a chamber orchestra or an organ. Mazaika's unique repertoire of classical music and operatic arias includes works by Bach, Vivaldi, Mozart, Sarasate, Brahms, Kachaturian, Rachmaninov, Verdi, Piazzola and others. The programme usually ends with some Russian highlights.
Mazaika Cabaret Extravaganza
In which the duo presents a brilliant evening of highlights from their Classical and Russian and Gypsy programmes, interspersed with some of their favourites from around the world, including Argentine Tango, Neapolitan song, songs from the twenties and thirties, Bluegrass, Hot Club Swing, Klezmer and popular song. Very popular on cruise ships and for corporate functions, this programme appeals to a wide audience. It can be performed self-contained or backed by a band of three pieces upwards.
Mazaika Swing
Mazaika are joined by two guitars and double bass for the evocative and exhilirating sound of Gypsy Swing. Seen recently at IGGF and Le Quecumbar, and at Samois (jamming on the campsite).
Cabaret performance 20 -45 minutes. Background performance 2/3 x 45 mins sets.
Testimonials:
"Seriously there are no tunes/genres he doesn't know and he makes his instrument sound like a total orchestra." – Dance Inspired
"It feels strange to hear the achingly glamorous, sweepingly romantic music made by violinist Sarah and tenor/ accordion player Igor during the day. Their divine collection of Russian and gypsy, tangos and cabaret tunes should be played after dark in a smokey late-night dive, where their heady sounds would soundtrack reeling heads and fluttering hearts. Both are classically trained musicians and it shows, also not at the expense of their music's soul. Their technical ability never gets in the way of entertainment. Harrsion in her fabulous frocks provides drama and comedy; Outkine adds earthiness, fun and even some headbanging. Rather than evoke wild, stirring passion, Mazaika have a warmly emotional sound, and the connection between the two is apparent. Their music feels like a dazzling escape into a world where people dance on tables with roses between their teeth."
– Private Client
"A lovely tenor voice….their violinist Sarah plays so fast that she gasps like an exhausted sprinter after each dizzy riff…….By the end of the evening, the Purcell Room had become a tavern"
– Private Client
"….his tenor voice plangent and coloured to perfection for Russian romance and melancholy. That was me won over. We moved on through Mozart and Vivaldi and an aria from 'Rigoletto' to virtuoso finger work from both artistes in the Gypsy airs (Zigeunerweisen)of Sarasate and Khatchaturian's Sabre dance – we were breathless…..and then, almost before we knew it, we were into twenty minutes of swaying and swinging tunes from the Hot Club de France. An accordion as brilliant as a band, a violin that could double as a jazzy banjo. We were floating, and we floated on, through old Russian folk music and Monti's famous Czardas into a generous encore of the liveliest 'Kalinka' you could wish for. Two days on everyone is still enthusing. And I'm still shimmying. Must be the gypsy in me"
– Private Client
"Mazaika were wonderful! Really made an effort and the guest very much appreciated it. There was a lot of singing and dancing as a result."
– Private Client (via Contraband)
"They were absolutely delighted with the band and thought they were great."
– Alastair Currie Event Solutions (via Contraband)
"The agency were great and most helpful. The musicians were on time and did a great job – very reliable and lovely people."
– Private Client (via Contraband)
Previous Clients Include:
Purcell Room
South Bank
The QEH
St John's Smith Square
Holders Festival
Cambridge Summer Music Festival
Le Quecumbar
Hollywell Room
Rhythms of The World in Hitching
Pittenweem Arts Festival and Belladrum Festival
Wild Flower Festival
Edinburgh Fringe
Repertoire Includes:
Russian Folk
Kalinka – Калинка
Dark Eyes – Очи чёрные
Midnight in Moscow – Подмосковные вечера
Those were the days – Дорогой длинною
Volga boatman – Эй, ухнем
Lark – Жаворонок
Varenka – Варенька
Oj da ne vecher – Ой, да не вечер
Karobochka – Каробочка
Moonshine – Светит месяц
And many more  well – known songs
Russian Gypsy
Two guitars – Две гитары
Dark Eyes – Очи чёрные
Rucheyok – Ручеёк
Ай дану, дану, данай
Nane tszokha – Нанэ Цоха
Ехали цыгане
Милая
Мохнтый шмель
Czardas  Monti – Чардаш Монти
And many more  well – known songs
Music from Russian films
Вальс – Мой ласковый и нежный зверь
Джентельмены удачи
Погоня – Двенадцать стульев
Вальс – Берегись автомобиля
Про зайцев – Брилиантовая рука
Остров невезения – Брилиантовая рука
Журавль по небу летит – Бумбараш
Марш – Бумбараш
Песня о счастье – Иван Васильевич меняет профессию
Дорога – Кавказская пленница
Если б я был султан – Кавказская пленница
Russian retro 1930's, 40's
Songs from repertoire of Pyotr Leschenko and Vadim Kozin
Моя Марусечка
Блины (Дуня)
У самовара
Марфуша
Что мне горе
Жизнь цыганская
Льется песня
Чубчик
Прощай, мой табор
Вернулась снова ты
Не уходи
Пой, цыган
Как много девушек хороших (Сердце)
Татьяна
Синяя рапсодия
Скажите, почему
Петрушка
Стаканчики
Старинный вальс
Ваня
Девонька
За гитарный перебор
Уйди
Увяли грёзы
Катя
Всё что было
Черные глаза
Студенточка
Дружба
Осень
Любушка
Русая головка
Смейся, смейся кромче всех
Маша
Бнрюзовые колечки
Ехали цыгане
Russian pop and rock
Вечная любовь – Азнавур
Подберу музыку – Як Йолла
Неудачное свидание
Московские окна
Королева красоты – Муслим Магомаев
Мелодия – Муслим Магомаев
Сердце на снегу – Муслим Магомаев
Я встретил девушку  – Рашид Бейбутов
Воды Арыка – Рашид Бейбутов
Есть только миг – Олег Анофриев
Люди встречаются
Говорят, что не красиво
Мой адресс Советвкий Союз
Нет я не жду
Hе умирайлюбовь – Юрий Антонов
Зеркало – Юрий Антонов
Не забывай – Юрий Антонов
Море. Море – Юрий Антонов
Золотая лестница – Юрий Антонов
Я вспоминаю – Юрий Антонов
Двадцать лет спустя – Юрий Антонов
Белыи теплоход – Юрий Антонов
Крыша дома – Юрий Антонов
На высоком берегу на крутом – Юрий Антонов
Плот –  Юрий Лоза
Как иолоды мыбыли
Группа крови – Кино
Тpава y Дома – Земляне
Олеся – Сябры
Во французскои стороне – Иванов
Крещатник
Поворот – Машина Времени
Скачки – Машина Времени
Костёр – Машина Времени
Улетай туча – Алла Пугачёва – Киркоров
Милион алых роз – Алла Пугачёва
Маэстро – Алла Пугачёва
Ещё не вечер – Лайма Вайкуле
Восточная песня
 – Валерий Ободзинский
Сингарелла
Ах, Одесса
Папиросы
Шаланды
Бублички
Семь сорок
Я милого узнаю по походке
На Большом Каретном
Вальс бастон
Заходите к нам на огонёк
Гоп стоп
Крещатик
Ну играй
Палуба
Моня
Дождь
Что такое осень
Сиреневый туман
Летний дождь
Очарованна, околдована
Вологда
Только раз
Листья жёлтые
Проводы любви
Напрасные слова
Там, где клён шумит
Лучший город земли
Чёртово колесо
Погадайка мне циганка
Сингарелла
Стюардесса
Ямайка
Улетай, туча
Сэра
Мельница
Спрячь за решётку
Жулик
Balkan Gypsy
Kalashnikov – Goran Bregovic
Gaz,Gaz – Goran Bregovic
Bubamara – Šaban Bajramovic
Ciganka je Malena  – Šaban Bajramovic
Opa Cupa – Šaban Bajramovic
Kerta mange daje – Šaban Bajramovic
Hanuma – Šaban Bajramovic
Classical
Sabre dance – A. Chachaturian
Flight of the bumblebee -Rimsky-Korsakov
Waltz – Shostakovich
Flower Dance – Tchaikovsky
Variations on a Theme by Corelli – Kreisler
Adagio – Albinoni
Spring 1st mvt from "Four Seasons" – Vivaldi
Winter from "Four Seasons" – Vivaldi
Summer from "Four Seasons" – Vivaldi
Praeludium and Allegro – Kreisler
Zigeunerweisen – Sarasate
Hari Kati – Hubay
La Donna E Mobile – Verdi
En Aranjuez  Con Tu Amor – Rodrigues
O Sole Mio – Di Capua
Recondita armonia – Puccini
Nessun Dorma – Puccini
Ave Maria – Caccini (Vavilov)
Caruso – Lucio Dalla
Torna Suriento – Curtis
La danza – Rossini
Be My Love – Brodsky
Because You're Mine – Brodsky
And many more…
Gypsy Jazz 
Django Reinhardt/Stephane Grappelli style
Minor swing
Puttin' on the Ritz
Coquette
Dinah
Blue Drag
Lady be Good
Tchavolo swing
Si tu savais
Douce ambience
And many more…
Swing/Jazz/Easy Listening
Autumn leaves
Swanee
All Of Me
Dinah
My Way
Fly Me To The Moon
I've got you under my skin
I left my heart in San Francisco
The Way You Look Tonight
New York New York
I've Got You Under My Skin
It Had To Be You
After You Gone
Sway
Stormy Weather
All The Things You Are
Smoke Gets In Your Eyes
And many more…
Pop and Rock
Performed on midi accordion and vocal harmonizer, drum machine (live drummer)
Can't Buy Me Love – Beatles
Let It Be – Beatles
A Hard Day's Night – Beatles
Lucy In The Sky – Beatles
Eleanor Rigby – Beatles
Something – Beatles
Yesterday – Beatles
And I Love Her – Beatles
You Can't Do That – Beatles
No Reply – Beatles
Eight Days A Week – Beatles
We Are The Champions – Queen
We Will Rock You – Queen
Bohemian Rhapsody – Queen
Are You Lonesome Tonight – Elvis Presley
I Want You I need you – Elvis Presley
All Shook Up – Elvis Presley
Hound Dog – Elvis Presley
Love Me Tender – Elvis Presley
I Will Survive – Gloria Gainer
One way ticket – Eruption
Sunny – Boney M
Rasputin – Boney M
Moscow – Dchingis Khan
Dchingis Khan – Dchingis Khan
Hotel California – Eagles
Sir Duke – Stevie Wonder
Isn't she lovely – Stevie Wonder Kiss – Prince
Delilah – Tom Jones
Sex Bomb Tim Jones
Ain't no Sunshine When She's Gone – Bill Withers
How deep is your love – Bee Gees
I Feel Good – James Brown
Stars – Simply Red
Hello – Lionel Richie
Livin' la vida loca – Ricky Martin
Wonderwall – Oasis
No woman no cry – Bob Marley
Billie Jean – Michael Jackson
Stairway to Heaven – Led Zepplin
Kung Fu Fighting – Carl Douglas
No limit – 2 Unlimited
Dancing Queen – ABBA
Thank You For The Music – ABBA
Take a Chance On Me – ABBA
SOS – ABBA
Money Money Money – ABBA
Gimme Gimme Gimme – ABBA
Knowing Me Knowing You – ABBA
Fernando – ABBA
Lay All Your Love On Me – ABBA
I Have A Dream– ABBA
She – Charles Aznavour
Europa – Carlos Santana
Black magic woman – Carlos Santana
She's not there – Carlos Santana
Living next door to Alice – Smokie
What can I do? – Smokie
I'll meet you at midnight – Smokie
And many more…
Latin
Besame mucho
Ritmo De La Noche – Gypsy Kings
Michael  – Gypsy Kings
Moorea – Gypsy Kings
Un Amor – Gypsy Kings
Bamboleo  – Gypsy Kings
Mambo Italiano
Oje Como Va
Chan-Chan
Un Compromiso  Antonio Macin
Somos novios (It's impossible)
Perhaps
Guantanamera
La Bamba
Girl From Ipanema
Brazil
Hitoria De Un Amor
Natalie  – Julio Iglesias
And many more…
Arabic
Eres Tu (Casablanca)
Habbibi Ya Nour En Ain
Italian
Soli – Adriano Chelentano
Il tanto tempo seneva – Adriano Chelentano
L'italiano – Toto Cutunio
Bella Ciao – trad.
French
La boheme – Charles Aznavour
Hier encore – Charles Aznavour
Au creux de mon Èpaule – Charles Aznavour
Et si tu n'existais pas – Joe Dassin
Salut – Joe Dassin
A toi – Joe Dassin
Tombe La Neige – Adamo
Padam, Padam– Edith Piaff
Milord – Edith Piaff
La vie en rose – Edith Piaff
Accordioniste – Edith Piaff
La mer
Parle moi d'amur
Greece
Zorba
Never on Sunday
Forever and ever – Demis Russos
Goodbye my love goodbye – Demis Russos
From souvenirs to souvenirs – Demis Russos
Argentine traditional tango
Poema
Caminito
El Choclo
Por una cabeza
Mi Buenos Aires Querido
Tomo Y Obligo
El Dia Que Me Quieras
Adios Muchachos
Volver
Dereco Viejo
Cumparsita
Champagne
De Julio
Chacarera
Paciencia
Malena
A Media Luz (1924)
Historia De Un Amor
Argentine Milongas
Portenazo
El Portenito
Candombe Negro
Esquinazo
La Punalada
Milonga Orillera
Argentine  Waltzes
Pobre Flor   waltz
Padecito de cielo
Corazon de Oro
Palomita Blanca
Fascination
Padam Padam
Foxtrot
Se Va El Tren
Piazzolla
Oblivion
Vuelvo al sur
Libertango
Adios Nonino
Nuevo(ish)
Tango for Evora
Chan Chan
Dos Gardenias
Billi Jean
Photos of Russian Music (Mazaika)