The Royal Footmen – Walkabout Act | UK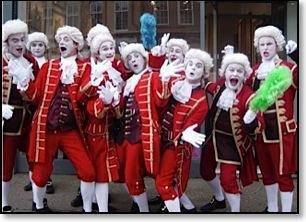 The Royal Footmen are highly experienced, lavishly dressed, interactive, sharp witted and physical comedians. They are that wow factor that sets the whole night alight!
The ice-breakers that specialise in starting the occasion with a bang, they perfectly frame any event they are given and create a lasting first impression for whoever comes their way.
Over the last 16 years The Royal Footmen have developed their very own unique blend of verbal banter, physical comedy and light-hearted fun and so they can guarantee your guests will feel special and will receive the ultimate royal welcome, whoever they may be.
The Royal Footmen will welcome guests upon arrival, announce dinner, help direct the guests, introduce speakers, help hand out gifts, start the dancing and generally assist wherever possible!
Standard Length of Performance: 2 x 45 minutes sets in the evening, 3 x 30 minutes sets in the daytime.
The Royal Footmen were winners of the 'European Festival Of Street Entertainers'.
Testimonials:
"Leo and the Royal Footmen were very well received. Leo was stunning and the Footmen were fabulously funny, I hope they enjoyed the experience also!"
– Hartlepool Borough Council
"I felt so proud watching my guests arrive and just knowing that they had never seen anything quite like it before. They were charming, amusing and such a spectacle to behold. Loved Them!"
– Private Client
"You were a real hit! I particularly liked how you met guests as they arrived and escorted them into the reception room. You looked very at home in the Palace!"
– St James Palace
"You were an absolute triumph. Exactly what was needed and you were so sensitive to the complicated environment of a children's hospital. I loved what you did for us at the event and your superb meet and greet ensured that the party was very relaxed and fun."
– Guy's and St Thomas' Charity
"Many thanks for all your help as The Royal Footmen at our recent Christmas party. The act was well suited to our style of function and provided an exciting and unique entrance for our guests. You and your colleague worked very well together were a perfect mixture of comedy and gallantry, without being cheesy or over the top. The outfits looked great and we have had many positive comments on the night, largely due to your involvement. Many thanks and I wouldn't hesitate to use The Royal Footmen again for a similar event."
– Denton Widle Satze
"Just wanted to say how great you guys were, truly entertaining if only you could be around every day! I really do hope we have the opportunity to work together again sometime."
– The Longleat Estate
"Saturday went well. Royal Footmen were great people loved them."
– Key Property Investment Ltd (via Contraband)
"All acts were great…All feedback we got from residents was fantastic. They enjoyed having pictures taken with the Footmen. We shall definitely use your services again in the very near future, and will recommend yourselves to others."
– Serco (via Contraband)
"The performers were simply AMAZING! They were a pleasure to work with; very polite and helpful at all times. Thanks to them we kept on track to time as they also helped to usher our guests through to the main room after the reception which can be a difficult transition. They looked fantastic too – I couldn't have asked for more. Our guests loved them and we had some great feedback about them……Thank you so much for all your help in confirming the performers, it's great to work with Contraband as always!"
– MACS Charity (via Contraband)
"Thank you for all your attention and help in finding suitable acts for us. The doormen were well received by many and so it was a success. Speak again next year."
– EDF Energy (via Contraband)
"Your performers are fantastic! Each and everyone of them!…The Royal Footmen / Beefeater / Guard – all very good and just the right thing for this gig…It was a pleasure working with you and I look forward to our next event together."
– Aspect Ltd (via Contraband)
Previous Clients Include:
Big Hand
Continental Drifts
Mountview Theatre School
Missing Link
CKK
Disney World Florida
Virgin Trains
Buckingham Palace
BBC
11 Downing Street
Longleat Estate
Guy's and St Thomas' Charity
Denton Widle Satze
Photos of The Royal Footmen