Robotic Cocktail Bar – France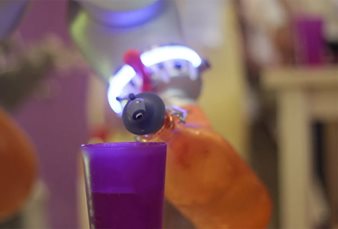 Order your cocktail and let yourself be astounded by the magic of machines. Be it for corporate parties, balls, product launch parties, film premieres, anniversaries and weddings the robotic bar is the perfect asset for the bar part of your event!
So much technologies are concentrated for this performance. Seeing the robot work, and move bottles with its 7 axis, will captivate everyone around and bring people to this side of your event.
Disruptive, innovative and very appealing: the robotic bar is what you need to make your special occasion truly stand out. This concept is completely unique. It was developed in partnership with Kuka, world leader for industrial robots.
Photos of Robotic Bar