Robert – Pianist | UK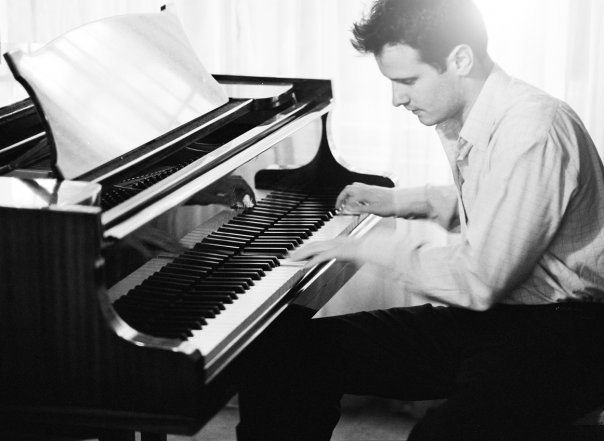 Whether it be your wedding reception, birthday, a corporate event or some other celebration, Robert specialises in providing high class background music, through renditions of 1940s standards, jazz and other more recent popular classics.
Having played for a variety of occasions, from performing in front of the late HRH Princess Margaret at the opening of the National Golf Centre to playing for high profile events at some of the UK's leading hotels, including Gleneagles Hotel, Perthshire and the Savoy Hotel, London, Robert has developed the skills, experience and repertoire to help build the appropriate atmosphere to suit the nature of your event.
Robert received a classical piano training, first while a music scholar at Fettes College and then on the music course at Bristol University. However, it was to be in the songs of the 1940s, jazz and more contemporary popular music that Rob was to find his natural territory. Using repertoire from these genres, along with his talent for improvisation he has performed at various high profile events including corporate events, prestigious openings, weddings and even 90th birthday parties.
In addition to these and others events at some of the UK's leading hotels, Rob has played at various piano bars, including a regular slot recently in West London, where his playing was particularly well received. Rob is also a keen song-writer and has written a musical, which was performed in Bristol.
Robert is also available to book with Peter as a pianist & singer duo. Peter sings classic jazz standards from swing to bossa nova. Rooted in the old school Ratpack tradition, Peter is proving to be a fresh and popular hit with his broad repertoire and love of the songs of Cole Porter and Antonio Carlos Jobin. From Pizza on the Park to the Pigalle Club, Piccadilly, Peter is a regular artist at London's leading music venues.
Set Times:
3 x 50minutes.
Testimonials:
"Robert was absolutely BRILL, thank you so very much. Please pass on feedback to him, he was polite, pleasant and very, very good at reading the room."
– Alistair Currie Event Solutions
"Just a quick email to say thank you for sorting out our pianist last night, he was great and worked really well and was very nice guy. Please pass on my thanks to him and will add him to my list of rebooks!"
– Anglo Irish Bank
"Friday went very well and just to let you know Robert was excellent! We were very impressed, good lad too! Hope to speak to you soon… Thanks."
– Central YMCA
I hired Rob to play at our companies Christmas party. Everybody commented on how much they enjoyed his playing and how professional he was. I was very impressed with his performance and his broad repertoire of music and will definitely be recommending him to friends and family.'
– The Rose Partnership
'I just wanted to say thank you (again) for the music you provided at our Christmas party on the 14th December, I have received numerous compliments from our guests about the fantastic piano playing and I just wanted to tell you how much I appreciated your help in creating an extra special evening.'
– Range Capital Partners LLP
'I would wholeheartedly recommend Robert Berry for his ability and professionalism'
– ScottishPower
'Pip and I were so delighted to have Robert play: not least because he offered to play on the church organ as well as the keyboard but also because he helped us indecisive sorts choose the right music that you don't always hear at weddings. All in all it made for the perfect experience; totally unforgettable!'
– Private Client
"It all went well thanks and please pass on my thanks to Robert – he knows his audience and can gauge the exact level. We had lots of compliments about him from our guests and thanks to you for sorting out at short notice."
– Nabarro LLP (via Contraband)
"Rob did an utterly fantastic job at the Leiths 40th Anniversary Event.  It was a big venue, with 280 guests from the food industry.  He played exactly the right sort of music to set the tone for the evening and I felt confident in letting him play the music of his choice. He is very easy to talk to about what you need and an incredible pianist."
– Leiths Cookery School
Previous Clients Include:
Premier Oil
Scottish Power
Scottish Executive
Range Capital Partners LLP
The Rose Partnership
Central YMCA
Anglo Irish Bank
Jo Malone Ltd.
Standard Life Investments
Royal Bank of Canada
Tamara Beckwith
Ascot Race-Course
Repertoire Includes:
As Time Goes By
Blue Room
Blue Skies
Can't help falling in Love
Can't help lovin' dat man Charleston
Clair de la Lune Easy
Eleanor Rigby Goodfellas
High and Dry
I'm Kissing You
Lady is a Tramp
Lambeth Walk
Layla
Les Miserables (Songs from)
Looking back Over My Shoulder
Michelle
Moon River
Moondance
My Funny Valentine
Night and Day
Nobody loves you
Piano Man
Rowan Tree Scarborough Fair
Sit myself down and write a letter
Tears in Heaven
The Circus is falling
True Colours
What a Wonderful World
Whiter Shade of Pale
Yesterday
Photos of Robert